Every single term one student housing disaster that proves we're well and truly in a crisis
Cockroaches, portaloos and living in hotels
We're one month into the university year, and the student accommodation crisis is well and truly crisising. From Exeter to Glasgow and pretty much everywhere in between – up and down the country students are living through hellish housing conditions.
Being sent to live in halls an hour away from their university cities, given temporary accommodation in hotels because there's nowhere else to go, insane competition for private rented houses, and halls descending into chaos with burst pipes, no proper toilets, fire concerns, and even cockroaches. There have been so many university housing disasters so far this term, and it's safe to say the student accommodation crisis isn't going anywhere.
So, as the issue rages on, here's a round-up of all the most disastrous housing situations UK students have found themselves in so far:
Students are being sent to live in halls over 30 miles away, or even in completely different countries
At UWE in Bristol, 127 freshers have been sent to live across the Welsh border in Newport. The uni even suggested some students don't mind living in Wales because it's "significantly cheaper" than Bristol, and UWE's Vice-Chancellor said the uni is also "providing pizza and other fun nights" to the students living there. One of these students, Jennifer, told The Tab she and her flatmates "laugh about how ridiculous Newport is" – it has a Spoons which closes at 1am and a karaoke bar, and she called the town "dead".
Jennifer is paying £131 per week to live in Newport, as well as an additional £50 a week on travel. She's started skipping some lectures so she can make sure she can afford to eat. The uni has offered to pay the cost of the taxi to and from Newport station, and a three-year Railcard which gives the students a third off travel, but it is not paying for the train journeys students are expected to make each day to uni.
As well as the cost, students are having to spend an hour each way travelling, just to get to their lectures. UWE told The Tab it is "planning to introduce a weekly meeting with students for them to provide feedback, and for the university to offer any support required", and said any students struggling financially should contact the uni's Student Money Service.
Universities have offered freshers thousands to give up their places in halls
Last month, Manchester University offered £2,500 to freshers within commuting distance who were able to switch from living at uni to living at home, in an attempt to increase the number of places in halls. The number of students waiting for confirmation of their place in halls dropped from over 350 to just three in a week, suggesting quite a few freshers had taken up the offer. The uni said any remaining students would be offered accommodation in Liverpool, as well as £100 a week to cover travel expenses. It said there has been "unprecedented demand for university accommodation across the UK this year" due to pandemic A-Level results and a high number of deferred places.
And are blaming the competition for housing on increased student numbers due to pandemic A-Level results
Like its neighbouring uni, Manchester Metropolitan also had halls shortages, and offered freshers halls in Liverpool and Huddersfield, along with £100 a week to cover additional living and travel expenses, for the 30-mile journey to Manchester. MMU said "significantly more offer-holders than anticipated have been accepting and meeting the conditions of our offer", and said the issue affects "around two per cent" of undergraduate freshers this year.
Up in Scotland, 140 St Andrews students were offered housing in halls in Dundee – 14 miles away. The university acknowledged an "acute housing shortage" and said one reason could be the rise in number of landlords renting out homes for short term holiday stays, instead of to students. At the uni there is a student group now campaigning for affordable student housing. Like at other unis, St Andrews has had two years of increased student numbers, after pandemic A-Level results lead to more applicants meeting the conditions of their offers.
Students are having to live in actual hotels because there's nowhere else to go
Last month, Glasgow University emailed students advising them to "suspend" their studies or even "withdraw" from the university if they hadn't yet found a place yet to live, with the uni saying there is "increasingly limited accommodation" in the city "due to a significant contraction in the private rental market". The uni has increased its number of rooms available by 25 per cent this year.
The Glasgow Tab reported that as of last week, there were at least 70 students left homeless. Many are sofa surfing, some are travelling over 60 miles to attend uni, and one student is paying £1,200 a month in rent just to live in Glasgow. One of the uni's responses to the student housing crisis raging through the city is to temporarily house students in a four-star hotel, as well as free breakfast and a £100 meal voucher for food on campus.
One of these students, Lily, told The Glasgow Tab she had been sofa surfing for several months, and said: "It's definitely better having a consistent place to sleep. It's still very stressful trying to find a flat but at least I'm not changing locations every night." With no kitchen and the high cost of takeaways, Lily said she's been living off instant noodles most nights, which she makes with the hotel kettle.
University of Exeter freshers had to be offered temporary accommodation in a Holiday Inn Express, because their private halls they were due to move into hasn't finished being built yet. The students are being given £200 per week of the delay and weekly vouchers for meals, worth £35 per day, and are also being supported by the uni.
Halls have had burst pipes
And Uni of Southampton and Southampton Solent freshers were sent to live in hotels after a burst pipe flooded their private halls. Students, who pay upwards of £132 per week, told The Tab that water came "flooding through the building", and they were allowed inside to get essentials and valuables before having to "evacuate". Unite Students said every student  affected was offered temporary alternative accommodation in hotels, including their meals and any travel expenses incurred.
Glasgow freshers have had a similar problem to Southampton, where almost 100 students living in a private halls block have been without water for almost a week, STV reports. Last Thursday the students, who pay around £700 a month rent, were told there would be no running water for a few hours after a pipe burst. But after initial repair attempts, another section burst the next day – and the day after that there were portaloo toilets arranged for the students to use. A spokesperson for the halls company said specialist parts required for a "full fix" have now arrived, and in the meantime bottled water and outside portaloos were being provided.
… fire safety concerns
And in Lincoln, 500 students have had to move out of their halls after multiple fire safety issues were highlighted during an assessment of the building. The repairs are expected to take "several months", and the university emailed students to say they had until the end of next week to find new accommodation and move out until their rooms are found to be safe to live in. The uni said it is working on making offers to alternative accommodation to all students.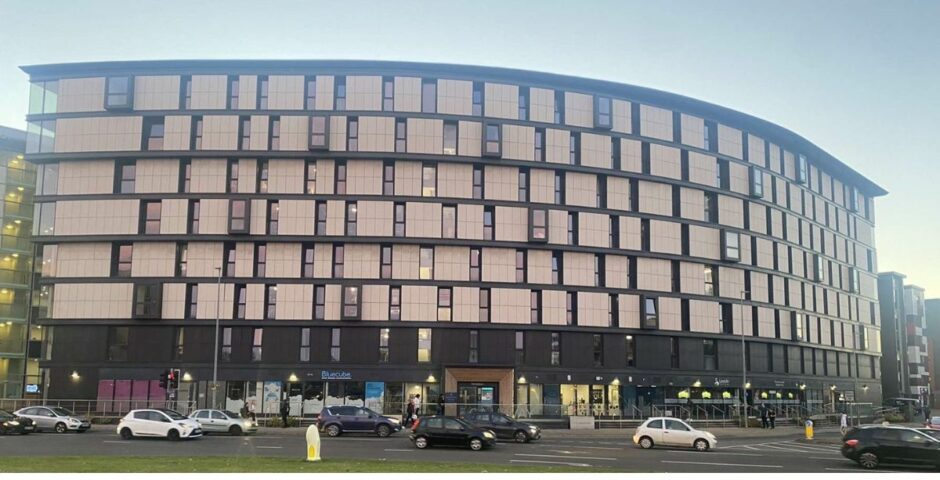 … and even cockroaches
Students at an Oxford college have threatened to stop paying their accommodation costs after they say cockroaches have "infested" two kitchens and five bedrooms. Up to 90 students were reportedly forced to share one kitchen, and staff asked residents to empty bins frequently and make sure no uncovered food was left out overnight. Exeter College said pest controllers were trying to "eradicate the insects as quickly as possible", including fumigating the communal kitchens which were affected, and said it has offered compensation to students affected.
It's not just halls – privately renting isn't much better
This week, Durham students resorted to sleeping on the street in a race to sign contracts as estate agents released their housing for next year. By 7.30am there were reportedly a few hundred people queuing, with some having joined it after a night out clubbing and others sitting with their laptops doing uni work throughout the night.
In London, where there are many unis, data from Spare Room shows that there are more than seven renters competing for each available room – more than double the rate of the rest of the country. The number of renters (which obviously includes non-students as well as students) looking for rooms has tripled whilst spaces advertised have declined. 16 per cent of landlords are apparently planning on moving away from the rental market, as rising costs make it less profitable.
A Lincoln postgrad ended up living in a tent after her housing contract ended one month before she completed her Master's degree. When she and her housemates unsuccessfully sought short-term living arrangements before the end of their tenancy, Sarah was offered a room in university accommodation but felt unable to take this up. Instead, she used her family's camper van in a campsite, with a tent attached to it. Like Lily in Glasgow, with limited cooking facilities she ended up eating a lot of instant noodles, and often had to work late on campus as there was no WiFi on the campsite.
Edinburgh's solution was to put students in converted common rooms, sleeping in bunk beds
Another city where students have been affected by the housing crisis is Edinburgh. Students there have reported being in competition against hundreds of other applicants for private places to live, and being outbid by others who are offering hundreds of pounds extra in rent per month. Last month, some of the students affected by this ended up temporarily living in converted halls common rooms, sleeping in bunk beds, as part of the uni's solution to the city's huge shortage of shared rented housing.
In one room, five final years were living in bunk beds. One of them told The Edinburgh Tab it was their only option, as each private flat they'd applied for had up to 500 other applications. Despite sleeping in bunk beds, students said it was "kind of a relief" to at least have somewhere to live, despite being less than "ideal". Many Edinburgh students have been sofa surfing, or remaining at their family homes until they can get accommodation. The uni said the "temporary" setup was provided to support those who didn't meet the requirements but hadn't been able to secure a place to live at the start of term, and blamed the city's housing shortage on the fact that students "are competing with Edinburgh's expanding workforce as well as visitors who are attracted to short-term lets across the city".
Have you had a uni accommodation crisis this year? Whether it's in halls or with a private landlord – if you have a story you think we should know about, get in touch at [email protected]
Related stories recommended by this writer:
• Why the hell are UK unis so incapable of providing their students with somewhere to live?
• Freshers living in hotels after burst pipe 'floods' Unite Students accommodation
• The cost of travelling to uni is forcing me to choose between lectures and my weekly shop