Nadine Dorries has deleted her Twitter, so here's a roundup of her most unhinged tweets
'Food doesn't grow on trees'
Nadine Dorries has deleted her Twitter and the internet has gone into meltdown.
You may remember Dorries as the former Secretary of State for Digital, Culture, Media and Sport who consistently demonstrated her lack of knowledge about Digital, Culture, Media and Sport.
A personal highlight was when she appeared at a rugby league dinner and told them how her favourite moment from the sport's history was Johnny Wilkinson's 2003 drop goal. While this was undoubtedly an iconic sporting moment, it did, unfortunately for Dorries, belong to an altogether different sport- rugby union- leaving audience members baffled.
But while Dorries was incompetent in her ministerial role, she performed excellently as Boris Johnson's chief brown-noser, staying faithful to the former PM until he met his bitter end. Here she is heralding BoJo as: "Our most successful Prime Minister in a generation."
So what next for Dorries? Well, she's expected to be promoted to the House of Lords. It would be a great shame to lose of our greatest political heavyweights so soon, after all.
But in the short term, she's deleted her Twitter, leading some political commentators to suggest she has done this to avoid scrutiny from the House of Lords Appointment committee.
With that in mind, here are all of Nadine Dorries's most batshit tweets from her now-deleted Twitter account.
1. Asking the big questions as always
2. I am speechless
3. Nadine writes her own punchlines
4. Dorries has the energy of a 13-year-old ending an argument with: 'your mum'
5. Those pesky snowflakes have been up to no good!
6. So this one was actually about a journalist…here's the full story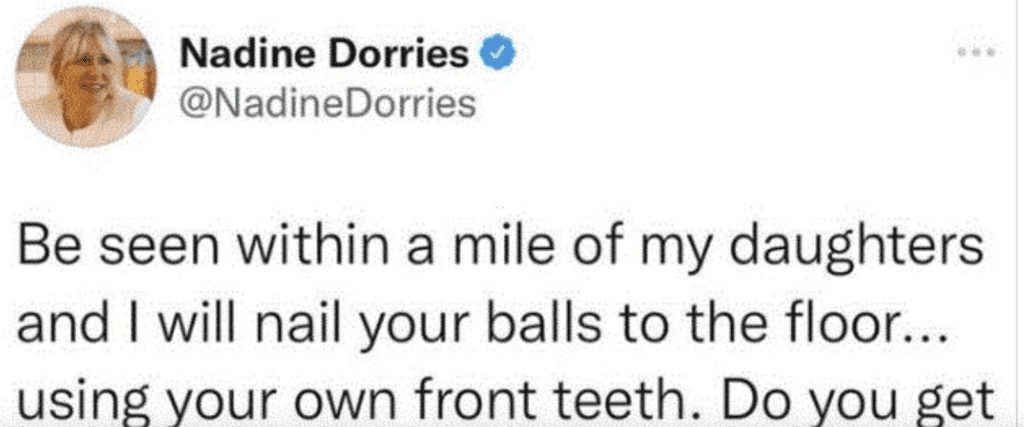 7. Here's Dorries having a go at the press again
8. Let's finish with some compelling evidence of her undying love for Boris
Nadine Dorries has been contacted for comment.
For more politics and current affairs follow Agenda on Twitter.
Related stories recommended by this writer:
• Here are the very best memes about the queue to see the Queen's coffin
• 'Oh f**k': Chancellor Kwasi Kwarteng swore twice back when he was on University Challenge
• People on Twitter are losing it over these Liz Truss curtsy memes