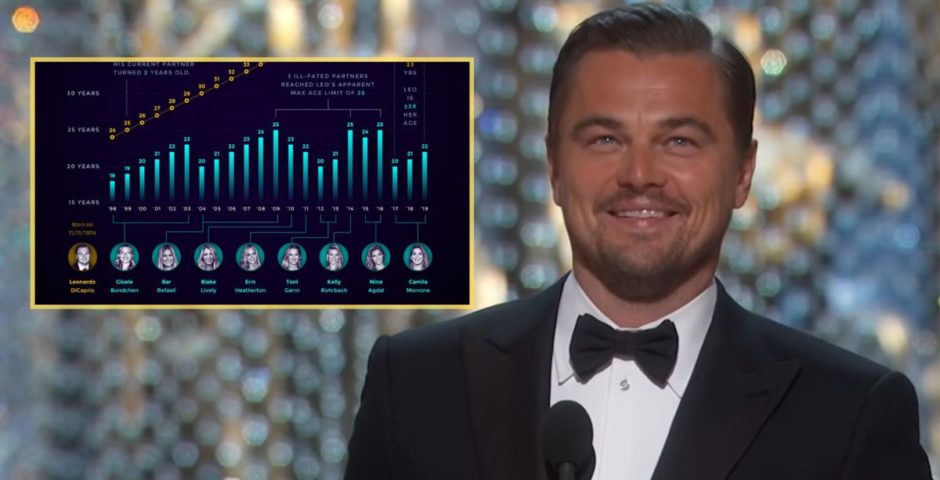 Guys, according to this chart Leonardo DiCaprio has never had a girlfriend over 25
His new girlfriend wasn't even born when Titanic was released 😭
| UPDATED
Hollywood royalty Leonardo DiCaprio has made headlines again after his latest girlfriend Vittoria Ceretti was spotted putting her hands down his boxers at a Halloween party. But she better hold on tight, as she's 25 – the oldest age DiCaprio now famously seems to break up with his girlfriends.
His last girlfriend Eden Polani was 19 years old. The girlfriend before that, Camila Morrone, was with Leo for four years before they split when she was – you guessed it – 25.
Now everyone is saying the same thing about DiCaprio's dating record of not dating women over the age of 25. It may sound pretty ridiculous, but someone even went the extra mile to prove the actor's cut-off age when it comes to his relationships. A user on Reddit created a graph that charted the ages of DiCaprio's previous partners back in 2019, just as he began dating Camila. According to the chart, DiCaprio has never dated a woman over the age of 25 and the average age of his girlfriends is 22.9, and cites British tabloids as its sources.
Over the past 20 years, Leonardo DiCaprio has dated a string of women and has seemingly dumped them all before they reached their mid-twenties. Although never publicly addressing this, the figures are fairly obvious.
An example of Leo's particular dating history is his relationship with model Bar Refaeli. The Hollywood movie star was dating Bar on and off for five years. The two began dating when she was 20 and split up when she was 25, which seems to be DiCaprio's "cut-off" point. Another girlfriend of his is Danish model Nina Agdal who he dated for a year, and they split up when she was 25.
Although DiCaprio has never acknowledged these claims, it's safe to say his peers in Hollywood are well aware. During the Golden Globes in 2020, Ricky Gervais took a swipe at the actor for how long his movies The Irishman and Once Upon A Time In Hollywood were, and said: "Leonardo DiCaprio attended the premiere, and by the end his date was too old for him." Yikes.
Related stories recommended by this writer:
• From creepy puppet dolls to twerking: Here are Glee's most controversial episodes
• Lord Sugar has gone on a wild Twitter rant slating people who work from home
• 21 iconic reactions to the Taylor Swift album announcement before we meet her at Midnight