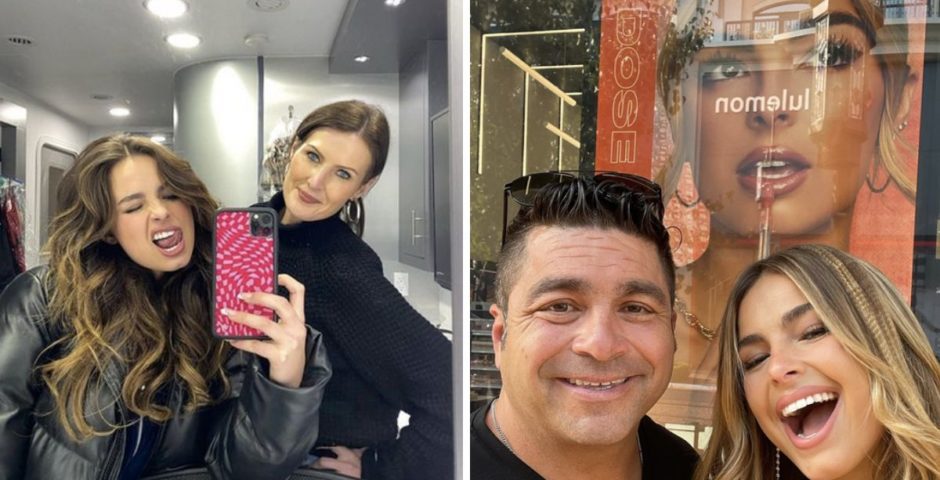 A full timeline of all the Addison Rae family drama involving her parents and Yung Gravy
Monty Lopez has written a diss track called 'Leftovers'
Addison Rae isn't everyone's cup of tea but recently people have been feeling very sorry for her and that's down to the drama surrounding her parents and Yung Gravy. So much has happened involving Addison Rae and her mum Sheri Easterling, her dad Monty Lopez and rapper Yung Gravy. Here's everything you need to know about the drama.
Addison Rae decided to put her heart and soul into TikTok back in November 2019. She dropped out of LSU and moved back to her family home in Los Angeles. In January 2020 she was signed with talent agency WME and her parents were too. Then in August 2020 Forbes reported Addison had earned more than $5 million over the past year and was officially the highest-earning TikToker at that time. Then in September 2020 she began filming her Netflix movie, He's All That. Jump forward to April 2022 and Addison goes red carpet official with her boyfriend Omar Fedi who she met through Kourtney Kardashian.
7th July 2022  – Allegations surface about Addison's dad Monty Lopez
Addison Rae's parents have a complicated relationship to say the least. Monty Lopez and Sheri Easterling got married in 2000 but after having Addison and her two younger brothers, they got divorced. Addison has talked pretty openly about her divorced parents on her podcast. She's said before how her dad wasn't really in her life much growing up. But in 2017 Monty and Sheri remarried.
Back in July earlier this year, a 25-year-old woman named Renée Ash claimed she had sparked a romance with 46-year-old Monty. Sheri posted a statement on her instagram story on 7th July which said: "Personal matters being brought public are always challenging and overwhelming for anyone involved. I will be okay. My biggest concern is – and always will be – my children and their fragile hearts and minds. I will always do my best to protect them."
Sheri then changed her Instagram bio to say "single mom".
14th July – Yung Gravy gets involved
Sheri, who has well over 14 million TikTok followers caught the attention of Yung Gravy, a 26-year-old rapper famous for vocalising his attraction towards mothers and older women. Sheri and Yung Gravy began posting flirty exchanges and subtle suggestions they should go out. On the BFFs Podcast, Yung Gravy said he and Sheri were just sending each other wholesome DMs.
7th August – Addison unfollows both her parents
At this moment in time, her parent's behaviour had been rinsed publicly. Addison unfollowed her mum and she had already unfollowed her dad back in July when the news first broke. Sheri commented on a post about Addison's decisions saying it was "heart wrenching".
8th August – Monty challenges Yung Gravy to a boxing match
In the midst of Yung Gravy flirting with Sheri, Monty challenged him to a boxing match multiple times. Yung Gravy declined to even address the invitations and respond and as a result Monty posted videos about how badly he wants to box him.
28th August – VMAs with Yung Gravy and Sheri
When this year's MTV VMAs came around Addison didn't go. However her mum went alongside Yung Gravy and everyone was shook. The couple even kissed on camera. On the red carpet they spoke to ET and Yung Gravy said older women are "more experienced". He said: "They are an underserved community I'd like to say and they deserve more attention, so I thought that'd be the one. And I've noticed that people really have started giving MILFs more attention since my music dropped."
Following the VMAs, Monty posted a shirtless photo onto Instagram and said he was "unbothered" about the VMAs. His full caption said: "Unbothered! Thank you Yung Gravy for taking the leftovers! I would rather spend time with my daughter and two grandkids that Sheri made me abandon as a child in order to be with her. Never let a woman make you choose between her and or your blood child."
30th August – Addison is reportedly 'mortified' by the drama with her parents
A source told Page Six "Addison has seen her parents go through a lot of ups and downs over the years. But everything going on right now has been particularly overwhelming for her."
31st August – Monty Lopez has written a diss track called Leftovers about Yung Gravy
Monty posted a clip of him dancing shirtless to his new song which is yet to be released. The comments are full of people saying they have "second hand embarrassment". You can watch Monty dancing to his new song below.
For more of the best TikTok videos, trends and memes – follow The Holy Church of TikTok on Facebook. 
Related stories recommended by this writer:
• TikTok has just explained what dry cleaning actually is and I am shocked I never knew
• Omg! You can now get read receipts on your TikTok messages
• Instagram precise location debunked: Here's how and why you should be turning it off