Pack your bags: These are the most LGBTQ-friendly countries you can travel to this summer
Look, travelling when you're LGBTQ+ can be complicated to say the least. There are loads of countries that criminalise LGBTQ+ behaviour, either with restrictive laws, punishing members of the community with imprisonment or even the death penalty. We wouldn't feel safe going to many of these countries, and if you're an ally you probably shouldn't go either. However, plenty of countries are really friendly to LGBT people and you may feel safer to travel to these – so don't rip up your passport just yet.
You can find a LGBTQ+ Travel Safety Index here, where travel company Asher & Lyric found the safest and least safe countries for queer people, taking into consideration factors such as legalised same-sex marriage, whether there is criminalisation of hate-based violence, and Gallup's poll that asked people whether the place they live is "a good place to live for gay or lesbian people". Obviously though, always do your own research into the cities and areas you're thinking of travelling to, and you can look on the government website for foreign travel advice.
Here are some of the best countries LGBT people can go to, for queer-friendly travel:
Iceland
Coming in at 11th on the LGBTQ+ Travel Safety Index, with an A- grade, is Iceland. Like all the other countries on this list same-sex marriage is legal in Iceland, scoring a total of 330 points across all metrics out of a possible 400.
In its capital, Reykjavik Pride has been celebrated every summer since 1999 and is now a 10-day celebration, and the city has good nightlife year-round.
France
Hop on the Eurostar and you'll end up in Paris, which apparently has one of the biggest queer scenes in Europe. Paris Pride, aka la Marche des Fiertés, happens every year, and there's more Prides around the country annually, including Marseille and Lyon, and a Lyon Queer Film Festival every March.
There's also an absolute ton of gay bars, mainly in Paris, Lyon and Marseille.
Spain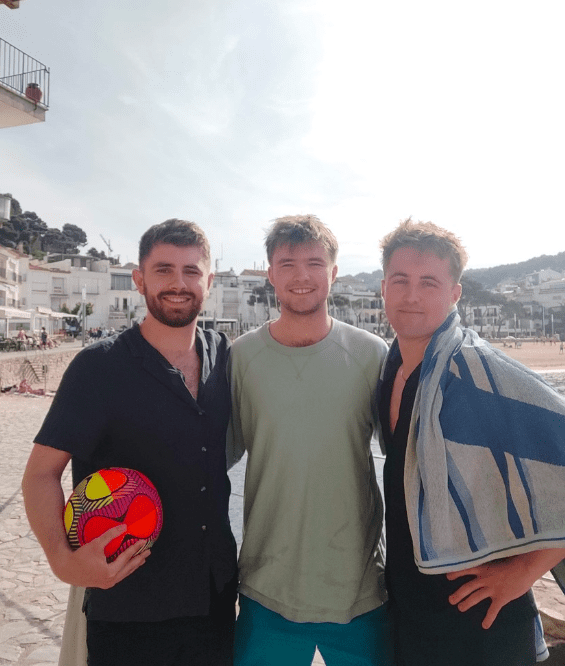 Next on the list of LGBTQ-friendly countries is Spain. Apparently some of the most gay-friendly cities in the country include Madrid, Barcelona, Sitges, and Maspalomas. There's a Wonder Gay Festival every summer in Torremolinos, and Madrid Pride is apparently one of the largest in Europe.
Norway
Earlier this year, Norway's government issued a formal apology for a historic law criminalising homosexuality, which was removed 50 years ago. As the 50th anniversary of the ban being lifted, 2022 is Norway's Year of Queer Culture.
Oslo Pride is a huge annual event, and apparently LGBTQ+ friendly places can also be found in cities including Stavanger, Tromsø and Bodø.
Belgium
Brussels, Belgium's capital, is apparently one of the most progressive and liberal places in Europe and "one of the leading gay cities in the world" according to one website. Brussels apparently has a diverse gay nightlife scene, an annual Pride in May and Brussels Gay and Lesbian Film Festival in January.
UK
Fancy a staycation? The UK is sixth on the LGBTQ+ Travel Safety Index. London, Brighton, and Manchester are all full of LGBTQ+ events and nightlife. Click here to see a rundown of all the big gay Pride events happening in the UK this summer.
Portugal
Apparently Portugal's capital, Lisbon, is the best place to find gay nightlife in Portugal. The city hosted Eurovision 2018, where Netta Barzilai won with Toy, iconic if you ask me. Portugal is gorge, easy to get to, and it's one of the best countries for LGBT travel – what's not to love?
Malta
An island in the Mediterranean between Sicily and the north African coast, Malta comes in fourth on the LGBTQ+ Travel Safety Index. Apparently in recent years, the country has seen "definite and positive shift towards greater cultural acceptance of LGBTIQ in all aspects of life", and Malta is popular with queer travellers. If you want to go, this website has info on Pride, other events, and LGBTQ+ nightlife in Malta.
Netherlands
Now into the top three, the Netherlands is apparently one of the best places for LGBTQ-friendly travel, and it was the first country to legalise same-sex marriage back in 2001. Amsterdam has loads of LGBTQ-friendly attractions, apparently, but loads of the country's big cities have queer scenes, like Utrecht and Rotterdam.
Sweden
Home of ABBA and IKEA, how could Sweden not come in at second place? The Visit Sweden site says it is "an open country where LGBTQ+ rights are the norm", and it calls the country inclusive and an ideal place for queer-friendly travel. Stockholm Pride is the largest of the Nordic countries, and there are other Pride events in other locations around the country.
Canada
And coming in at the most safe country on the LGBTQ+ Travel Safety Index is Canada. Toronto has an annual Pride Week, and there are big LGBTQ+ communities in Montreal, Vancouver and Ottawa.
The Tab's Pride reporting series is putting a focus on highlighting LGBTQ+ issues and celebrating queer voices across UK campuses.
If you or someone you know has been affected by this story you can contact Switchboard, the LGBTQ+ helpline, on 0300 330 0630 or visit their website. You can also find help through young people's charity The Mix, and Galop, the LGBTQ+ anti-violence charity. 
If you've got a story you'd like to tell us – whether it's an incident of homophobia on campus, an experience you'd like to share, or anything you think we should hear, get in touch in confidence by emailing [email protected]
Related stories recommended by this writer:
• You can't call yourself a true LGBTQ+ ally if you still travel to these 11 countries
• A rundown of all the big gay Pride events happening this summer
• Dear straight people, think twice before coming to any Pride events this summer