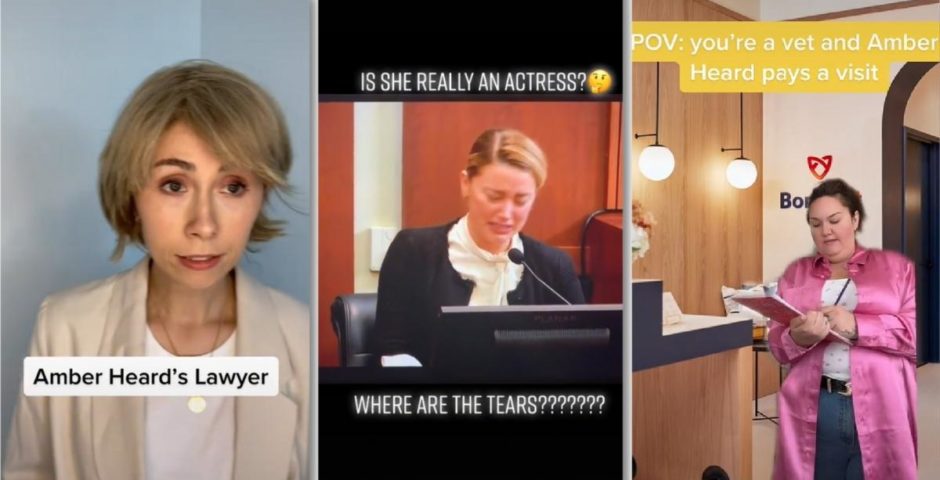 Memeification of Amber Heard's testimony could be 'deeply triggering', warns Refuge
Creators are turning the trial into skits, hashtags and memes
The so-called "memeification" of the Johnny Depp v Amber Heard defamation trial could be "deeply triggering" for survivors of abuse, according to domestic violence charity Refuge.
Depp is suing his ex-wife for £40 million ($50 million) over a 2018 Washington Post article, in which she branded herself a "public figure representing domestic abuse."  Heard is countersuing the actor for £81 million ($100 million) in damages.
Since the former Fantastic Beasts star took to the stand in April, platforms like Twitter and TikTok have been littered with fancams, hashtags and skits – each one pedestalling the star and making fun of Heard. Global brands, such as Milani Cosmetics, even took the time to weigh in on the trial.
It seems the internet has firmly placed itself on Johnny Depp's side. But experts are warning the lighthearted takes could prove damaging for victims.
Mainstream YouTubers and influencers started rolling out content as soon as Amber Heard's testimony began. A TikToker with 2 million followers performed a sketch (which now has over a million views) as Elaine Bredehoft, the actress' lawyer. Her exaggerated mannerisms and bizarre lines earned her praise in the comments.
She's not the only one. A gaming TikToker re-enacted a graphic scene Heard described during her statement using characters from The Sims. The video currently has 82,000 views, despite only being posted 18 hours ago.
A British comedian posted a skit yesterday (9th May) in which she, as "Amber Heard's vet," wrongly calls the actress "Amber Turd." Half-a-million people have already viewed the video.
The Tab spoke to Ruth Davison, Refuge CEO, about the impact these memes might have: "The online narratives surrounding the broadcast of this trial are very troubling, with the same terrible tropes being seen and heard about survivors of abuse," she said. "It will be deeply triggering for survivors to hear and see these harmful stereotypes.
"This is a dynamic we see being played out time and again. Victim blaming of survivors and negative tropes in social media are not just potentially re-traumatising for survivors, they may well deter others from coming forward to seek justice."
If you've been affected by this story Refuge's National Domestic Abuse Helpline 0808 2000 247 is available 24 hours a day 7 days a week for free, confidential specialist support.
The Tab has contacted TikTok for comment. 
Related stories recommended by this writer:
Featured image via TikTok before edits.