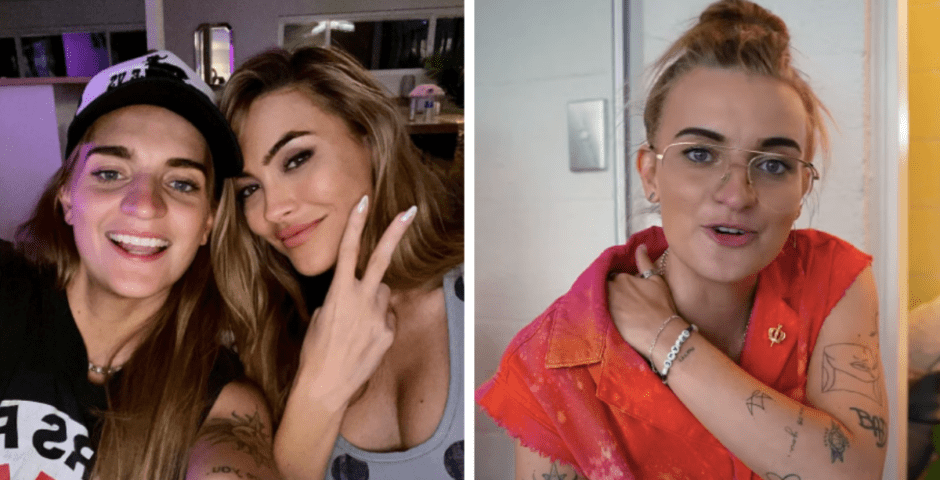 Who is G Flip? The Australian singer who is dating Chrishell from Selling Sunset
They met Chrishell last year
| UPDATED
If you've spent so much as a millisecond on gay TikTok this year, you'll have seen it FULL of rumours for months that Chrishell Stause from Selling Sunset is with Australian singer G Flip. Earlier this month, Chrishell finally confirmed the speculations at the Selling Sunset season five reunion, saying the two had been "spending a lot of time" together and G Flip is "very important to [her]".
The two met when Chrishell was in one of G Flip's music videos, which has just been released – and it's pretty iconic. Fans had been saying the two were low key "Insta flirting" for months, with a loooot of Insta comments being exchanged, including one where Chrishell says G Flip's song makes her "emotional and horny". They'd also been pictured together loads, hanging out at events and apparently on holiday together in Denver?
Here's everything you need to know about G Flip:
G Flip is a 27-year-old Australian musician
Georgia Claire Flipo, known as G Flip, was born in 1994 making them 27 years old – in case you were wondering, Chrishell is 40. They are a musician from Melbourne in Australia, a singer, songwriter, drummer and producer.
G Flip uses they/them pronouns and is non-binary, coming out on Instagram in June 2021. "Looking into what it means to be non-binary had me realise that that's who I've been my entire life," they said.
"I'm still the exact same person, non-binary is just the best way to explain who I am and how I've always felt, like a gender smoothie."
View this post on Instagram
Their first album was released in 2019. Their most popular song on Spotify is called Gay 4 Me and has had over two million streams.
In an interview, G Flip has said what this song is about. "I've been on the other end of this situation," they said, "where girls have told me they aren't gay, but they're gay for me. The words really fell out of my mouth when writing this one."
On one post promoting the song, Chrishell commented "Yes!!! Love this! #onrepeat" – G Flip replied with three "😘" emojis. On another of G Flip's posts about Gay 4 Me, Chrishell said: "How do you make us emotional and horny at the same time?? Your power 🤯😉👏❤️‍🔥". 
Their relationship started because Chrishell was in one of G Flip's music videos
The two met at Halloween last year, G Flip has said. "But we were both with our ex-partners then", G Flip said. "And then we obviously separated from our partners and then we just started talking and stuff. We just found a lot of similarities – even though people would think we're from, like, different corners of the world, we find ourselves so similar sometimes."
Chrishell and Jason announced their split in December 2021.
Speaking at the Selling Sunset reunion, Chrishell said: "[Dating G Flip] started because I was just going to be in their video, it's about this chaotic love story. I come from soaps, I love acting, and with the job that we have I don't always get to do it. At first of course I was like 'yes let's do that'." Chrishell also said that G Flip "made the first move"
The song is called Get Me Outta Here, and the music video has been called "steamy" by many tabloids – you get the vibe. In it, Chrishell spends a lot of time making eyes at the camera, G Flip plays the drums, and they're both wearing what looks like black leather. You can watch it here:
They and Chrishell were 'Insta flirting' for MONTHS
So besides from Chrishell saying G Flip's song makes her "emotional and horny" (lol), fans on Twitter and TikTok were saying the two had been "Insta flirting" for months.
Fans spotted Chrishell at concert in LA – it was Fletcher's show, but G Flip was the warm up act. Chrishell even commented on G Flip's Instagram post about it, saying: "I'm sad it's over😩You KILLED IT ❤️‍🔥🔥❤️‍🔥🔥👑 ". G Flip replied: "thnx baby 😘".
Chrishell and G Flip have been interacting loads in Insta comments on both of their profiles. G Flip has commented on so many of Chrishell's pics over the last month, including "Hot damnnn 🔥" on one of Chrishell's magazine photoshoots.
They were hanging out a lot too – they were pictured together at a Bridgerton season two release party, and G Flip has featured on Chrishell's Insta grid several times.
At the end of April, Chrishell and G Flip were spotted in Denver, Colorado in America, holding hands.
Fans realised that they were both on their way to the same place, after Chrishell posted a "Colorado bound" Insta story and G Flip posted one saying they were going to Denver. American actress Molly Burnet then posted an Instagram story which confirmed the two were in the same place together.
They were apparently pictured in Denver, holding hands. You can see the pic in a TikTok video here. The image shows two people from behind and doesn't show their faces, but fans were all saying the pic is of Chrishell and G Flip.
And that same week, a fan tweeted that Chrishell was "too pretty to be with a man", G Flip seemed to only add more fuel to the fire by replying: "Agreed".
G Flip has met Chrishell's Selling Sunset co-star Emma!
G Flip and Chrishell went for dinner with Emma Hernan, Chrishell's good friend and Selling Sunset co-star, and two other mates. Emma posted a series of pictures of them all in March this year, at a boujee-looking restaurant in LA.
View this post on Instagram
In April, G Flip tweeted an explanation of what it means to them to be non-binary. They said: "If strawberries were girls and blueberries were boys and you put them in a blender, you'd get a gender smoothie. I am a gender smoothie." They then put a screenshot of this on Instagram, captioning it: "I was on a kids tv show and when they asked me how it felt to be non binary this was my answer. For every non binary person it is different, personally I feel like a gender smoothie tho."
Chrishell commented on this, naturally, saying: "The most perfect blend", and her Selling Sunset co-star Emma Hernan also wrote: "Omg I love this!!!!! Strawlueberry!!!!!!!" with a long string of 😍😍 emojis. Emma's also commented on several of G Flip's other recent Insta posts, usually with various emojis.
G Flip and Emma both follow each other on Instagram. From the Oppenheim Group, G Flip also follows Chrishell's other close mate, Mary Fitzgerald.
Selling Sunset season five available on Netflix now. For all the latest Netflix news, drops, quizzes and memes like The Holy Church of Netflix on Facebook.
Related stories recommended by this writer:
• Gay TikTok thinks Chrishell from Selling Sunset is with Australian singer G Flip
• Here are all the rich and famous exes of the Selling Sunset cast
• Chrishell Stause and Jason Oppenheim from Netflix's Selling Sunset have split up
Featured image via Instagram @chrishell.stause and G Flip YouTube