These are the Bridgerton cast members who worked together before the show
Lady Featherington and Daphne played mother and daughter in a BBC series
Behind the scenes of Netflix's Bridgerton the cast seem to be incredibly close. They're sharing pictures together, uploading videos doing silly things together and genuinely seem to really like each other when doing interviews. Perhaps a reason for this close-knit bond is that many of the cast already knew each other before filming.
A number of the cast members including Nicola Coughlan, Jonathan Bailey and Kathryn Drysdale had already worked on different TV shows and films together long before Bridgerton. Sometimes they were just on the same show at the same time and for others they had many scenes together.
These are the Bridgerton cast members who worked together before the show:
Nicola Coughlan and Calam Lynch
Season two new cast member Calam Lynch plays the character of Theo who works at Lady Whistledown's printing press and he's getting to know Eloise too. Penelope, played by Nicola Coughlan, warns Eloise off of Theo, presumably to keep her identity as Lady Whistledown a secret.
However this isn't the first time the two have worked on a project together. Calam appeared on an episode of Derry Girls, the Channel 4 show of which Nicola is a lead character.
Calam appears in the season two episode "The Prom" as the character John Paul. Nicola's character Clare is ditched by her friend Erin to go to the prom with John Paul, however he doesn't appear to take her to the prom.
Phoebe Dynevor and Polly Walker
It is actual madness to me that Phoebe Dynevor who plays Daphne and Polly Walker who plays Lady Featherington have already been in a show together where they played mother and daughter.
The two started in the BBC drama Prisoners' Wives which aired in 2012 and 2013. The series focused on the families who get left behind when their husband or dad gets sent to prison.
Polly Walker played the role of Francesca whose husband is taken to jail for international drug-running and she faces potential homelessness after her family's assets are seized. Phoebe plays her young daughter.
Claudia Jessie and Harriet Cains
Claudia Jessie who plays Eloise Bridgerton is a regular feature in season four of Line of Duty and her fellow cast mate Harriet Cains, who plays Philipa Featherington was in the first episode of the series with Claudia.
Whilst they don't appear to have any scenes together – Claudia played a detective constable and Harriet was interviewed by Steve Arnott over a crime – they still could have met on set.
Jonathan Bailey and Kathryn Drysdale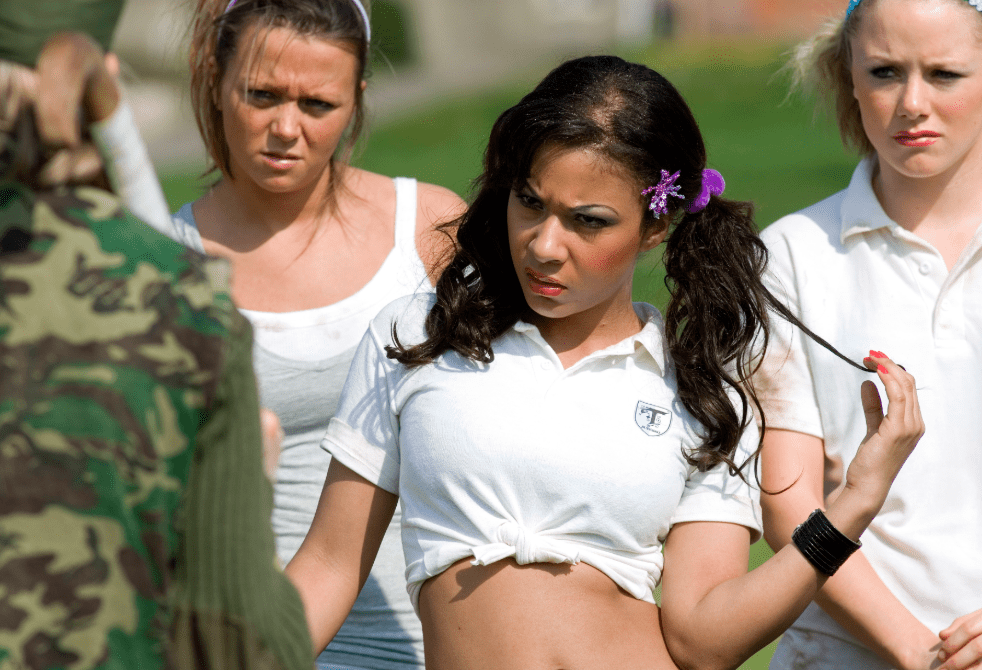 St Trinian's was an iconic movie from the 00s, so it makes complete sense two Bridgerton legends starred in the film.
Kathryn Drysdale, who plays Madame Delacroix in Bridgerton, had a leading role in the film as Taylor.
Jonathan Bailey aka Anthony Bridgerton had a very minor appearance in the film. He played a Bedales boy who the girls are competing in against the school challenge. The girls drug them by putting magic mushrooms in their tea, naturally causing them to fail the quiz.
Jonathan Bailey and Shelley Conn
Jonathan Bailey already appeared with his on-screen mother in law Shelley Conn aka Lady Mary Sharma in the BBC series W1A.
Jonathan reprised his role as Jack Paterson and Shelly Conn joined Jonathan in episode four of season two.
The episode centres on making the BBC more inclusive and Shelley plays a news reader. Though they don't appear to be in any scenes together, it's nice to know mother and son in law have been on set together before.
Jonathan Bailey and Adjoa Andoh
Jonathan Bailey reprised his role as Olly Stevens a journalist in the ITV show Broadchurch for season two.
Adjoa Andoh who plays Lady Danbury in Bridgerton features in the first episode of season two of Broadchurch as a psychotherapist called Julie.
They didn't have any scenes together but were to likely have seen each other at the wrap party possibly.
Kathryn Drysdale and Hugh Sachs
Kathryn Drysdale who plays Madame Delacroix and Hugh Sachs who plays the Queen's right hand man have already filmed a TV show together.
They were both on season four of Benidorm on ITV. Kathryn played the character Natalie Jones and Hugh Sachs was Gavin Ramsbottom.
Hugh was in the show for five series and Kathryn had a main role in season four. Though they didn't really have any interacting storylines they were definitely on set together and spending time off from filming with the rest of the cast.
Season two of Bridgerton is available on Netflix now. For all the latest Netflix news, drops, quizzes and memes like The Holy Church of Netflix on Facebook. 
Related stories recommended by this writer:
•Ok, so what actually is the game of pall mall played in Bridgerton?
•These are all the classic TV shows which launched the careers of the Bridgerton cast
•This is what was actually in Benedict's tea in Bridgerton season two