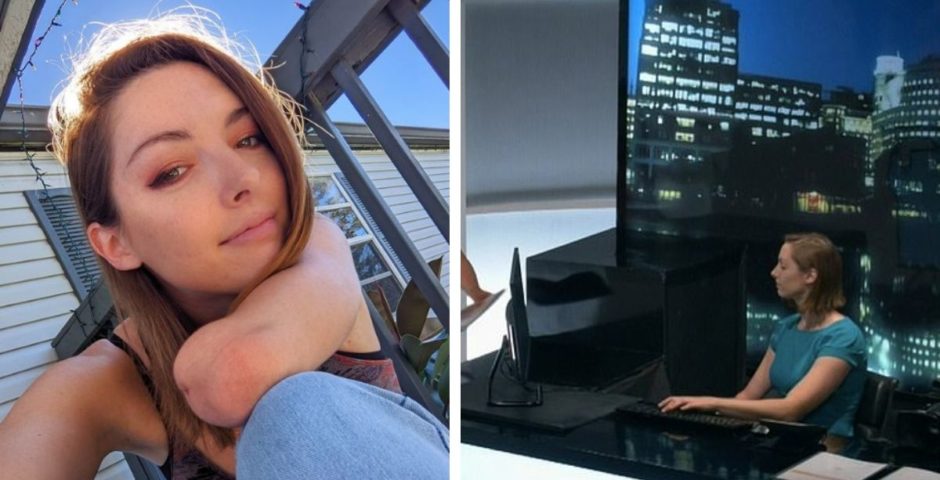 Who is The Apprentice receptionist? Meet the woman behind the famous desk
She's not actually a receptionist
Aside from Lord Sugar, there is arguably no one with more power on The Apprentice than the receptionist who says "Lord Sugar will see you now". She is everywhere and nowhere, you rarely see her face and she only has one line, and yet you will always remember her for that iconic line.
And this year's receptionist has now been revealed as actress and model Ashley Young. Yeah that's right, she's not even a real receptionist, mind blown.
Ashley is a 26-year-old originally from Florida who now lives in London and this is everything you need to know about the latest receptionist on The Apprentice:
She calls herself an 'American Cyborg'
Ashley was born without the lower part of her right arm and now occasionally wears a golden prosthesis with a Covvi Nexus bionic hand.
She calls herself an "American Cyborg" and has gained a significant following on Instagram thanks to her honesty around her disability.
Ashley moved to London in 2019
Ashley is originally from Florida and has been in London for the last three years. She signed with specialist talent agency Zebedee Management who champion people with disabilities.
Since being with the talent agency Ashley has modelled for Seasalt Cornwall, been on the cover of Boots' magazine and appeared in an advert for Creme Eggs and on BBC Three's Glow Up.
The Apprentice was her first speaking role
Ashley spoke to the Daily Mirror about her experience of filming The Apprentice and said she was nervous about the part as it was her first time having a speaking acting role.
She said: "I've not worked as a receptionist before and this was my first acting role with a speaking part so I was quite nervous at first. Luckily they gave me a whole wardrobe of business clothes to wear."
Speaking to the Mirror Ashley said she was very nervous to have the first call from Lord Sugar and "all the contestants were looking at me, but I soon got used to it and relaxed."
Ashley said she was very excited to have the role and one day wants to be on Strictly Come Dancing.
She's a mum
Ashley is currently married to her husband James who is a model and they have one child together, a daughter called Elara.
Related stories recommended by this writer:
•Is The Apprentice scripted? Here's all the evidence we have
•Shama Amin from this year's Apprentice has quit the show due to 'painful' health issues
•Inside the £17million London mega mansion where The Apprentice 2022 cast lived