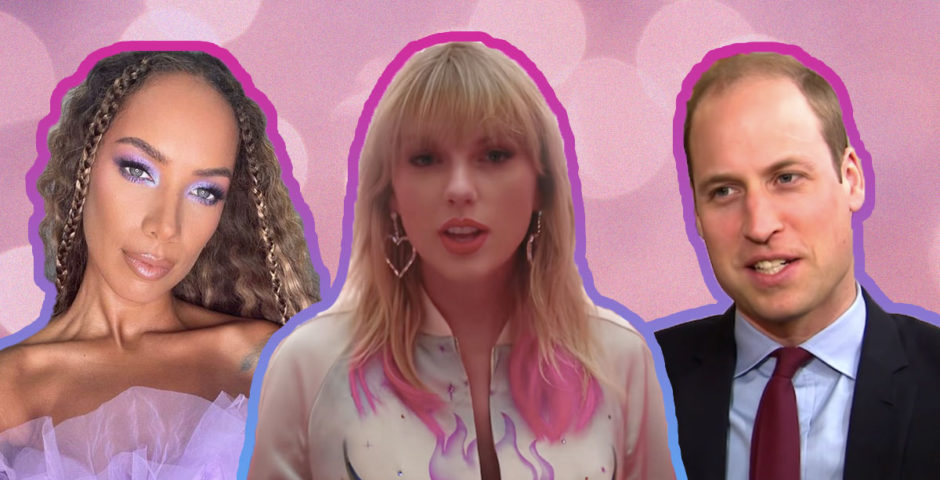 The weirdest Taylor Swift duets you never knew about, ranked from strange to strangest
How did we all just forget Livin' on a Prayer (Prince Wills version)?
Okay, I think it's fair to say we have all become at least a little bit of a Swifty over the last year. Whether it was lockdown, or her (incredible) re-release of Red, it is now impossible to go anywhere without hearing at least one person mention All Too Well (10 Minute Version) (Taylor's Version).
Although she's known for her catchy tunes and iconic girlbossing, something only the most hardcores Swifties will know is that Taylor has done a LOT of strange duets with some very random celebs and musicians over the years. Here are some of the strangest ones, ranked:
7. Taylor Swift and Stevie Nicks
This wasn't exactly a 'strange' duet, which is why it ranks last, but is definitely one of her more controversial ones. Back in 2010, Taylor Swift and Stevie Nicks performed Fleetwood Mac's Rhiannon on-stage together. Admittedly, this wasn't Taylor's best performance but I do think the name of the YouTube video is unnecessary to say the least (alas, there wasn't a better quality video).
Despite this, TayTay came back from the negative reactions and in an interview with 6o minutes revealed that the criticism she faced caused her to write Mean which won her two Grammy's, so potato-potahto.
6. Taylor Swift and Flo Rida
In 2011, Taylor joined forces with Flo Rida in Miami to perform Flo Rida's Right Round. I mean. It just feels like a strange combo. Really spins my head right round, right round. Won't lie, I think the fact it kinda slaps makes it? Even stranger?
The audience seemed to love it though! One comment on the video even describes it as "the best experience of [their] life", (although that comment is 10 years old).
This doesn't rank higher because in all honesty, it's an interesting combo of musicians but it doesn't feel quite strange enough, and she does a great job!
5. Taylor Swift and Hayley Williams
During Taylor's Speak Now Tour in 2011, she brought out Hayley Williams of Paramore for a rendition of That's What You Get and newsflash – it's really good. 2015 emo phase me is quaking.
A lot of the comments on the video praise Taylor for bringing in "genres other than pop", which is why this ranks so high up on the list. Also, loving the contradiction between Taylor's floaty purple dress and Hayley's more pop-punky outfit. This is a collab I would be so down to see again!
4. Taylor Swift and Leona Lewis
Now, no hate to Leona Lewis, Bleeding Love is a classic and admittedly *irresistible* after a few drinks, but it gives what I'd describe as 'different' energy to Taylor. It gives me… wine, sweaters, ice cream and mildly cringey Facebook posts about heartbreak. However, during her 1989 World Tour in 2015, Taylor brought Leona on stage and to the crowd's delight, they performed the song to perfection.
No matter how good it sounded and how loudly I'm singing along to the video… it doesn't make it less strange. Sorry.
3. Taylor Swift and Jason Mraz
Once again, no hate to the song itself. This song was my ANTHEM when I was 13, and you can't deny that it is super catchy… But, the idea of Taylor singing the song I used to sing along to when thinking about my first crush…. No thanks x
P.S. is it just me who always pictured Jason Mraz wearing a fedora?
2. Taylor Swift and Justin Bieber
You might think this duet initially sounds fine. Taylor and Justin collab – not that weird. However, this is specifically the Taylor and Justin duet from 2011, in which they sing Baby together, and yes, Justin still has his iconic fringe.
Kinda forgot Baby has a rap verse, I won't lie. Someone tell me why Taylor made the song so much better though??
1. Taylor Swift, Bon Jovi and Prince William
You heard me right. This is something that actually happened. In a video that is actually posted to the Royal Family YouTube channel from 2013, Taylor and Prince Will join Bon Jovi on stage for a rendition of Livin' on a Prayer. In case anyone is wondering, this is from the Winter Whites Gala charity ball at Kensington Palace – which somehow makes it all the better.
Taylor in this video is such a vibe, I just love how much she's vibing and how Prince William is just… there. But then again, she has a right to be with royalty (our Queen xxx)
Featured image (before edits) background via Sharon McCutcheon/Unsplash; overlays via Instagram @leonalewis, YouTube, YouTube
Related stories recommended by this writer:
• These are the most cursed products celebrities have tried to sell to us
• The four iconic Christmas chocolate tubs, ranked definitely from worst to best
• Jason Oppenheim has revealed why he and Chrishell hid their relationship on Selling Sunset