Here's what went down on the first day of lecturer strikes
There were occupations, flares and some really cute picket pups
Yesterday marked the start of three days of lecturer strikes that will see thousands of students and staff from all corners of the UK descend onto the picket lines.
University and College Union (UCU) boss Jo Grady heralded the first day of industrial action as a resounding success. "If university managers doubted the determination of staff to change the higher education sector for the better, the numbers of staff on strike today prove they are very sadly mistaken," she said.
Here's everything went down at each university city on the first day of lecturer strikes:
Manchester
Students and lecturers participating in the strike in Manchester weren't put off by the rain, beginning their day of action at 8am.
One student told The Manchester Tab: "We understand exactly what staff are going through, their issues stem from the same senior management who've made life so difficult for students over the past years.
"This is a senior management which has no regard for student mental health when it really matters but now is claiming it cares so much because of the strikes.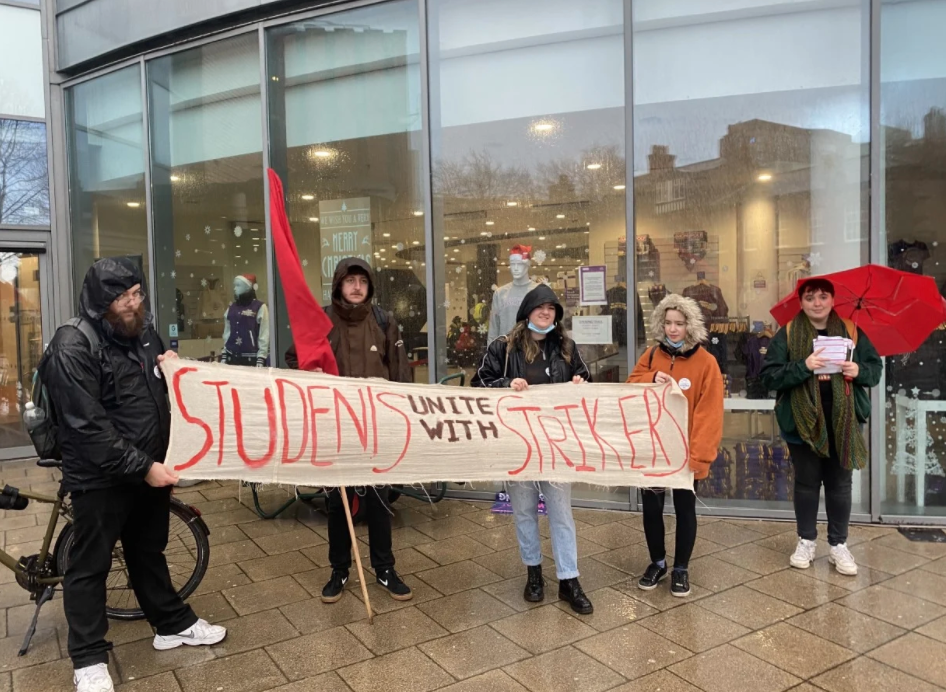 "Ordinary staff have got us through these tough times and have always shown us support it's only right we do the same."
Some students have also been occupying university buildings overnight with one protestor saying: "The uni really needs to learn to lock their doors behind them."
The strike was also attended by some iconic furry friends.
Bristol
In Bristol, the strikes kicked off with a bang and were even attended by Green party co-leader, Carla Denyer.
Protestors called on University of Bristol Vice Chancellor Hugh Brady to "get on the phone" to UUK (Universities UK) and the UCEA (Universities and Colleges Employers Association) to negotiate an end to the strikes.
Cambridge
Staff and students gathered in Cambridge where speeches were made and ideas were discussed.
Some students were getting festive, whipping out a tray of mince and delivering them to their striking lecturers.
Edinburgh
In Edinburgh there were some cracking singing.
Glasgow
Competing with their Scottish pals for the best musical performance of the strikes, Glasgow lecturers got involved with some drumming.
There were also some brilliant Britney-themed signs.
UUK offices
Meanwhile at UUK head offices, protestors lit flares and blocked the entrance to the building.
One student who is part of Red Square Movement, the group behind the protest, said: "Students and workers need to organise together to fight the bosses – together we have the power to take control of our education, resist cuts to courses and staff pay, and repurpose our universities.
"We are creating an anti-racist, anti-classist and anti-colonial education system rooted in liberation and collective care, which works for us, by us."
The lecturer strike continues today and tomorrow.
Featured Image credit: @gabrielrahman__
Related stories recommended by this writer:
• Everything you need to know about the upcoming lecturer strikes
• Strikes and a pandemic ruined my uni experience. How dare lecturers go on strike again?
• Don't blame your lecturers for striking. Blame uni management for giving them no choice