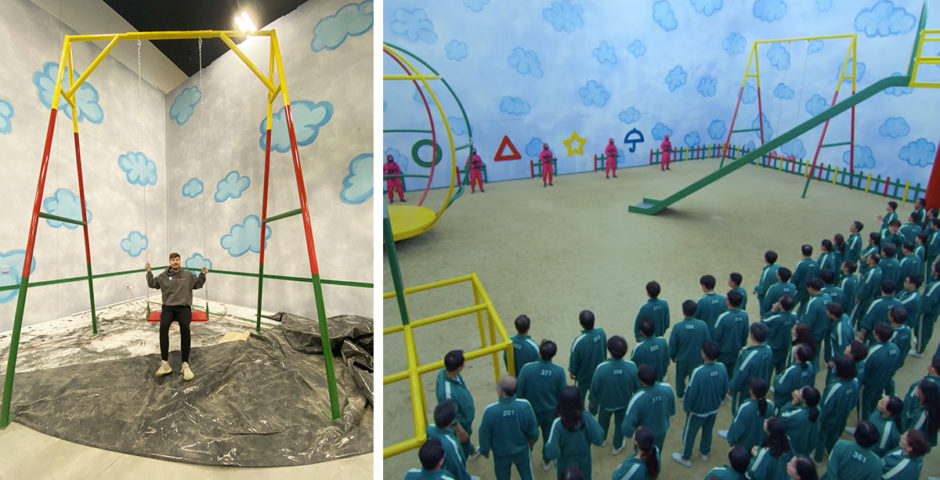 This YouTuber has created his very own Squid Game and is offering the winner $456,000
He's already started to build the set
American YouTuber, MrBeast, shared photos of his Squid Game set earlier this week after pledging to recreate the Netflix Korean survival series in real life (without the dying parts). MrBeast is wild, he's known for pulling off crazy games like this. Recently he created a huge game of tag and offered the winner a $500,000 prize – so it's unsurprising he's making his own Squid Game. Plus according to MPRNC, MrBeast has a net worth of $15 million so he can definitely afford it.
Last month, MrBeast posted a viral TikTok where he told his followers if the video reached over 10 million likes, he would go ahead with his plans to make a real-life Squid Game. Just two days later, he posted an update on TikTok confirming his original video had surpassed the target and he would be selecting 456 random followers from his TikTok to participate in the event. His original video reached 76.9 million views and 17.5 million likes.
Earlier this week on Twitter MrBeast posted pictures of his Squid Game set saying things were "coming together" and "wish the 456 contestants good luck next week".
Here's how to play the MrBeast version of Squid Game:
Okay so MrBeast has released a very chaotic trailer explaining the rules to his version of Squid Game. So in the first game, just like the Netflix show, the 456 players will all participate in a game of Red Light, Green Light and whoever gets caught moving will face elimination.
The second game will see remaining participants get put into random teams. Each team will be given a colour that will be matched to a shape which the team has to recreate. The last team to create their shape will get eliminated from the competition.
For the third game, all of the players left will play tug of war. Two teams will stand in a row and each one must avoid being knocked off the platform. The team with the last standing player wins and every player on that team (even if they were knocked off the platform) can proceed to the fourth round.
So the fourth game will see players get put into pairs. Each player will be given 10 wool each and they can play whatever game they want against their partner and whoever wins gets to keep the wool.
The fifth game will show two rows of glass, one on the left and one on the right. One panel is safe to jump on and the other one shatters when it's touched. Each player must get along the bridge without stepping on a shattering piece of glass.
Then the final game is Squid Game. But in his trailer, MrBeast says he has no idea how to play so they're doing a "bare bones fight to the death" kind of thing. You can watch the trailer for MrBeast's Squid Game below:
Related stories recommended by this writer:
• A deep dive into all of the traumatising, deadly games from Netflix's Squid Game
• There is a theory going around about Ali from Squid Game and it gives me a lot of hope
• Meet HoYeon Jung: The model who is player 067 in Netflix series Squid Game