'Met Police, blood on your hands': Protestors gather outside Wayne Couzens' sentencing
The Met Police say Couzens' crimes 'betray everything we stand for'
This morning, around 40 protesters turned up to the sentencing of Wayne Couzens, the man who murdered Sarah Everard in March this year.
Couzens pled guilty to the kidnap, rape and murder of Everard earlier this summer, and is currently in the process of being sentenced with a verdict due in the coming days.
Today, the court heard that Wayne Couzens used had used police ID and handcuffs to kidnap Sarah Everard before murdering her and burning her body.
Outside the Old Bailey, Sisters Uncut (a feminist group specifically tackling domestic and sexual violence) protested against the Met Police and police powers bill.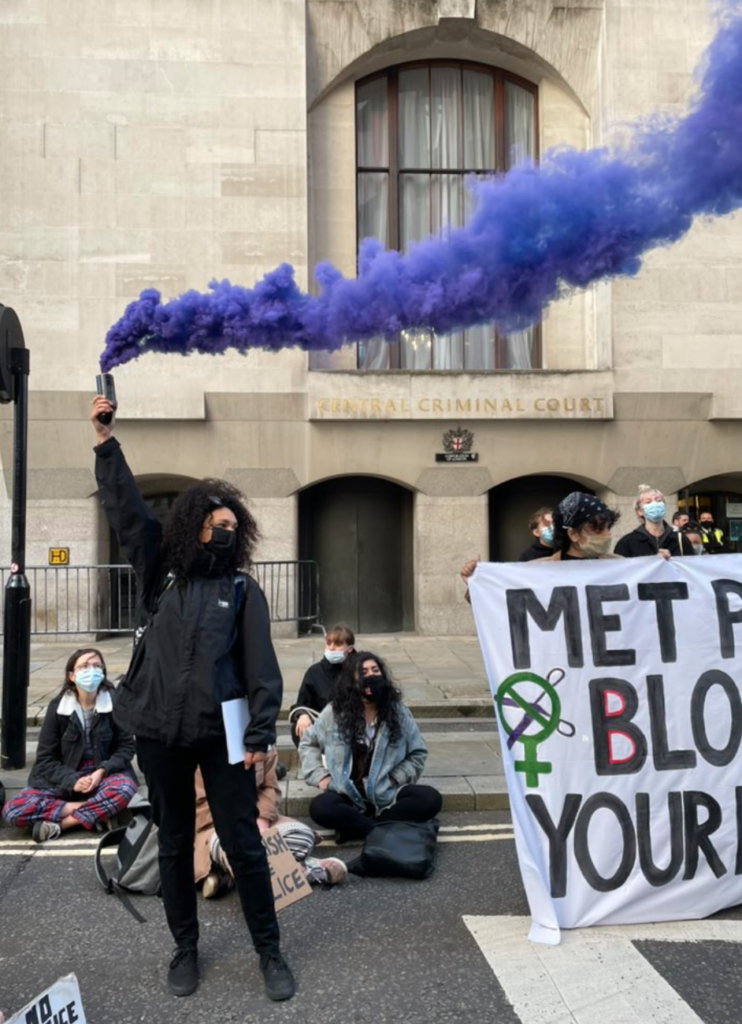 Protestors held banners while chanting, "we will not be silenced by police violence" and "sisters united will never be defeated."
One banner read: "Met Police, blood on your hands," while another stated: "Kill the bill or the Bill will kill." Another said: "No killers, no cops. Sisters run the block."
One member of Sisters Uncut said in a speech: "The police thought they could threaten us. They thought they could intimidate us and they thought they could fucking stop us. 
"But we know that the route towards ending violence means disobeying orders. It means standing up against police and state violence. It means saying fuck the police."
The protestors then lit flares and chanted: "If they don't give us justice, then we won't give them peace."
Aviah, a member of Sisters Uncut who played a key role in the protest, told The Tab: "The circumstances around the case have been absolutely abhorrent to a lot of people. We think the Metropolitan Police will try and make Wayne Couzens out to be a bad apple."
Aviah claimed that the police are responsible for "the culture that created Wayne Couzens" adding that "the apple doesn't fall far from the tree."
Aviah said that after Sarah Everard was killed and Couzens was arrested, "there was a lot of reflection around the role of the police in gendered violence and we're here to maintain that conversation and make sure the police aren't able to brush it under the carpet."
Since Sarah's murder, Aviah said there's been more media attention into "institutional" gendered violence. This has "shifted the conversation away from seeing the police as the place where women can find safety from these things. There's been a movement against the increasing of police powers."
She continued: "We can only really rely on ourselves. We are the only ones that can keep us safe."
One young woman at the protest, Georgia, told The Tab: "We're still angry. We just have to keep active and pushing for change. Institutionally things just need to change."
Daisy, standing with Georgia at the protest, said: "What's been quite disappointing is it felt as if there was going to be something that changed. I don't think anything really significant has, which is why I think it's really important to keep on showing up to these kind of things, to try and carry on keeping the momentum and to try and keep on pushing for something important to change."
Daisy continued: "The culture needs to change. The way boys are brought up. That's what fundamentally needs to change. The ways boys are taught to treat women."
Another protestor, K, said: "The police officer that killed Sarah Everard is getting sentenced but that isn't the end of things, this is a massively ongoing problem."
Earlier this morning, the Metropolitan Police tweeted: "We're sickened, angered & devastated by his crimes. They betray everything we stand for.
"We recognise his actions raise many concerns, we'll comment further when hearing is complete."
Related articles recommended by this writer:
• Wayne Couzens used police ID and handcuffs to kidnap Sarah Everard before murdering her
• Sabina Nessa was killed five minutes from her house, Metropolitan Police reveal
• A lot of promises were made after Sarah Everard's death, but what has actually changed?