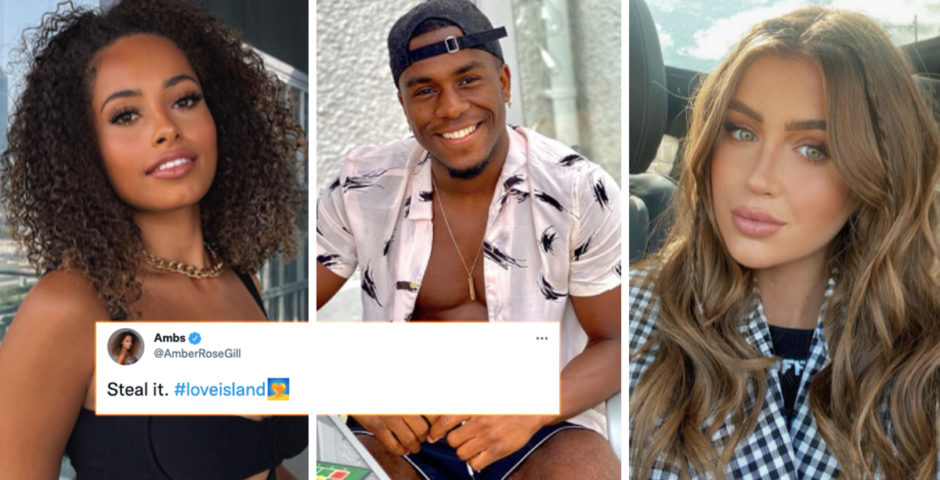 'Who is voting Faye and Teddy?': What ex-Islanders said about the Love Island 2021 final
Amber Gill retweeted someone saying it's staged 😬
Last night saw the long awaited Love Island 2021 final. Millie and Liam were crowned winners, leaving some feeling robbed of the iconic Toby and Chloe victory we hoped for. But you know who are the biggest experts in giving Love Island critique? The ex-Islanders, that's who.
They never hold back. Live streaming every single episode as though they're in the bushes watching the drama unfold back in their little villa home again. So what did those who have been there before have to say this year? Here's what ex-Islanders have had to say about the result of the Love Island final 2021.
Amber Gill
You can always rely on 2019 winner Amber to dish her thoughts on Love Island on Twitter. She was basically live streaming the final via her account, and was clearly getting quite stressed at it all and wanted Millie to steal the money. Same Amber, same.
She also retweeted someone calling the result "scripted". The tweet read: "Let's not pretend … We all knew who was gonna win. This shit is scripted. It's the same every year… The only shocking season was when @AmberRoseGill won! #LoveIsland".
Shaughna Phillips
Winter Islander Shaughna Phillips is another ex-Islander who you know will be live tweeting, every night Love Island is on. She's had her Instagram takes hot off the press, too. There's one thing that's very clear from Shaughna's social media: She's not a Feddy fan.
As well as tweeting about Faye and Teddy, she also posted a Q&A on Instagram where she was clearly not impressed with anyone who voted for them, and another video where she literally just asked who on earth were the people who wanted them to win.
Shaughna also posted on her Instagram story that her favourites were Chloe and Toby, sharing a screenshot of her voting for them on the Love Island app alongside the caption "my winners".
Amy Hart
Amy is a queen of drama, so I'm not at all surprised that she tweeted about wanting Millie to steal the money. I have not a single doubt in my mind that if Amy and Curtis were still together in the Love Island 2019 final and for some reason won, she would have brought it home and done it for the nation.
Olivia Attwood
After Liberty and Jake left the villa, we saw the Islanders all dive in the pool following their Summer Ball on the show last night. Faye (i.e. Olivia Attwood 2.0) ~tried~ to recreate Olivia Attwood's iconic pool dive, but as Olivia said herself, you can't beat her doing it.
At this very moment, Olivia also retweeted approximately 546 different versions of the clip saying she was an icon. Fair.
Luke Trotman
Luke is a winter Love Island legend, and him and Siannise, who were runners up, will have my heart until the day I die. He's clearly a Chloe and Toby fan, commenting on the Love Island Instagram post of them coming second, saying: "Welcome to the second place club! My winners!"
Georgia Steel
Georgia Steel did a big Q&A on her Instagram story on the evening of the final, sharing that her favourite couple are Chloe and Toby. She tagged them in the post, adding "for the win".
Belle Hassan
Of course chaotic queen Belle Hassan is a Feddy fan. She shared a screenshot of her voting for them on the Love Island app with the caption: "Come on Feddy".
Amber Davies
2017 winner, Amber Davies, shared Love Island's post about Millie and Liam winning to her Instagram story. She added: "Aw so well deserved! What a gorgeous couple."
Lillie Haynes
Lillie Haynes was this year's agent of chaos, nearly breaking up future winning couple Milliam during Casa Amor. She watched the Love Island 2021 final with loads of the Islanders this year, and is she livid at the result? It looks like it. 👀
Hugo Hammond
In what's possibly the weirdest wording ever, dumped 2021 Islander Hugo said he was pleased with Millie and Liam winning the show because they are the "most normal natural couple this year". Normal? What does that even mean?!
Sharon Gaffka
Love Island 2021 Islander Sharon had clearly had a bit of stick for sharing a screenshot of her Love Island app, which people thought had shown her voting for Chloe and Toby, when that's actually just the first couple who came up when she opened the app. She said that she was not voting herself, because everyone in the villa are her friends.
Love Island 2021 is still available on catchup on the ITVHub. For all the latest Love Island news and gossip and for the best memes and quizzes, like The Holy Church of Love Island on Facebook.
Related stories recommended by this writer:
• Love Island Gossip Column: Teddy's ex goes IN on him! Plus THREE ex-Islanders have Covid?!
• We found a bunch of old pictures of Love Island's Millie from when she was a teen
• Here's everything the dumped Islanders of 2021 have been up to since they left the villa