The definitive ranking of every 2021 Love Islander, from least to most iconic
37 Islanders, eight long weeks – who will emerge as the ultimate icon of the season?
You know what? I'll say it. This has been an excellent season of Love Island. People were quick to write it off as boring or lacking in the first few weeks, but those people unwisely forgot that it always takes Love Island a good few weeks to get into its prime. It's been a journey, and perhaps the most turbulent season ever when it comes to Islanders that fall in and out of favour with the public. It's been a rollercoaster for many. One episode they're your fave, the next ep they ruin it all. The Islanders of Love Island 2021 have been a mixed bag, and we need to get them definitively ranked.
What this season has done is render the word 'bombshell' meaningless, and we've had a total of 37 single young wannabe influencers roll into the villa vying to shake it up and make their mark on reality TV history. But not everyone has been successful. We've had new Love Island legends who'll be remembered forever, and we've had a few that I literally had to Google to check who they were for the sake of this ranking. So make of that what you will.
But without further ado, here are all the Islanders of Love Island 2021 – ranked from least to most iconic.
37. Priya
Potentially the most evil woman in Britain as far as I'm concerned. Openly crushes Boris Johnson and loves Pr*ti P*tel. Chose Brett over MATT and deserved to be kicked out the villa for it. It was quite iconic watching Mary and Faye give her glares and leather her cursed opinions whenever they've cropped up on unseen bits, but that wasn't enough to save her from being dead last. Not even a love to hate situation going on here, just terrible TV.
36. Brett
I do not have a single positive thing to say here, I'm afraid. Absolutely not a blip on the radar. The producers should go to prison for having the cheek to call Brett a bombshell. Not a single explosion in sight. Even Priya got bored of him and she actively fancies BORIS JOHNSON. The true dregs when it comes to Love Island 2021 Islanders ranked, even though it was good of his brother to share awareness of supporting Afghanistan on Brett's Insta.
35. Harry
Couldn't pick this lad out of a lineup even if you offered me £100. Don't think he was even in there.
34. Salma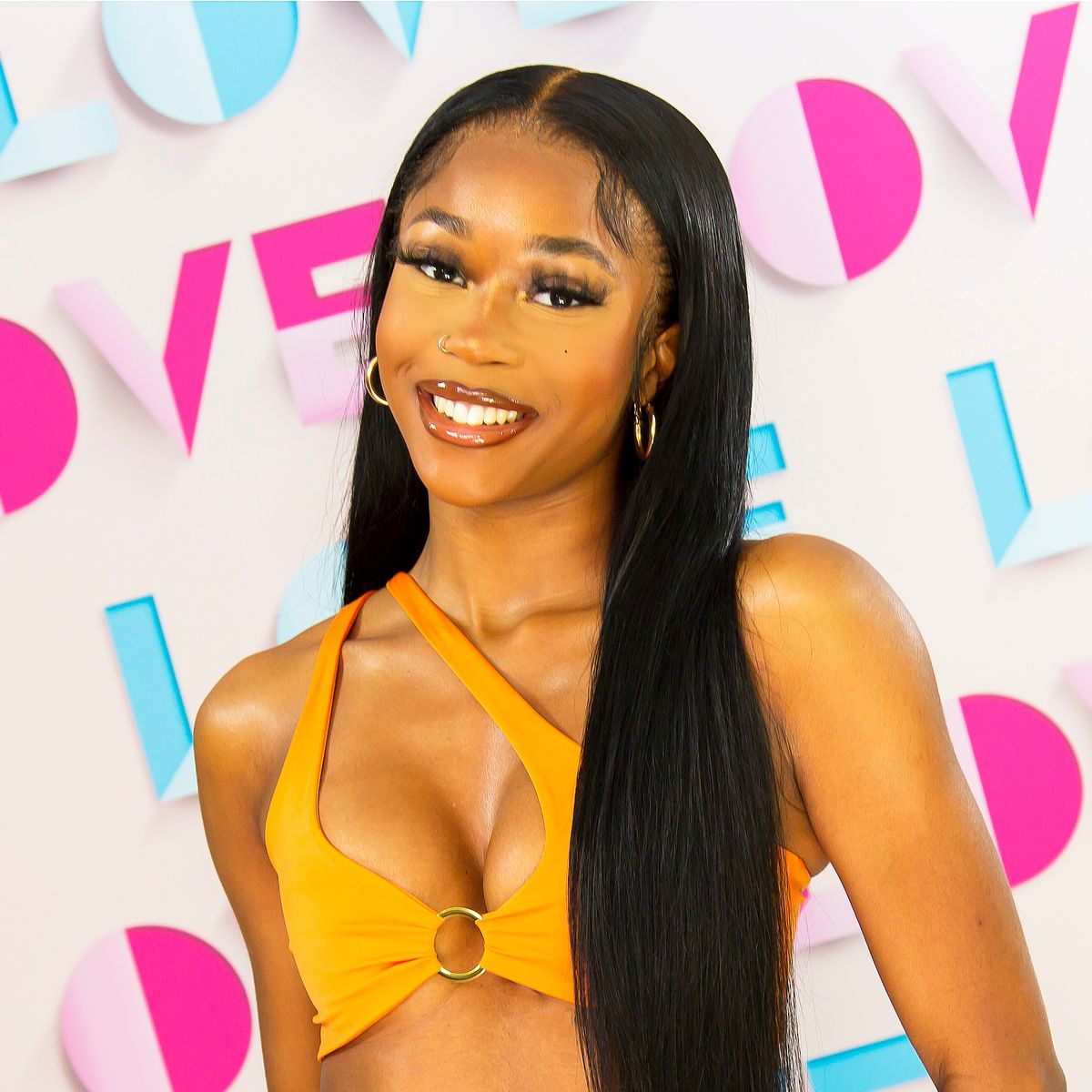 Gorgeous and perhaps if she actually had some airtime maybe could be ranked higher. Don't think she had a single one of her conversations filmed and we know not a thing about her.
33. Medhy
All I remember of Medhy's time in the villa is Dale giving him quite a nice haircut. We wish him well.
32. Jack
Looks like Gary Barlow, which is very apt because they share a surname. I mean this with all due respect to Jack, but I just need to know who's head he was supposed to be turning from the likes of Teddy and Liam and Tyler when he looks like one of your dad's mates from the pub? Ranked him higher than some of the other Love Island 2021 Casa Amor flop Islanders for the sheer randomness of his casting. Also apparently does Formula 1? Lol?
31. Danny
Pure evil but great TV for the few chaotic days he was in. Very terrifying. Would rather never go to a party again than be stuck talking to him in the kitchen of an intense afters. Definitely made a bit of a splash in his few days in the villa though, which is more than can be said for everyone below him on this list. The cursed TikTok he posted about how good his life is when he looks like he's in the gazebo of a 17 year old's birthday party is haunting my dreams.
30. Aaron S
Look, Aaron seems nice enough. But we barely know him, and Liberty's feet get more airtime than his and Mary's blossoming relationship. But what I've seen of him I enjoy, MOSTLY. But he will always be a slight nemesis for telling Chloe that at 26 she's past her prime which is one of the most ridiculous and misogynistic lines anyone's ever said. I'm glad she didn't take a single second of it. Also, shout at my Kaz again and feel my wrath.
29. Shannon
Shannon probably deserved better, but we'll never know. I remember thinking it was ESSENTIAL she came back and that the villa and season would be rubbish without her, but actually it's honestly fine. We wish her well, but we hardly knew her. Gets bonus points for being gorgeous and the sheer shock of her exit.
28. Kaila
Okay, sorry, but Kaila is iconic. She didn't get a single crumb of airtime, didn't graft or talk to a single boy and just and just had three days in the Mediterranean sun. And I really love that for her. Pretty legendary if you ask me.
27. AJ
AJ coming in and saying "eyes on the prize, boys" is my sleep paralysis demon. What did it even mean? What prize? Is she the prize? What was the competition? Who was the winner? Such a hell entrance line and she sealed her fate straight away with it. Sorry, AJ.
26. Jake
If this was just a likability ranking the toe sucking extraordinaire would be rotting at the 37th spot. But this is a ranking of how iconic they've been to the season, and it's fair to say the show wouldn't have been the same this year without Jake and Liberty's relationship. I don't think there's ever been a day one couple where the public have been so pro one member and so anti the other.
People were quick to brand Faye's behaviour as abusive, but for me the most abusive thing this season has been watching the way Jake treated Liberty. Holding her back from going to see Kaz after she'd been in the hideaway? The entirety of their breakup ep was uncomfortable to watch, and seeing someone constantly pick flaws in their girlfriend was just horrible.
25. Sam
Sam had a really rough ride in that villa and deserved better. He was the northern hunky representation we deserved. Faye took him for a ride and Mary was sly when she got lumped with him, but he's a lovely fella and wish him all the best. Not an icon but deserved more!
24. Aaron F
Gets points for being an OG but absolutely bored shitless. Sorry. No laughs, no iconic moments and I didn't like the way he got put off Sharon because she was outspoken and angry. Red flag!
23. Clarisse
Loved Clarisse just truly having a bellyful of both Love Island and Tyler still pursuing Kaz. She spent the entirety of her Love Island time rolling her eyes at the hand she got dealt and I love that for her. When she took her shoes off and walked upstairs from Tyler I FELT THAT.
22. Rachel
A disaster of an Islander but actually quite LoveOfHuns. Loved her chaotic flop era in that villa, culminating in the disastrous faceplanting of a fence. That hell chat where she tried to talk sexy with Brad will be sadly engrained in my memory forever.
21. Brad
The way I really believed Brad would be in there right to the end and would be the hunk of the season? Anyway, a name we'll remember for a while and deserves his middling placement. Feels like 10 years ago that he was in the villa.
20. Lucinda
I will still be hearing reaaaaalllllyyyyyy as I turn in my grave.
19. Matt
Ranking him this high simply because I staunchly believe he's the sexiest man to walk in the Love Island villa in 2021. I want to pedal his ears like a bike. A 10/10, hate that he wasted his time with Pr*ya because he deserves the world. Loved that he broke up with Kaz in about 0.3 seconds. My blunt king.
18. Georgia
The absolute weirdest casting decision of the entire season, but love that she took it all in her stride. Gets bonus points for her hun Insta captions and just generally owning who she is and never being taken for a mug. A good gal, but perhaps on the wrong show.
17. Mary
Mary was doing alright in this ranking till she fumed at people voting her and Aaron incompatible so I've knocked her back. And I'd do it again. They've been together about three days – do you wanna just get a grip for me, dolly? Really enjoyed her taking none of Priya's Tory nonsense, though. And her amazing outfits have been only beaten by one person who is yet to come!
16. Sharon
A big presence in the early days of the season who never really found love, or much of anything really. But I didn't mind Sharon. I liked that she was outspoken and took minimal shit. She got a bit of an unlucky ride in that villa. I wish her well and she's done alright in this ranked Love Island 2021 Islanders list because I think she deserved a bit better.
15. Amy
Really enjoyed that Amy has decided her entire personality is going to be based around obliterating Hugo Hammond in all his endeavours. She's milking it, but I respect the hustle and support the cause.
14. Tyler
I like Tyler. I like Tyler and Kaz together. It took me some time after the Casa fiasco and I was very team Matt, but I'm back on board and think they're well suited. He's not exactly a laugh a minute, but I like him in the villa. The season wouldn't have been the same without him.
13. Lillie
An agent of pure, unbridled chaos. Loves the word 'reciprocated'. Lillie and Liam is an era of my life I would simply like to block from my memory, but on her own, I quite like her. Iconic eyebrows, fun accent and a no-nonsense exposer. Good telly.
12. Hugo
It absolutely ruins me ranking him higher than people I love so much more, but I do think Hugo has absolutely been an iconic part of Love Island 2021 but for all the wrong reasons. Every time he said 'move mad' a part of me died. I hate his vibe, I hate how he made being the nice guy his personality but MOST OF ALL… I hate his TikTok. He should serve life in internet jail for them videos. But every season needs a Hugo. The Curtis Pritchard of 2021.
11. Chuggs
An absolute enigma. CUDDLES and HUGS??? We were robbed of him being an icon on our tellies for the entire summer. I'm a bit in love with him actually, which is very off brand for my anti posh boy agenda. But I'm endeared. He's got me in a bit of a chokehold. I still can't get over that he actually goes by Chuggs. How is that not parody? Was in the villa for like 48 hours and still claims a spot this high. Will never forget my bucket hat babe.
10. Dale
I love that we all collectively agreed Dale is salt of the earth and that we love him. If he'd been in from the start I think he'd have been in the final tbh. A lovely soul. The nation mourned his exit. Justice for Dale! And by justice, I mean I'm going to rank him pretty generously in the ranked list of 2021 Islanders despite a short Love Island tenure. Because I can!
9. Abi
Abi to me is another majorly robbed soul. She deserved villa happiness. Everyone constantly mugged her off. Toby and Dale both left her in the dust. But she was a nice girl and I will reward her for that. Deserved the world and got nothing. God love her!
8. Liam
I will never forgive Liam for what he did to my Millie. I wanted them to win and now I can never fully endorse it. I hate that Millie let him off but I respect her feelings. Liam is a child. What the wannabe Love Actually was going on with his tricks and stunts to get Millie back may I ask? Anyway… he's been pivotal to the season. And we love Millie. And he's fit. Damn.
7. Kaz
This season just would have been wrong without Kaz, and that's the truth of the matter. She's been a consistent glue that's held the season together with her wit, intelligence, good vibes and good friendship. She spent too much of this season criminally single and it was honestly ludicrous to me why all the lads were chasing the blondes when Kaz was right there giving black excellence. The best communicator in the villa and an icon for the franchise. Love her.
6. Teddy
WHAT. A. MAN. There are a lot of lads in the Love Island villa, but very few men. Teddy is all MAN. Mature, cool, sexy, interesting… Could go on for hours. A great guy. The nation cherishes. He's patient, a good listener, cares about Faye so much even when there's so much conversation about whether he should. Just a good egg, really. A sexy good egg. Love him.
5. Millie
A national treasure at this point. The most fashionable woman in the UK. I can't actually stress enough how much I want the best for Millie, and the nation supportively walked hand in hand with her through her Liam Casa Amor turmoil and we tentatively walked hand in hand with her through with their reconciliation. She's been through the ringer but always looked 10/10 doing it. Can do no wrong in my eyes.
4. Faye
If there is a character from this season who I will truly never forget, it's Faye Winter. For the good reasons and the bad. Faye actually makes me really sad, because she is her own worst enemy. When she's at her best, she's hilarious, savage and great television. When she's at her worst, she's an agent of self-sabotage, anger and uncomfortable viewing for everyone. Not many people would give Faye the chances Teddy has given her, and many would say he shouldn't give her the time of day.
I can't help but want the best for Faye. She has been compulsive telly, and an iconic part of this season.
3. Liberty
A day one villa girl that we all collectively decided was the purest soul on earth, and we were right. Heart of gold, completely pure and someone we could all root for from the off. It's a shame she coupled up with Jake instantly, where public opinion just doesn't hold up. She's the perfect casting for Love Island, a real kind of gal you could really see yourself making friends with in a club smoking area. Not there for a Pretty Little Thing deal, there for the right reasons. Icon.
The way she handled her breakup with Jake was perfect. She knew her worth, handled herself amazingly, explained her reasons and validated her own feelings and never let him undermine the way his constant digging remarks made her feel. It was sad to see someone so lovely so upset, but very satisfying to see a woman do exactly what she knew inside was right. I don't know a person who doesn't want the best for Liberty. A sweetheart.
2. Toby
Literally don't even know where to begin with this one. A tumultuous agent of chaos that has had us on a rollercoaster chokehold for the last two months. One of the most fascinating specimens I've ever seen on screen. Truly ridiculous, a man-child who I have hated and now love with all my heart and soul? I have never flip flopped more on my opinion on someone than this. Who knows if I ever will. Television gold.
1. Chloe
Wow. Wow. Wow. Never have I been more wrong about someone than this icon. An accent flipping queen. I will say no whey on my death bed. Chloe is truly the biggest star of this season. I love everything about her. Her attitude is like a shot of adrenaline to my veins. When Aaron said she was maybe past her best and she described herself as "a fucking weapon" I literally cheered at the screen. When she said her talent was maths and then wrote an equation where the answer was "fuck off"? Cinema to me.
I'm not a big post Love Island follow everyone on Insta kind of guy, but the chaos of what Chloe and Toby might get up to is the biggest incentive I've ever had to become fully invested in the lives of gorgeous reality TV people who don't know I exist. They are pandemonium. They will probably get married in their first week out and honestly I want a front row seat. I love Toby, I love Chloe and they deserve to take the Love Island 2021 Islanders ranked top two spots as THEE icons of the season with PRIDE.
Love Island 2021 continues on ITV2 at 9pm tonight. For all the latest Love Island news and gossip and for the best memes and quizzes, like The Holy Church of Love Island on Facebook. 
Recommended stories by this writer:
• Take this quiz and we'll tell you which Islander you'd get stuck talking to at a party
• Order a Nando's and we'll tell you what 2021 Love Islander you are
• Casa Amor is a waste of the Islanders' time and emotions, and Love Island needs to scrap it