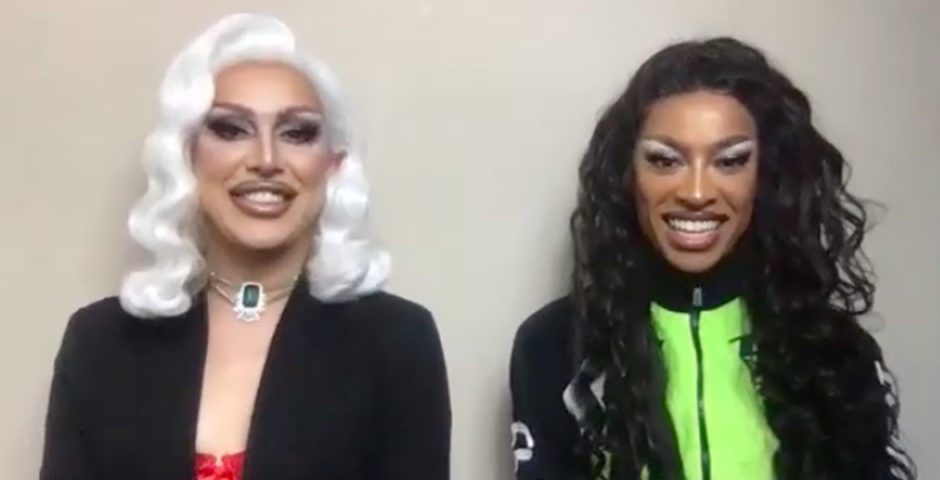 'There might be a UK Hun? EP': Tayce and A'Whora on their experience doing Drag Race UK
'Michelle Visage still DMs us on Insta'
*SPOILERS BELOW: Details of who left in this week's episode*
There's no doubt Tayce and A'Whora have been the fan favourites throughout season two of Drag Race UK. Their rumoured past romance, savage sarcasm, outstanding runway looks and iconic UK Hun? verses have provided us with endless entertainment every Thursday night.
However, the ultimate Romeo and Juliet moment happened tonight on the main stage when the two queens went head to head in the lipsync battle and A'Whora sashayed away. Although there will be country-wide mourning following this devastating loss, the A'Whora and Tayce entertainment doesn't end yet.
We spoke to the two queens on their experience doing RuPaul's Drag Race UK, as well as their key tips for how to love yourself, the future of The United Kingdolls and their all-time favourite night out.
There might be a The United Kingdolls tour and maybe even an EP
After the smash-hit of the century that was The United Kingdolls version of UK Hun?, everyone is desperate to know if UKD will return post-Drag Race and, more importantly, will there be a tour?!
Although Tayce and A'Whora didn't give many specifics, A'Whora did tease that they've got a few things "booked into the schedule" and said some festivals have approached them for bookings. She also told us an EP could be on the cards, featuring their next track "Ping Pong" (this is almost certainly a joke before you lose your shit).
Owning yourself is all about reinforcement and a bit of delusion
A key reason so many fans of the show love Tayce and A'Whora is down to their unapologetic approach to owning and loving themselves. When asked what helped them get to this place of self-belief, Tayce explained it's mostly about delusion which then manifests into reality.
She continued: "Sometimes I like to look in the mirror and say, 'I am an absolute hound, and everybody loves me morning, noon and night." A'Whora added: "You have to go into a room believing you're the shit and then everyone else will believe it too".
Ru is the most intimidating judge and Michelle is more like the loving mum
Throughout the history of the show, Michelle Visage has always been presented as the 'bad cop' on the judge's panel (unless someone wears H&M, in which case Ru takes that title). However, from A'Whora and Tayce's perspective, Michelle felt more like a mum whilst Ru was "hard to read" and "the most intimidating".
Apparently, between shots of the mainstage, Michelle often winks at the contestants and compliments their look, whilst Ru stays very quiet. A'Whora described Michelle as "genuine" and said they still DM all the time on Instagram.
You can find us anywhere in Soho on June 21st
Drag Queens are famously known for loving a night out, especially London-based queens like A'Whora and Tayce. When I asked what they're desperate to do on June 21st and where they'll be, they simultaneously answered: "A better questions is where won't we be?". Tayce excitedly followed this with: "We'll be up, down, left, right, around the hill and back again".
When probed about their favourite club, they said they'll be in the Soho area, more specifically, Freedom happy hour and Circa for some "day sashing". If you already miss A'Whora, you may be able to buy her a drink somewhere around Soho.
Start drag because you love drag and not because it's 'on trend'
Both queens have had huge success in the drag world. When asked about their tips for succeeding in the industry, they urged people to do it because they love it, not because it's relevant and current. They added that unless someone's drag stands for something or pushes something unique, it's unlikely to crack the industry because of how much talent is out there.
A'Whora suggested any aspiring drag queens find their niche. She explained: "You need to decide if you're a drag singer or a drag dancer. Don't just put a wig on and a pink dress, and try to give out free drinks at a bar. That's not drag. You don't want to be that girl."
You can catch up on RuPaul's Drag Race UK season two on BBC iPlayer and season 13 of the US series on Netflix.
Related stories recommended by the writer:
• Prove yourself to The United Kingdolls and get full marks in this UK Hun? lyrics quiz
• You defo don't want to see any H&M, so look at these 31 UK Drag Race memes instead
• The RuDictionary: All the hidden meanings behind RuPaul's ridiculous catchphrases
• RuPaul's Drag Race UK ages: How old are the season two queens?
• A McDonald's employee and university alumni: Meet the queens of RPDR UK season two