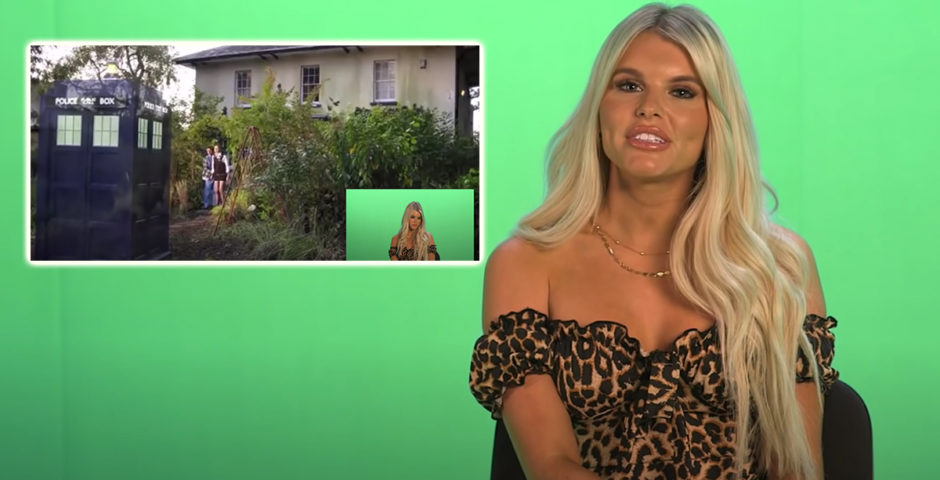 TikTok just found a clip of Hayley Hughes being pranked into believing in time travel
The YouTube prank included a bunch of reality TV stars being invited onto fake TV shows
TikTok has just discovered an absolutely classic prank video of Hayley Hughes being fooled into believing that time travel is real and happening. The clip is from an old YouTube video, where reality TV stars were asked to come onto fake TV shows – and it might be old, but it's too good to miss.
A small part of the full video has been posted on TikTok, and shows Love Island star Hayley Hughes being invited on a show about future technology (which obviously doesn't exist). She's shown a clip of Dr Who and told that time travel is real and happening, and that according to Prof Brian Cox the world's first time travelling machine is now in use. She's then shown a clip from Dr Who, but told this is the TV show's presenter entering a real life time machine. It's actually just Matt Smith as the doctor heading into The TARDIS.
Hayley replies: "I think that's so good like it's a good idea. No, it's actually happened hasn't it? Yeah I think that's good. But, can you come back?"
The full video was posted on YouTube back in 2019, and is by classic pranksters Josh Pieters & Archie Manners, who have over 1.43million subscribers and are constantly pranking celebrities into things like this.
In the full video they invite four reality TV stars onto two different fake shows. Hayley Hughes and Alfie from Absolutely Ascot are invited onto Technology From The Future and Yasmin Oukhellou and Bobby Norris from TOWIE are on Reality TV Gone Wrong. This is all done under their fake production company, which lists dead dictator Colonel Gaddafi, Tony Blair's wife, Katie Hopkins and Julian Assange as its staff.
In the full clip with Hayley, she then gets told people who have used the time machine have gone missing, which she says is "really concerning". She's told of a 54-year-old woman called Sally who used the machine and never came back. "That's actually scary though isn't it? I don't think I'd do it. I wouldn't use a time machine if it was here", she replies. "Aw I actually feel sorry for Sally she used the time machine and now she's gone forever."
Bobby Norris is then shown a clip of a schoolboy auditioning for X-Factor and is told that after his audition he was recruited by Tommy Robinson, arrested for sharing racist propaganda and sentenced to 14 weeks in prison. But he won Wandsworth Prison's Got Talent!!
Hayley and Alfie are then shown the wonders of refrigerator technology. Alfie is told who Extinction Rebellion are, before he says he "understands" about climate change activism because "the Antarctica is melting away". Archie and Josh then tell Hayley and Alfie that new research has found the number one best way to cool down the planet is for everyone to keep their fridge doors open. Obviously.
Hayley replies: "I don't think that's a good idea, cause your house will stink of food." She's then told to say she believes it, and she repeats: "I think we should have two fridges, one for your food and one for the global warming issues". Alfie addresses the camera directly and says that leaving your fridge door open is a great way to combat climate change.
Finally they show a clip of classic impressionist Josh Berry who is meant to sound like Russell Brand. Bobby and Yasmin are told that this is Russell Brand's podcast, and he's talking about having sex with Jacob Rees-Mogg. Believable!!
Bobby says: "Well all know that Russell had slept with Jacob Rees-Mogg [do we?!] but to talk about it so openly on a podcast there's no holding back." Yasmin says she doesn't know who Jacob Rees-Mogg is but thinks the discussion was inappropriate.
At the end the celebs are all asked to do a call out for a charity which will be shown on the show. The charity, which you guessed it doesn't exist, is called "Afro-Ski" and is said to help African children learn to ski.
Watch the full video of the prank, including the time travel clip from TikTok again, here:
Classic.
Related stories recommended by this writer:
• YouTubers fooled celebrities into thinking they're appearing on huge US talk shows
• A YouTuber tricked influencers into promoting gravel by saying it was the moon
• Reality TV stars fooled into agreeing to promote poisonous cyanide on Instagram