Meet the drag acts studying at UK unis right now
Expect cheek, nerve, audacity, gall and even gumption
Season two of RuPaul's Drag Race UK is well underway, and it's been dramatic to say the least.
Ginny Lemon refused to lip sync for her life and walked off the show. Then there was the small matter of a seven month gap in between filming at the end of which it was announced Veronica Green had contracted coronavirus and wouldn't be able to continue partaking in the show.
We don't want Drag Race to end but unfortunately, the time will eventually come when the current cast will have to sashay away into the history books. This begs the question: who will follow in their footsteps?
The Tab caught up with the next generation of drag kings and queens who are studying at UK unis right now.
Charra Tea – Leeds
Charra was inspired to get into drag following a night out in Belfast where she saw Blu Hydrangea and Rusty Hinges perform. The Leeds Uni queen describes her look as cheap, colourful and creative.
"I love getting garments and fabric from charity shops and transforming it into something camp! In terms of performance I love a good comedy mix and making people laugh. One of my favourite things about performing is hearing laughter. I also love musical theatre and your regular pop music too!" Charra told The Tab.
She adds: "I also think I'm quite a friendly queen so you could expect a good lip sync performance, a few jokes and a friendly smile (the smile depends on if you buy me a shot or not)."
When Charra isn't working hard at her graphics design degree, you can catch her performing at Rain in Huddersfield.
Drag Race favourites: Laurence Chaney and Blu Hydrangea
Jackie D. Suxwell – Aberystwyth
Jackie is a final year psychology student at Aberystwyth Uni who also works part-time at the NHS.
"My drag inspiration was a mixture of watching RuPaul's Drag Race and essentially saying fuck you to the binary gender system," Jackie told The Tab.
Jackie incorporates a range of dance styles into her act from tap, to ballet to contemporary.
She said: "I also do the usual jump splits, voguing etc in my acts. I've recently started to sing too which is exciting! Jackie is a versatile performer."
Drag Race favourites: Ginny Lemon and Cherry Valentine
Glangela Fever – SOAS
Glangela moved to London from rural Ireland and was immediately taken aback by the amount of freedom she had.
"For me, getting into drag was a means to express my freedom, celebrate my gender and sexual identity and bring together many important parts of my life: performance, music and queerness," Glangela said.
Her drag act is very unique: "Where else are you going to find a bearded, flat shoe wearing, hairy chested, throat singing drag queen?"
She set up the first student drag society in London where she's mothered over 20 young queens.
While Glangela loves RuPaul's Drag Race, she thinks it has its limitations. "I have to acknowledge that many of my favourite performers haven't been on the show. The show excludes so much drag talent from drag kings, monarchs, hyper queens and kings.
"The show has definitely spread the view that drag has to be a certain way in order to be successful and has also made it incredibly difficult to be a success if you don't compete on the show."
When Glangela isn't in drag, she's studying for a Master's in ethnomusicology at SOAS.
Drag Race Favourites: Tia Kofi, Symone
Prince of Persia – Sussex
Prince of Persia is a drag king at Sussex University. After being so inspired by a drag show in Freshers' Week, Prince of Persia took up drag and never looked back. He said: "My art is all about showcasing a proud fat, queer, non-binary person of colour. I aim to send a meaningful message to the audience after each act. My art is very political, comedic, sexy and intense."
When the Prince is not doing drag, he's studying for an MSc in clinical psychology and mental health.
Drag Race Favourites: Bimini, Tia Kofi and Ginny Lemon
Cairo D. Ali – Keele
Keele's very own queen Cario D. Ali says her own insecurities inspired her to launch herself into drag.
"Out of drag I'm really introverted, not by choice, mainly due to growing up gay and Middle Eastern in Oxford. Being so different from others I tended to be afraid of speaking up. Therefore when I discovered drag, I found a character which if people judged, I didn't care because it's just an act of performance, extravagant make up, and outfits!" Cairo told The Tab.
When not doing drag, Cairo studies law and volunteers part time at a legal clinic helping disadvantaged communities get access to legal advice.
In the future, she hopes to cross over her drag act and her legal career.
Drag Race favourites: A'Whora and Tayce 
Coral-Hole Mandi – Queen's Belfast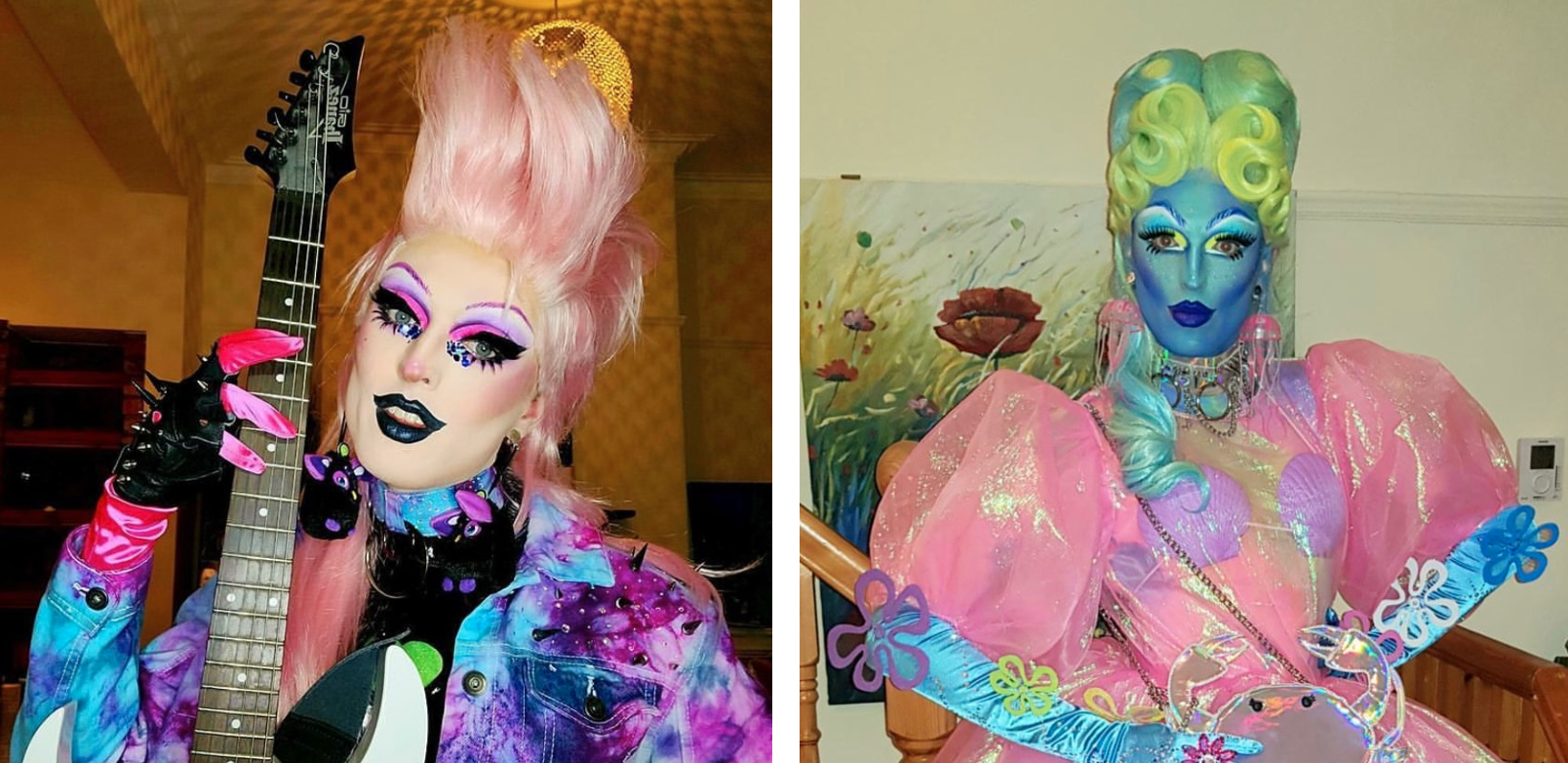 Coral is a final year marine biology student at Queen's University Belfast whose drag act is inspired by the ocean and sea life.
Coral said: "My love of mermaids and Spongebob inspire a lot concepts, but I also have a massive love for Harajuku street fashion which I like to channel into my aesthetic. So lots of bright vibrant colours reminiscent of coral reefs."
Coral is yet to perform, but when she does, she hopes to "showcase a more raw, punk rock and heavy metal vibe in my lip syncs to contrast my with my cuter anime style of drag.
"I also want to incorporate my degree knowledge with my drag and use my platform to help highlight the main threats the planet is under, particularly when it comes to marine biodiversity conservation."
Drag Race favourites: Kimchi, Crystal Methyd, Blue Hydrangea
Related RuPaul's Drag Race UK articles recommended by this writer:
• RuPaul's Drag Race UK: How old are the queens of season 2? 
• Alright babes? It's time to find out which Drag Race UK season two queen you are
• A McDonald's employee and university alumni: Meet the queens of RPDR UK season two