Stephen Bear has been arrested for revenge porn
He was brought into questioning when he arrived in the UK this morning
Stephen Bear has been arrested for revenge porn following claims by Georgia Harrison that he filmed her without her consent.
Essex police confirmed to The Sun Stephen had been brought into questioning this morning when he arrived back into the UK from Dubai.
Stephen has previously denied claims he shared a video and called it "silly". He is currently still in custody.
In December Georgia Harrison posted on Instagram claiming Stephen had filmed her without her consent and then shared it on WhatsApp and OnlyFans.
She said at the time: "So Bear has CCTV around his house, he purposely got me in a position where he knew it would be on CCTV quite a long time ago and after acted like he forgot the cameras were there (as you do when you have CCTV set up around private property going directly to your television and phone).
"Since being away I have met two more people he has shown and even seen a screen recording. So I have no other choice but to go public about this situation, not just for me, but for anyone that has been round there, not knowing they are being filmed."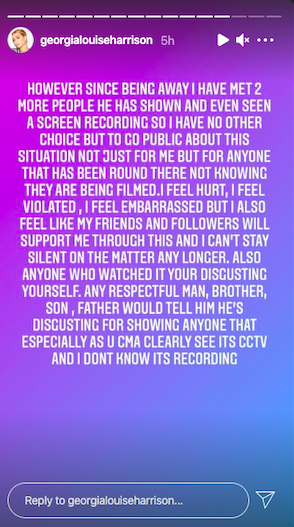 On his Instagram story Stephen denied the allegations and said: "My DMS have gone crazy, I didn't want to talk about this it's so silly. I've spoken to the girl to stop making up silly rumours, so everyone's just got to calm down.
"Saying someone's name for clout is just dumb, so cheers to Dubai." Georgia said she would be "taking Stephen to court" following the allegations.
This story is being updated. 
Featured image credit via Instagram @stevie_bear
Related stories recommended by this writer:
•Stephen Bear denies filming Georgia Harrison without her consent and sharing it
•Georgia Harrison says she's planning on taking Stephen Bear to court
•Georgia Harrison contacts police after Stephen Bear posts 'worrying' video