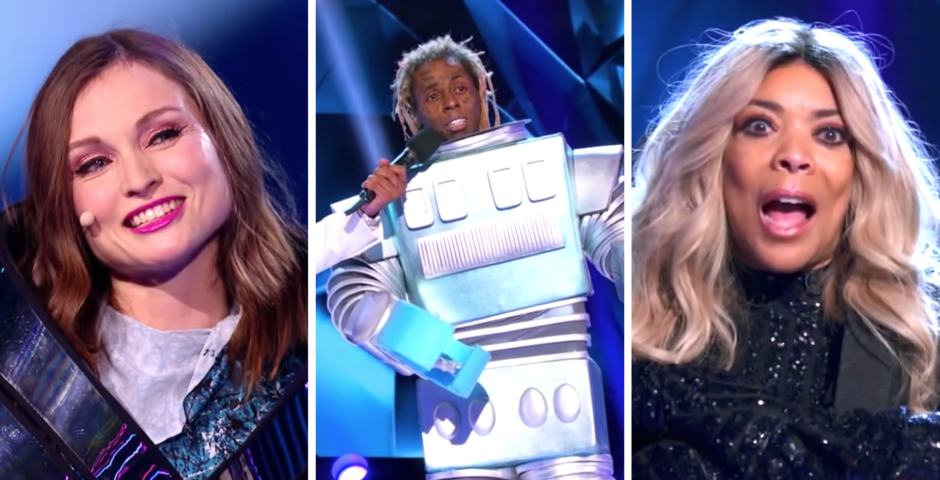 Ranked: The 11 most questionable Masked Singer performances of all time
The Masked Singer is a terrifying television program. From the sparkly ginormous outfits to the sinister edited voices to Joel Dommet's jaw-swinging giddiness throughout, the whole thing is like being on some crazy acid trip that you just want to get out of ASAP. Not to mention how ridiculous the whole guessing process is, as if they're guessing literal Z listers out of thin air – give over, they've at least got a sheet of names sat in front of them.
But I love it. And so do you. It's good telly to have on when there's nothing else on, and I love listening to people sing that definitely should not be singing. Looking back through the past episodes there's been some *interesting* performances, and today we're going to rank them for your pleasure.
11. Mel B
This is the first of a couple of names that you really wouldn't expect to be on a list of people who were bad at performing considering, you know, it's their entire job and livelihood to sing on stage, but here we are. This is one of the better performances on The Masked Singer, which is why it ranks so high on the list.
Mel B performed as "seahorse" for just two episodes before being kicked out – it's not that this performance was awful, I just don't think the song suited her well and she tried too hard to sound like Kylie. NEXT!
10. Justin Hawkins
Justin from The Darkness had some amazing performances in this series, but the falsetto just didn't seem powerful enough for the below song, and he ended up being voted out in the third episode of the first series.
See what I mean? It's just lacking a bit of the power that you'd want from a high voice. Still, it's a pretty good performance, which is why it sits at number eight.
9. Sophie Ellis-Bextor
In this rendition of Don't Start Now, Sophie's voice was just no match for the strength of Dua Lipa's vocals in the original, with Mo even at one point saying "I feel like they're changing their voice!"
As a result, Sophie was voted out in the VERY FIRST EPISODE of season two, which is… a shame considering she does it for a living.
8. Patsy Palmer
Next up is Patsy Palmer with a cover of You've Got The Love, and it just doesn't hit the mark. Slightly lower than it should've been, it's just a little underwhelming, especially when it gets to the 1:28 mark.
To go out on the very first episode is probably a sign than singing isn't your thing, but unlike Sophie Ellis-Bextor, Patsy Palmer isn't a singer.
7. Alan Johnson
Oh yes! Of COURSE it was the right honourable Alan Johnson, I guessed it all along! You can tell the surprise on their faces as soon as he starts singing.
Alan was second to go out in the first series of the masked singer, and this performance was undoubtedly a large reason as to why. Bizarre vocals, bizarre outfit, terrifying performance.
6. Skin
Next up is someone who performs under the name "skin", so it's particularly odd to see her unmasking video on YouTube is called "Duck is SKIN!"
Skin actually did quite respectably, being voted out in the sixth episode of the first season, but this performance shows that she starts to lose it a bit as she gets tired – nothing at all wrong with that, just sounded a bit laboured.
5. Jojo Siwa
Now we're getting there. Moving over to the US version briefly we have Jojo Siwa with this abhorrent version of Jai Ho by The Pussycat Dolls.
Credit to her, she knows how to put on a show, thrashing around on stage, so it's no surprise that by the end she sounds completely exhausted. The whole thing is just a little… shouty.
4. Teddy Sheringham
This one tickles me more than any of the others. Although the whole performance was a little bland, it's only when it gets to the below linked moment that things really take a turn for the worse.
In fact, it's literally just that note that is the main offender, but it's hilarious nonetheless. Then again, if I was wrapped in shaggy fabric and dressed up as a tree I can't imagine I'd do much better.
3. Lil Wayne
Wayne was voted out in the first episode, which many commenters claim is a mixture of the production company not being able to afford him for any longer and his apathy towards being forced into a robot costume for his kids, but I'd say it has something to do with the below video.
If there was a prize for the most lacklustre performance of a rock song it would go straight to Lil Wayne, because this is FUNNY.
2. Rob Gronkowski
In the number two spot is Rob Gronkowski, and American athlete. Although there is a number one most *questionable* performance, it's got to be said that this is the number one worst sung performance, and I don't think Rob himself would disagree:
How fucking hilarious is this? The way he camps it all up at the end of every sentence is honestly comedy gold, but King Rob KNOWS this and uses it to his comedic advantage. Brilliant.
Ken is giving that look you give when your parents are drunk dancing in the kitchen.
1. Wendy Williams
And finally at the number one spot of questionable Masked Singer performances is Wendy Williams! There is absolutely no way we couldn't have Wendy's performance of Native New Yorker at the top. Tiktok meme, still somehow impressive despite being the worst execution of the lot, the whole thing is an absolute romp from start to finish.
"Yeaaaaah (little vampin') ooh ooh oooooooh! OOOOOHHHH hahahahahaha *snorts* oops! Okaaaay… and guess what? No one opens the door! Nuh-uh. For a native New Yorker!"
ICONIC.
Related stories recommended by this writer:
• The X Factor falsely painted me as mentally unstable in front of millions of people
• From Misha B to Diana Vickers: Where are X Factor's most iconic finalists now?
• The 64 most genuinely insane things that actually happened on The X Factor