To celebrate RuPaul's 60th birthday, here's a ranking of his 60 greatest moments
You don't look a day over 59 !
RuPaul turned 60 today. That means he's a Scorpio which makes sense – passionate, powerful, at times fiery ("Wake up, Pearl. Wake up!"). In his 60 years on this earth, he's done a hell of a lot and, amazingly, RuPaul's Drag Race, which is probably what we all know him for, has only been in the last 11 years.
Nevertheless, with this show he was able to bring drag culture into popular TV and with it came so many incredible stories from the LGBTQ+ community. From catchphrases to incredible outfits, makeup looks and wigs, to inspiring quotes and history-making changes, RuPaul has had so many amazing moments.
To celebrate this, here are 60 of RuPaul's greatest moments – one for each year of his life.
60. That is the key to navigating this life—don't take it too seriously. That's when the party begins
Ru is full of great life mottos and advice and this is one of them. Considering his success, everyone wants to know what he sees as the 'key to life' – this is it and it makes a lot of sense.
59. This purple look
Purple is a colour favourite for Ru. But this dress was just something else. Look at it !!!!
58. All tea all shade, hunties
You know the whole "all tea, no shade" phrase that basically means I'm telling you the truth but it's coming from a good place? RuPaul decided to cut the bullshit and just have all the truth and all the shade.
57. Can I get an amen? AMEN!!!
How could we not? The end of every show for the last 12 series finishes with this because Ru is god.
56. The tigerfish dress
55. Kitty Girl
One of his many songs. This one gets a mention because not only is it a great tune, it also birthed the "meow meow" verse from BeBe Zahara.
54. The sparkly bow lewk
Also, look at that hair.
53. Why it gotta be black?
52. There's a cream for that
Ru has a lot of funny jokes that he repeats throughout the series and this one always manages a laugh. No matter how many times we hear it. No matter how predictable it is.
51. The little red dress look
This plus the Ursula-from-The-Little-Mermaid blonde wig was outstanding.
50. We're all born naked and the rest is drag
Such a great phrase because it's true! The rest is in fact drag. Also, the song that followed this was a big winner.
49. The fact that Drag Race has had 160 episodes, plus five All Star series, plus Celebrity Drag Race, PLUS Untucked!!!
He doesn't stop, even in the midst of a pandemic we got two new series.
48. All pink, all polka dots
47. And then the matching suit when Drag Race won its first Emmy
46. Shantay you stay
A genius catchphrase, thank you Ru.
45. Sashay away
44. The RuPaul dress
What do you do when you've worn every colour dress there is? Wear one with your naked bod on it.
43. By the power vested in me…by me…
Why be modest when you can be honest?
42. Cover girl! Put the bass in your walk
The classique runway song.
41. That pink Karen wig that he made fashion
40. What did you just call me?!
A joke only RuPaul can get away with.
39. The RuPaul laugh of course
The laugh is so iconic someone made a two and a half min mash-up video of it.
38. This fluffy one
Apparently a controversial look when it appeared on the runway in All Stars 5. Fans said it was… too much. Too much?!

37. The rainbow kimono
The symbol of the LGBTQ+ community worn in the style of a mum in Lanzarote. Love it.
36. I feel like you're being sabotaged by your inner saboteur
The classic line he feeds to any queen suffering from a confidence crisis.
35. Sissy That Walk
Another great song a la Ru. This is the one you put on and walk to alone in your room as a practise for how you'd catwalk if you ever got on the show. Right?
34. I can't wait to see how this turns out
Ru says this and then casually lifts some old school mini binoculars on a stick. It's so outrageous.
33. When you become the image of your own imagination, it's the most powerful thing you could ever do
Another mantra we should all live by.
32. Call Me Mother
This is Ru's second most played song on Spotify and that's probably because he raps for his life the whole way through. One of the best lines being: "Body like WOW! Pussy bouta end this trial".
31. The blue goddess look
In 'The Future of Drag' challenge, Ru shows up in this unbelievable classic-style gown. So ironic, so meta.
30. What it says on your driver's license isn't really who you are—you are something much greater than that
An inspiring quote he often says in interviews. In other words – you are bigger than the boxes society has put you in.
29. The metallic hooded dress
28. You know, the matrix says, "Pick an identity and stick with it. Because I want to sell you some beer and shampoo and I need you to stick with what you are so I'll know how to market it to you." Drag is the opposite. Drag says, "Identity is a joke"
Can I get an amen?
27. Flowers, sparkles, tulle
Ru wins the runway challenge every time but especially this time.
26. Good luck and don't fuck it up
I say this to myself every morning.
25. The Peanut Butter song
You know the one that plays every time the Pit Crew twerk?
24. It's very easy to look at the world and think, this is all so cruel and so mean. It's important to not become bitter from it
23. The Supermodel song
Released in the early 90s. His production and music video budgets have got dramatically larger since, but this is still a fan favourite.
22. That triangle wig
Only he could make this work.
21. You better werk!
You better !!!
20. His Vanity Fair interview
And so the top 20 countdown begins with this. RuPaul doesn't do many long interviews but last November he did this for Vanity Fair. A 15-minute video where he answers personal questions about himself, his fears and his open relationship.
19. The Catwoman dress
Hey kitty girl.
18. The Drag Race franchise representing over 10 countries
A franchise he began just 11 years ago now has a series in the UK, Holland, Spain, Brazil, Thailand and many more.
17. His best "bring back my girls" lines
A personal favourite being when he sang it and then said: "I got that from the Glee show".
16. The golden Emmy look
Dressing like the many Emmys he owns.
15. The snake queen dress
This earns its place partly because Ru looked incredible and partly because this was the same runway when Roxxxy Andrews did the double wig reveal and Ru lost his shit so it's carved into my brain.
To watch the full moment click here.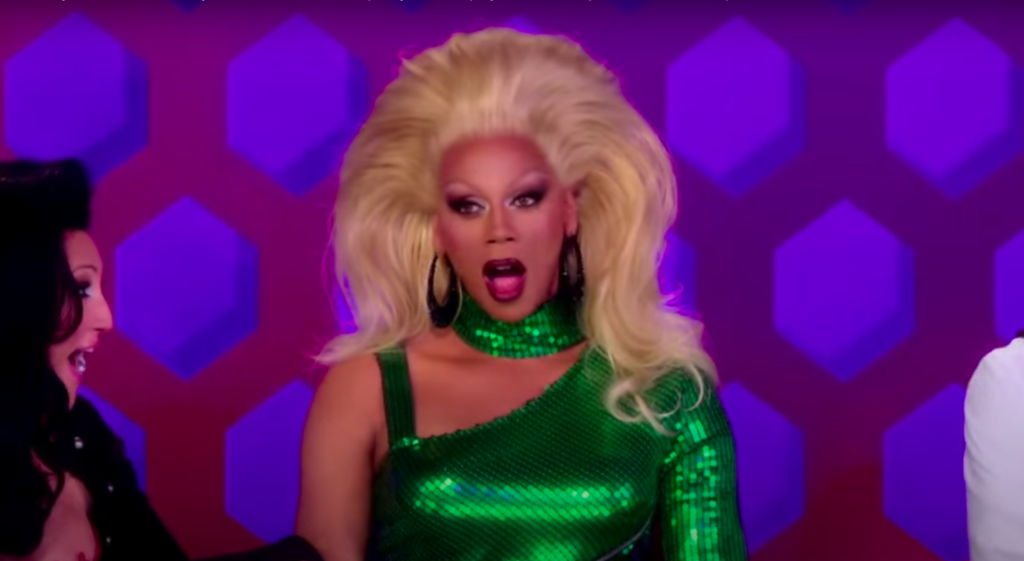 14. The series when he wore a different fedora each episode
This was season 8 and I swear as the episodes went on, the hats got bigger?
13. The fact his show has won 18 awards
Well done Ru x
12. The morphsuit goggle look
In the season 10 runway, 'The Last Ball on Earth', Ru showed up in this morphsuit-eque face mask, goggles and a massive blonde ponytail. It was so weird and so right.
11. Impersonating Beyoncè is not your destiny, child
Pure comedy gold.
10. The first ever look of RuPaul's Drag Race ever
Top ten. Of course, it starts with Ru's first runway look. Yikes.
9. She already done had herses
In a recent podcast, he explained that this line came from a cashier in a fast food shop who saw a lady take more than her fair share of food and so shouted: "She already done had herses!!!".
8. His whole masked look for the season 12 finale
Considering we're all used to RuPaul in stunning outfits, huge wigs and flawless makeup, it was a bit of a shock when he showed up to the season 12 finale out of drag and in a wrestling-mask style face covering.
Loads of rumours flew around as to why he did this. Some said it was a political nod to the pandemic, others said it was because he's actually really shit at doing his makeup and the pandemic stopped his makeup artist helping him out.
7. The memes that followed this moment
In the words of Alyssa Edwards, when Ru showed up on screen, the whole of gay Twitter went: "What the fuck is going on in here on this day?!". The memes that followed were outstanding.
6. Read U Wrote U
A great song but an even better moment because it allowed Roxxxy Andrews to truly express her feelings in the final of All Stars 2: "I'm Roxxxy Andrews and I'm here to make it clear, I know you love me baby, that's why you brought me here".
5. How's your head?
The line RuPaul uses to distinguish the funny queens from the non-funny queens. If you're ever in front of Ru and he asks you this, don't say "Umm yeah, it's fine. Why?", say: "Haven't had any complaints, yet" because he's talking about BLOWJOBS.
Which I really hope helped get rid of Trump because he would hate that.
3. He then dedicated two series to voting in the upcoming election
In both season 12 and All Stars 5 each episode ended with the link to follow to register to vote.
2. He brought drag culture, the LGBTQ+ community and so many incredible people and stories into popular TV
He is a symbol of hope and empowerment for a lot of people and that's amazing.
1. If you can't love yourself, how in the hell are you gon' love somebody else?
It has to be the winner. It's the line that finishes every episode, the line you repeat to yourself when you're drunk and your self-esteem has gone to shit, it's the line that sits at the centre of all things Drag Race.
Related stories recommended by the writer:
• The 36 most unforgettable RuPaul's Drag Race moments of all time ever
• So, you think you're obsessed with Drag Race? Get full marks in this quiz and PROVE it
• Quiz: Match the iconic catchphrase to the Drag Race queen to prove you're a real fan