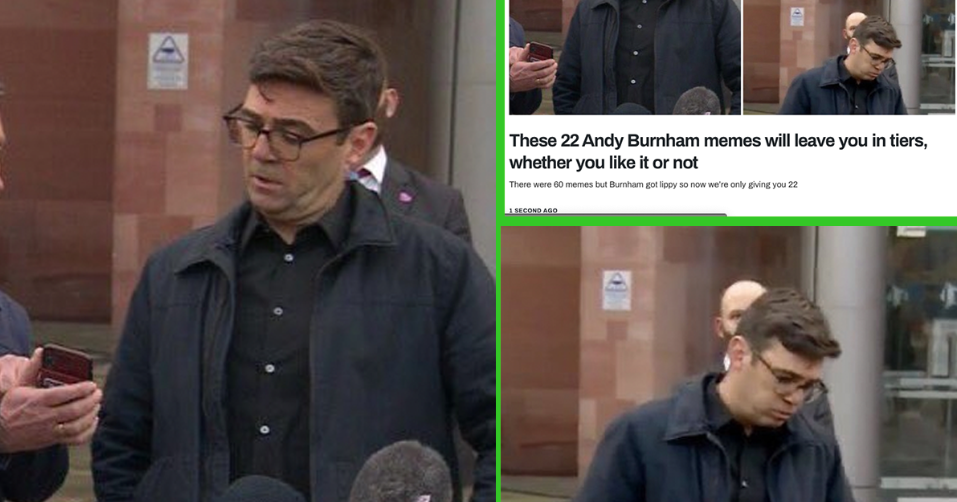 These 22 Andy Burnham memes will leave you in tiers, whether you like it or not
There were 60 memes but Burnham got lippy so now we're only giving you 22
We've had Sonic memes. We've had two rounds of Pope memes. And if you wanted proof that the internet can turn anything into a meme, look no further than Andy Burnham memes.
2020's been a weird year for New Labour cabinet members. Jacqui Smith's doing Strictly. Alan Johnson was on the Masked Singer. And now a clip of the former health secretary looking angrily at his phone has, somehow, become a meme.
For context: One-time Labour leadership hopeful, now metro mayor of Greater Manchester, Andy Burnham has been in fierce negotiations with Westminster over how much financial support the region would get before it was put into tier three restrictions.
The government was only offering £60m, short of the £65m Burnham said the region needed to support people who'd be unable to work. Things weren't going well and negotiations broke down, so Burnham was giving an outdoor press conference.
During the conference, he discovered the government had emailed MPs to say the region would only be getting £22m. The clip of his reaction is quite something:
Today, the government are now saying Burnham found out about the news a few hours before. Anyway, there's plenty to be written about regional tensions in the UK and the emerging political clout of metro mayors. But that's not for us – or you.
Instead, here are some Andy Burnham memes:
1.
2.
3.
4.
5.
6.
7.
8.
9.
10.
11.
12.
13.
14.
15.
16.
17.
18.
19.
20.
21.
22.
Related stories recommended by this writer:
• Exclusive: Nottingham Trent to spend £2 million on Covid testing for its students
• Unis are extorting students with £18 a day food parcels, says universities minister
• These 'being perceived' memes will leave you feeling very seen indeed