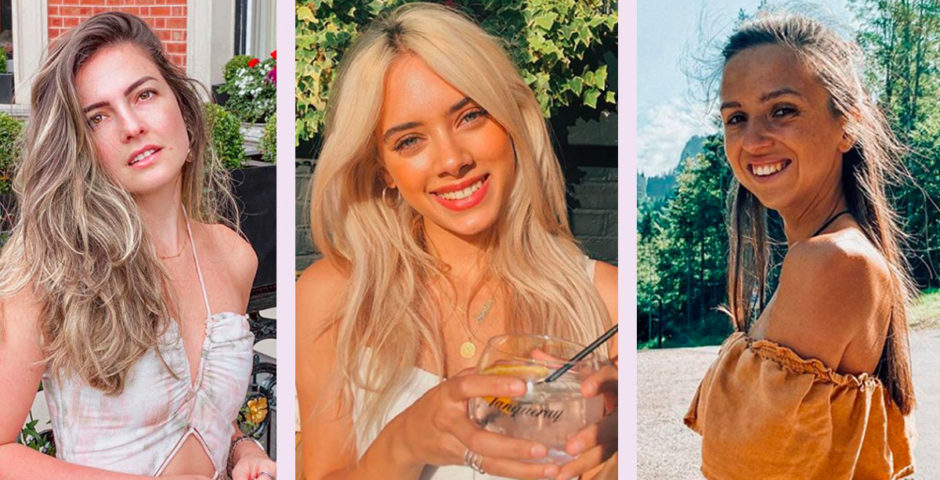 These are the influencers getting paid to promote unis they didn't actually go to
Even £10k couldn't make me promote Anglia Ruskin
Some influencers will literally promote anything to increase their following and the money in their bank accounts. From Georgia Steel promoting a car air freshener, to Tom from last year's Love Island doing a video with BBC Bitesize, there really is no end to the tragic sponcon. And now it turns out some influencers have found another way to cash in – promoting universities they didn't attend.
Exeter grad, model and Caspar Lee's girlfriend, Ambar Driscoll was just one of the influencers doing a sponsored post for a uni they didn't go to, during Clearing after the A-Level fiasco.
She shared a throwback pic to her Exeter graduation whilst promoting University of Hull? But in fairness the influencers need dollar and why not get paid to tell people to go get an education.
Universities spend millions every year on marketing to attract students. UWE, The University of Central Lancashire, The University of East London and many more have been known to spend over £1million on marketing covering social media, print and search engines per year. And clearly some of them are using influencers to get students into unis, even if the influencer has never set foot on the campus.
These are the influencers who have been paid to promote universities they didn't attend:
Mari Alonso
Followers: 82,800
University she was paid to promote: Anglia Ruskin
Mari is a travel and lifestyle blogger who graduated as an engineer seven years ago from Faculdades Integradas de Cataguases aka not Anglia Ruskin.
Anglia Ruskin are one of the universities who spend the most money on marketing, in one year alone they spent £1.19million on social media, search engines and print.
Mari promoted the uni during Clearing letting her followers know there were still places available. A spokesperson for Anglia Ruskin told Vice the partnerships are a way to widen participation at universities and to show the benefits of further education.
They said: "We strongly believe in widening participation and a high proportion of our students are the first in their family to attend university. Our Instagram partners talk about how their university experiences and qualifications have helped to transform their own lives – sometimes in quite radical ways.
"These posts, all written by the individuals themselves and clearly marked with an 'ad' tag, focus on the wider benefits of considering a university education."
Spain with Lauren
Followers: 10,400
University she was paid to promote: Anglia Ruskin
Lauren is a travel influencer who shares updates about her life in Spain with her partner and their dog. She was yet another influencer who did a paid partnership with Anglia Ruskin to promote clearing spaces.
In her post she talked about her partner Alex who studied Sports Science at uni and how much it has helped them.  She wrote: "Alex studied sports at university which has opened up so many doors for us, in terms of heading into teaching.
"By studying a course like Sports Coaching and Physical Education you can develop a practical understanding of sports coaching and work towards a career in sports. Alex then took his PGCE to become a secondary teacher! It's given us the flexibility to live and work wherever his job takes him."
However she definitely doesn't mention either of them actually attending Anglia Ruskin. Either way this uni is on a mission to get students in.
Ambar Driscoll
Followers: 297,000
University she was paid to promote: University of Hull
Ambar is a model and influencer who is going out with YouTuber Caspar Lee. She's also an Exeter grad who finished her course last year.
However rather than getting a sponsored post from Exeter she promoted the University of Hull in a very cringe post.
Ambar posted a picture of her in her graduation gown and spoke about clearing being the moment that can change your life and said a lot of positive things about Hull, including the uni pledging to be carbon neutral by 2027.
She wrote: "Going through clearing is something that most people try to avoid, BUT it can be a positive experience!. You might end up where you are meant to be eventually. Students who have gone to @universityofhull Clearing have said that this was the moment that made them. Life often doesn't follow the plans we make for ourselves, but I do believe that things happen for a reason.
"If you find yourself in Clearing this results day, take comfort in the fact that you could still end up at a great place like Hull – they've pledged to be completely carbon neutral by 2027, and have partnered with Team GB to find the extraordinary in everyone."
Grace Bee
Followers: 5,764
University she was paid to promote: Anglia Ruskin
Yet another Anglia Ruskin sponsored post, they really are going for it. Grace Bee is a travel, fashion and lifestyle influencer based in Birmingham.
Grace told Vice even though she didn't study at Anglia Ruskin, she would never promote a brand she didn't believe in and at the end of the day it's still a business partnership like any other.
She said: "For me personally, it was a business transaction. However I'm quite picky with the brands I work with and I would never promote a brand I didn't believe in. Although I didn't study at Anglia Ruskin, I think my time in further education was really formative so I was more than happy to promote it to my followers."
Featured image credits via Instagram @marianacalonso, @ambardriscoll, @spainwithlauren
Related stories recommended by this writer:
•This savage Insta is exposing influencers desperately trying to get the shot
•Meet the YouTubers with thousands of subscribers studying at uni right now