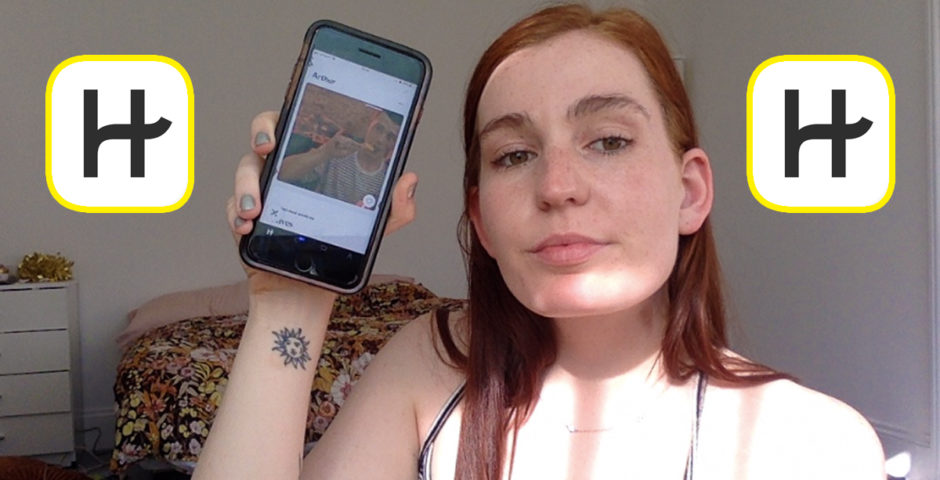 This is how the Nobel prize winning Hinge algorithm actually works
Turns out the prompts you pick actually matter, huh
Hinge is a sneaky, sneaky app. Not the Facebook-harvesting-people's-personal-data kind of sneaky, but the way that it's so very different to Tinder in its mission to find you a soulmate. The Hinge algorithm is very different to most dating apps – and so is the very functionality of Hinge.
Think about it. First off, Hinge doesn't let you swipe, so you have to spend more time looking at matches before clicking the X button (sometimes I even forget where the X button is). Also the Hinge algorithm gives you a Most Compatible match suggestion nearly every day, which is based on factors like your profile info, prompts and previous likes. And you can see all your likes at once so there's never that "oh God what if I like them and they didn't like me" fear like when you swipe on Tinder. It's like Tinder's loving, careful brother. The brother that asks you how you like your cup of tea instead of just assuming that it's milk no sugar.
So what is the Hinge algorithm and how does it work?
The Hinge algorithm is actually a Nobel prize winning algorithm that's been around since 1962. It's a variation on the Gale-Shapley matching algorithm which, following my research, I have realised basically works like the first episode of Love Island. Essentially a load of women and men are put in a room together and the men must pick their most desired girlfriend (rude that the men get to pick first but okay), then the women have to choose their most preferred man and anyone who matches up gets together. Then there's various different rounds of this until those who are single are eventually matched up with their ideal partners, like in Love Island when the girls can step forward if they prefer a newcomer to their current partner, or they can stay with who they're already with.
Now I know what you're thinking: How does this apply to Hinge? Hinge basically uses this algorithm to show you the people that you are most likely to want to go on a date with, who are also most likely to go on a date with you. It's never outright been said but it has been speculated that along with having a "Most Compatible" feature, the people you are shown first when you open the app are the people Hinge thinks you will like the most (who you will also like you back).
Jean-Marie McGrath, director of Communications at Hinge, told Elite Daily: "Hinge's algorithm is specifically designed to introduce you to potential dates who meet your preferences (and whose preferences you meet)". How do they determine this? Well that's a whole other subsection and it's right HERE:
How does Hinge work out your 'Most Compatible'?
Most Compatible, and general compatibility on Hinge, is calculated using your profile information, prompt choices, your likes/dislikes and "deal breaker" option. So for instance, you're less likely to match with someone who doesn't want kids when you have put your response to "Do you want kids?" as yes, because Hinge is smart like that. You're also less likely to see Hinge profiles that are 40-year-old men if you are, say, a 19-year-old woman.
Your likes also play into it. The more you like certain types of people, the more Hinge learns about your preferences, as founder Justin McLeod told British Vogue: "It gets better and more accurate the more that you reveal your tastes." It's kind of like if you look at the past ten people you've dated or fancied, you'll eventually start to see a pattern emerging, so you'll have more success (in theory) if you start to seek these types of people out. I.e what's the point in me going for short blondes when I know I'm only really attracted to tall brunettes? The answer is there is no point, and Hinge knows that.
What is the dealbreaker option on Hinge and how does it affect compatibility?
The deal breaker is the preferences option which you can control, so you don't see anyone outside of this, which obviously would mean your matches are more tailored to be compatible with you. For instance, if you're fancying a bit of a Christian Mingle you can set the dealbreaker as "Religion: Christian" and therefore Hinge will tailor the algorithm to show you fellow Jesus stans. It's really that simple.
How do the prompts influence your Hinge algorithm?
The prompts are changed monthly (If this surprised you: Same. I didn't know this either given that I change my dating app profiles like once every six months) based on the most popular prompts that are used and the ones which are most likely to garner responses and end in a date. Therefore there are literally prompts you can use which are statistically more likely to end up in a date. Speaking of of, this also factors into the algorithm, and I'm about to tell you about it RIGHT NOW.
Whether you go on a date also helps determines the profiles you see on Hinge
The "We Met" function on Hinge is more than just a fun way of finding out if the person you went on a date with also wants a second date, it also influences your algorithm. If you meet someone, tell Hinge you met, and say that you'd be interested in a second date, Hinge will likely suggest you more profiles that are similar to that person's profile.
So there you have it, all you need to know about the Hinge algorithm. The main takeaway is: It's smarter than you think, and also it's a bit mad that Hinge and Love Island both use the same formula to match couples. I guess you could say it all hinges on the algorithm.
I'll show myself out.
Related stories recommended by this writer:
• These are officially the best times to use Tinder, Hinge and Bumble in lockdown
• I made a dating profile on Hinge as a Pigeon because I was bored of dating at UCL
• Hinge questions: The best profile answers to get the most matches