So it turns out Connell from Normal People's first big break was in this sausage advert
He looks as stunning as ever
Paul Mescal, the actor who plays Connell in everyone's recent TV obsession Normal People, has been spotted in a sausage advert he starred in from 2018. Turns out, not only can Paul play a troubled, awkward and beautiful Connell, he can also play a very convincing teenager who fucking loves sausages. The advert is for Denny & Sons and came out around this time two years ago.
The plot of the advert seems to be a boy (Paul) being inspired to travel the world after eating a Denny's sausage.
The advert goes as so: Paul and his pretend parents are sat around a dinner table eating Denny's sausages and bacon. The dad is reading the newspaper and says that Henry Denny (the guy who started the Denny & Sons meat range) used to travel around the world and teach people how to cure bacon.
Paul Mescal then says to his dad: "I've always wanted to do a bit of travelling myself". After this, we see a close up of Paul as he munches a very large Denny sausage – note: his face at this moment looks very familiar to his intense pleasure face Connell often does.
After the big chomp on the sausage, he suddenly stands up and says, "That's it! Dad, grab that globe". His fake dad grabs a globe from the side, spins it and picks a place with his finger. He turns to Paul and says, "Bali!". The dad is then cut off by Paul, in a bus saying "hooly, Ballyhooly" – a small village in Ireland. The pack of Denny & Sons sausages pop up and the slogan "Seize the Denny!" shows.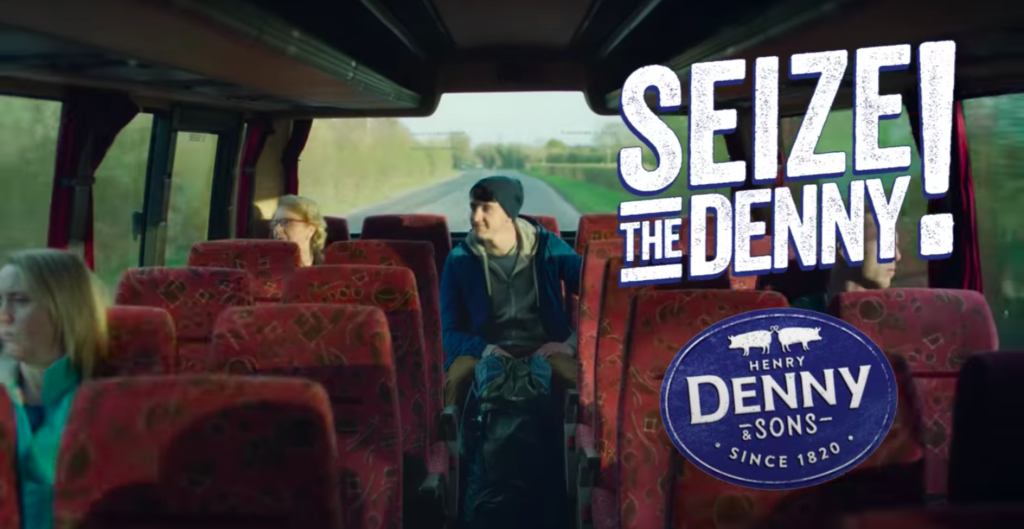 Overall, it's pretty funny. We've all seen the deep, romantic side of Paul Mescal, and now we've seen his comedic talent. No one can deny he's a multifaceted, well-rounded actor who, I'm pretty sure, is wearing the same hoodie for both roles.
The full advert is on Denny & Sons' YouTube and has been used to promote their sausages, dry cure ham and full breakfast – Paul clearly did a damned good job! Watch the full vid here:
Normal People is available to watch now on BBC iPlayer. 
Related stories recommended by the writer:
• Meet Paul Mescal, the 24-year-old Trinity College grad starring in BBC's Normal People
• Normal People showed how well all TV shows should handle consent
• This is how Normal People got the sex and consent scenes spot-on