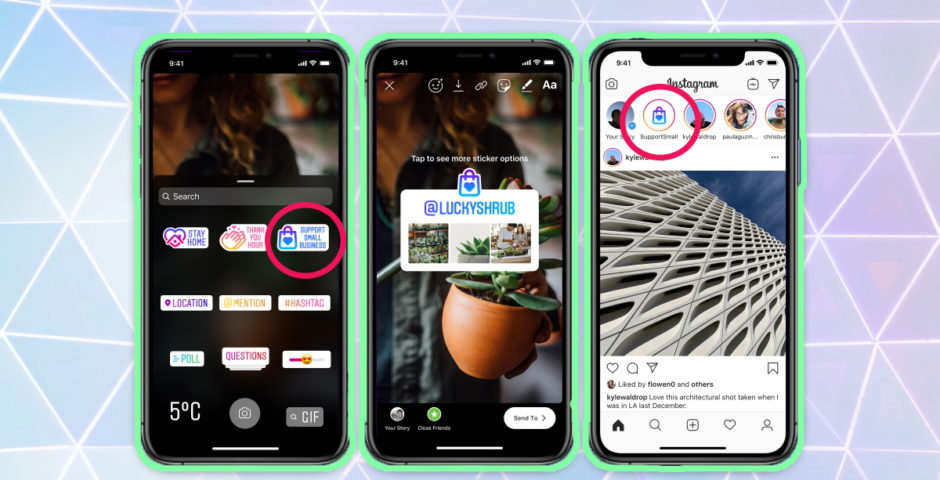 What the new 'support local businesses' Insta sticker is and how to use it
Instagram has introduced a new sticker for stories which is designed to help support local businesses during the current pandemic.
The update allows users to shout out businesses and places in their area and then creates a curated Instagram story feed of everyone you are following who has used the feature. Its aim is to help businesses which are struggling during the current global situation.
Here's exactly what the support local businesses Instagram story sticker is and how to use it.
The support local businesses sticker is an option for you to add to your Instagram story
The idea of the support local businesses sticker on Instagram is to allow people to shout out entrepreneurs and small places which may be struggling at the moment.
When you are creating an Instagram story there should now be an option to add the sticker, in the same place as where location and mention stickers are. The idea is for you to tag a local or smaller business to help promote them, or when you visit or use their services so other people can see where you went.
After you have selected the sticker on you story, you then have the option to search for the business and add the sticker to your post. The sticker gives a small preview of the businesses' feed for your followers to see. When people use the sticker it creates a new story on your homepage – with a collection of all the local businesses people you have followed have used or shared.
Once your friends and family have started using the feature, your curated newsfeed story will then look like a collection of business being promoted by/used by them. Instagram said: "The 'Support small business' sticker can help businesses reach new customers and stay connected to the people that they serve. When businesses are mentioned in the sticker, they can repost the content to their stories or message people who tagged them. Businesses can also use the sticker to shout out other entrepreneurs in their community."
So next time you visit your local coffee shop for a takeaway or if you have a friend with a small business, this update feature is perfect for you.
Facebook has also introduced a similar feature
Facebook has also added a local businesses sticker and hashtag to its story feature. According to TechCrunch, the app is also looking to roll out a "Businesses Nearby" section which will allow you to see the latest posts from businesses within a certain geographic radius, set by you. You'll be able to look at things like their opening hours and send them a message from the search.
In the new feature you will also be able to tag businesses "in support" in your posts and pictures.
Related stories recommended by this writer:
• This is how you do the genetics heritage filter on Instagram that everyone's doing
• These are officially the best times to use Tinder, Hinge and Bumble in lockdown
• What is the Hinge 'Date From Home' feature and should I be scared of it?