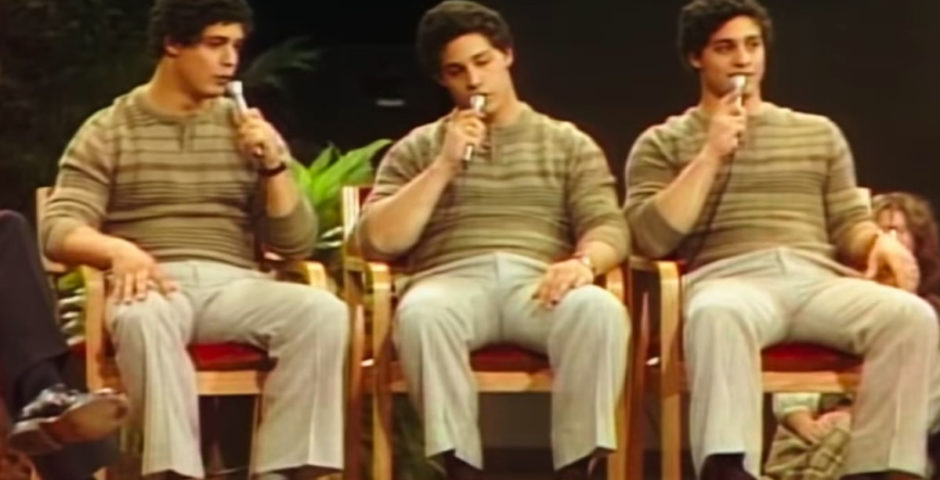 Where are the brothers from Netflix's Three Identical Strangers now?
One of them could be your lawyer!
This post contains spoilers
Netflix has just dropped an incredible twisted documentary about a set of triplets who were split up when they were born for a psychological experiment.
Three Identical Strangers explores what happened when a set of male triplets were put up for adoption and then separated for an experiment and then by chance all managed to meet when they were young adults.
The three brothers David Kellman, Eddy Galland, and Bobby Shafran soon became a media sensation and ended up living together and running their own restaurant.
The documentary discusses how as the brothers grew older they questioned the experiment they were unwillingly a part of. Sadly the documentary also revealed Eddy Galland passed away from suicide in 1995.
It was also highlighted in the film that David and Bobby had not been very close for a number of years, but has this changed and what are the two brothers up to now?
This is what the two brothers from Three Identical Strangers are up to now:
David Kellman
As revealed in the documentary David married Janet and had two daughters Ali and Reyna. According to the New York Post, the two are going through a divorce.
David lives in New Jersey and works in life insurance and he specialises in annuities and healthcare. The documentary hasn't allowed David to make loads of money, in an interview he said: "I'm in the insurance business, and a lot of my income is residual income.
"Sooner or later, you've got to keep feeding that dragon. You run out of gas."
He is still in contact with Eddy's wife and daughter and said his daughter is friends with Eddy's daughter. He said: "My daughter and Jamie are extremely close."
After many years of a tense relationship David and Bobby get on really well now and go golfing together. Bobby said: "David plays golf, I walk around the golf course and follow the ball."
Since the documentary came out they have been able to find clips from the experiment and David has described the process as violating. He said: "I really felt a violation watching the real early stuff, where you can see the psychologist's hands pushing puzzle pieces around."
Bobby Shafran
Bobby married and had two children, a boy named Brandon and a girl named Elyssa. He lives in Gravesend, Brooklyn and works as a lawyer.
According to his LinkedIn Bobby will work on depositions, court appearances, jury trials, case management and many more areas of law.
Bobby only works part time however due to a motorcycle accident that happened in 2011. The two brothers have considered working as public speakers and said they were thinking of a number of commercial opportunities.
He said: "A lot of people who have mentioned they find us engaging public storytellers.
"We certainly won't spurn them. We've heard a lot of chatter, but chatter is chatter until it becomes real."
Three Identical Strangers is available to watch on Netflix now. For all the latest Netflix news, drops and memes like The Holy Church of Netflix on Facebook. 
Related stories recommended by this writer:
•Netflix has just dropped a wild true story doc about triplets separated at birth
•Joe Exotic doesn't actually sing his songs, this is the real band who do
•This is the moving true story behind Netflix's newest drama Unorthodox