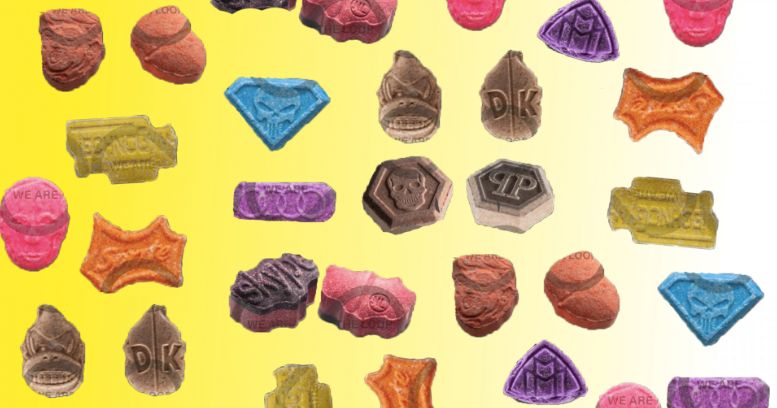 These are the pills going around this year with dangerous amounts of MDMA
Some contain three times the recommended dose
| UPDATED
Yesterday it was announced that Boomtown won't have drug safety testing kits available this year. In light of this, it's probably best to keep an eye out for the most dangerous MDMA pills to avoid.
The Loop, a not for profit company who offer drug welfare and harm reduction services at clubs and festivals, have just released their annual report on the highest strength pills circulating this summer.
With Boomtown and Houghton taking place this weekend and Creamfields at the end of the month, it's more important than ever to read up on which pills to look out for and avoid.
This summer The Loop have already attended Kendal Calling and Parklife, but they won't be testing at some festivals, including Boomtown, so you're going to need to wise up on your own time.
Purple and pink Skype
Purple and pink Skype pills were found at Kendal Calling and Parklife and have been linked to multiple hospital admissions. They are high strength with 250-300mg of MDMA which is three times the common adult dose, which is 100mg.
Side effects of these pills include nausea, muscle cramps, excessive sweating, blurred vision and chills.
Brown Donkey Kong
Donkey Kong are brown pills that were tested at Kendal Calling. They contain 250g of MDMA, over double the recommended dose. Affects of these pills include visual hallucinations, agitation, hypertension, seizures and a risk of entering a coma.
Orange and white Sprite
Orange and white Sprite pills were tested in Manchester and found to have 300mg of MDMA per pill. They are orange and white pills with an NL stamp and break line on the back. Side effects include nausea and muscle cramping.
Purple Maybach
Maybach are purple pills with 220 – 240mg of MDMA, nearly twice as much as the average adult dose, found at Kendal Calling. Side effects include increased heart rate, blurred vision, rapid breathing and teeth clenching.
Orange Superman
The Loop say these orange Superman pills include PMMA, which is essentially acrylic glass and not good for you. They were found at Boomtown.
Yellow Technogym
A yellow technogym pill containing over 200mg of MDMA. The pill has a break line on the back with a small encircled NL.
Blue Punisher
A blue punisher pill found at Love Saves the Day in Bristol. This pill was found to contain over 300mg of MDMA which is nearly three times the recommended dose.
Purple Audi
This purple Audi pill contained between 260 and 310mg of MDMA when tested.
Brown Phillip Plein
This Brown Phillip Plein pill was found online. It is either a light peachy brown colour or dark brown, with a skull on the back and no break line. It also has a Phillip Plein logo style on the front. When tested, this pill had 170 – 230mg of MDMA and also a high variability.
Orange Trump
The orange Trump pill is orange in colour and had 260mg of MDMA when tested. However, it has high variability.
Orange Superman
These orange superman logo pills were found at Boomtown this year and contain PMMA, which is more poisonous that MDMA and ecstasy and comes with greater risks. These increased risks include overheating, organ failure and heart failure.
Pink Putin
This Putin pill is pink in colour and shaped like Vladimir Putin's face. When tested it was found to have 280mg of MDMA in.
Every drug The Loop has warned people against contains over 200mg of MDMA, well above the common dose of 100mg. The strongest pill is the yellow and white Technogym pill, which has 330mg of MDMA. You should avoid taking any of the pills mentioned on this list.
Boomtown organisers have also warned of the effects of using multiple drugs at the same time and the severe dangers of drug misuse, including prescription drugs.
The Loop advise you to seek medical attention if you feel unwell at any point.
Related stories recommended by this writer:
• You can't get your drugs tested at Boomtown this year
• What happens when you're caught with drugs at a festival, by those it's happened to
•MDMA, ketamine, cocaine and pills : The Tab's guide to drugs