Here's every single Love Island 2018 contestant boiled down into a starter pack
Factor 50 suncream has Alex written all over it
It's two weeks since Love Island started up, and already we find ourselves talking about the contestants as though we've known them for a lifetime.
We think we've got them pegged, and try to predict their every move at the end of each episode when we are left on a treacherous cliff hanger.
The following night, we realise that we couldn't have been more wrong, but this doesn't stop us making out crass judgements over and over again.
So, here's every single contestants vibe presented to you in 'Starter Pack' form.
Eyal's starter pack
If you take a close look at Exhibit A, you get a full glimpse at Eyal's life so far. From his continuous attempts to become famous, to the time he briefly dabbled with Buddhism on his gap year.
And if you look even closer you'll see his true colours; he goes crying to him Mum when things don't go his way, and is registered with Bupa because he doesn't rate the NHS (that's why he doesn't like Alex treading on his toes).
Megan's starter pack
Megan is very, very boring. She's shown so far that she's scared of taking risks, and is attracted to basic things in life, probably because it means she'll never have to do anything against the norm.
This one would have been a lot different if she'd just picked Alex.
Alex's starter pack
Alex is such a Factor 50 kind of guy. Everything he does is done extremely cautiously. Obviously he has to be cautious in his job, people's lives are literally in his hands, and if push came to shove, he'd have to admit that his favourite beverage on a hot day is either a single beer, or a nice glass of milk.
Samira's starter pack
Samira sacrificed a lot to go on Love Island. Her show directors were not best pleased when they found out that she'd be leaving for eight weeks in Spain.
She'll be kicking herself if things don't go her way with the public vote, and will probably reapply as soon as she's off the show.
Jack's starter pack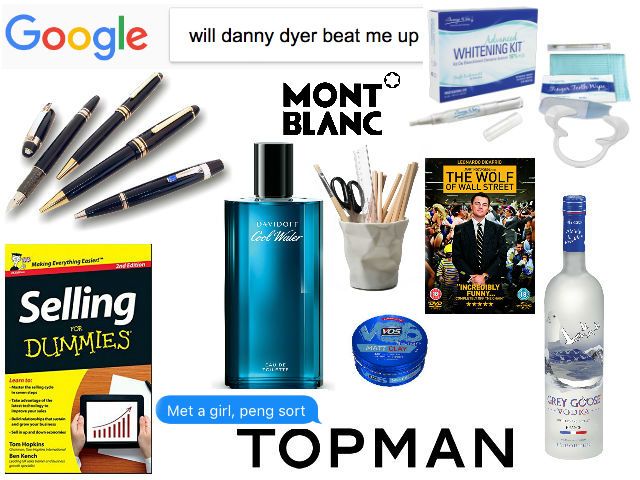 Jack most likely got into selling after watching The Wolf of Wall Street, hence him orientating himself to the world of pen selling. He does well in his job because he presents himself well. His clients can't resist the sweet smell of reduced cologne, nor can they ignore his blisteringly white teeth and perfectly groomed hair.
On the weekends however, he's a different person. He's off to the club with his equally attractive guy mates, splashing his wages on overpriced bottles of Grey Goose to impress the ladies.
Dani's starter pack
Dani is just down to earth and normal in everything she does. She doesn't seem to let the fame of her Dad get to her head, and handles most things pretty well (we are all guilty of the occasional cry).
Adam's starter pack
Adam has just got that club promoter vibe written all over him. Despite being particularly sound to Alex the other night, you still can't deny that he does present himself as a world class fuckboy.
You can definitely see him walking about town in his all black outfit and his trainers which hardly anyone can get their hands on.
Rosie's starter pack
What. Is. That. Fedora.
Wes' starter pack
Wes is your classic young and successful guy. He has a great job which brings in the pay, and he's matured faster than everyone else his age. Mind you, when he lets loose, he can't resist the odd VK every now and again.
Laura's starter pack
Children, air miles and money. The three things that's we've heard Laura talk about on the show so far. She wants Wes' babies so badly.
Charlie's starter pack
Everyone loves to mock the newbies on Love Island, but Charlie genuinely is one of life's good guys. He looks out for his mates, stands up for what he believes in, and is also very handsome.
It's safe to say he's sorted out for life with that combo.
Hayley's starter pack
Hayley is absolutely beautiful, but there's nothing in there. She probably gave up on the idea of education as soon as she was legally allowed to do so, yet still managed to cruise from strength to strength in her brand new Fiat 500 which her parents bought her.
Josh's Starter Pack
Yep. He's a sports lad.
Georgia's starter pack
This one is pretty simple. She's from the north, so probably loves Yorkshire Tea and gravy. Oh, and her sunnies are sick.