Can someone please explain to me why British freshers do all of these things?
How do they go out five days a week, seriously
Is it just me, or do freshers get up to some really weird behaviour compared to everyone else at uni? They go around chanting with cones on their head dressed in togas, and happily chug down dirty pints despite knowing the contents.
They'll go out every. single. night, even though they have no soul left from clubbing five days in a row, ending up in a kebab shops at 4am demanding to go behind the counter to serve chips to all their new friends.
But what is it about being a fresher which brings on this strange behaviour, which no one would ever do again apart from during their first year at university? Literally, can somebody please tell me why they do all these bizarre things:
SETTING OFF FIRE ALARMS IN THE MIDDLE OF THE NIGHT FOR FUN
Seeing your flatmate and their one night stand out in the courtyard at 5am looking all embarrassed and half naked was definitely worth waking up the rest of the block for.
COLLECTING BOTTLES AND BEER CANS AND PLACE THEM ON TOP OF THE KITCHEN CUPBOARDS AS IF IT WAS SOME UNIQUE ARTISTIC MASTERPIECE
There is nothing artistic about 20 bottles of Glenn's stinking out the kitchen.
SNAPCHATTING THEIR ENTIRE NIGHT OUT AS IF YOU'RE MAKING A SHORT DOCUMENTARY
You really don't need to prove to all your mates back home you have a social life now, they're all in the same boat. No one needs to see Becky from next door falling over in the toilets for the 100th time.
DRINKING HIDEOUS £5 WINE DESPITE THE WAY IT MAKES YOU FEEL, YET DOING IT OVER AND OVER AND OVER AGAIN
There are plenty of other more palatable options for a mere £2 more??
AND THEN FILLING A GROTTY WATER BOTTLE WITH AN ALCOHOLIC CONCOCTION TO DOWN ON THE WAY TO THE CLUB
You didn't quite finish your bottle of vodka at pres and you weren't going to risk leaving it in someone else's flat never to be seen again.
MAKING NEW WHATSAPP GROUPS FOR ANY OCCASION, LITERALLY ANY
Popping to Tesco, going to lectures, organising pres, scheduling in the gym – they all require separate chats, but with the same people in.
INSISTING THEY DRINK OUT OF THE SAME MASSIVE MUG FOR THE ENTIRE YEAR
If it's not from Sports Direct you're not doing it right.
GOING OUT EVERY SINGLE NIGHT, DESPITE FEELING LIKE DEATH FROM THE NIGHT BEFORE
No wonder you're in your overdraft.
RELIGIOUSLY WEARING A UNI HOODIE OR SOME KIND OF MERCH DURING DAYLIGHT
As if getting a student card, sitting in lectures, attending seminars and living in halls wasn't enough to prove you go to uni, you found it essential to buy all the uni merch and wear it everywhere, just so people have 100 per cent certainty you attend university.
BUYING A PUFFA JACKET, CAP AND START SMOKING ROLLIES
By reading week you look like Urban Outfitters has thrown up on you.
SITTING IN LECTURES TYPING OUT EACH AND EVERY SLIDE WORD FOR WORD
You do know this shit is recorded and the slides are downloadable, right?
LIVING EXCLUSIVELY ON PASTA AND CHEESE
Have you ever heard of gallstones?
BEING IN YOUR OVERDRAFT ALL. THE. TIME.
*Google searches 'what's the maximum overdraft limit on a student Santander account?'*
CHANTING INCESSANTLY ALL THE WAY FROM LEAVING HALLS TO ARRIVING AT THE CLUB DOOR
What starts off with three people walking out to town ends with an army of freshers all simultaneously chanting, like one big sesh battle cry.
JOINING 20 SOCIETIES, SPEND A FORTUNE IN SIGN UP FEES, GO TO ONE SOCIAL, THEN NEVER GO AGAIN
You promised yourself you would join trampolining club, get on the first hockey team and become the editor of the student newspaper. Three months down the line and you realise you'd much rather spend your time watching Netflix, lying in your own filth and waking up at 1pm.
TRYING TO HAVE INCREDIBLY MEANINGFUL CONVERSATIONS WITH THE UBER DRIVER ABOUT 'LIFE AS A TAXI DRIVER' EVERY SINGLE TIME YOU GET A CAB
"Been busy tonight then pal?" "How long have you been doing this for mate?"
NEVER CLEANING THE KITCHEN, TAKING OUT THE BINS OR CHUCKING AWAY MOULDY MUGS, EVEN AFTER SEVERAL FINES FROM HALLS STAFF
Someone will eventually crack and clean it all, and that person is not you.
SOMEONE REVEALING ENTIRE SEX LIFE IN DRINKING GAMES ON THE FIRST DAY
No-one needed to know your anal horror story in that much detail, Sophie. We only just met.
SETTING AN ALARM FOR A 9AM BUT NEVER MAKE A SINGLE ONE, EVER
It's the thought that counts.
HAVING A TACTICAL CHUNDER MULTIPLE TIMES AT PRES, AND STILL MAKE IT OUT
Just admit defeat and head to bed, there's no shame in it.
DRINKING £1 VKS OUT OF CHOICE, AND PROBABLY THROUGH A STRAW
Strawpeedoooooooooooooo!!
SPENDING LEGIT £50 A WEEK ON A FOOD SHOP AS IF YOU'RE FEEDING A FAMILY OF FOUR
Only to then realise you're not as good at cooking as your parents and would rather just order Deliveroo anyway.
DRAPING FAIRY LIGHTS OVER EVERYTHING
A simple side lamp would suffice.
INSISTING ON HAVING A WALL HANGING
You didn't actually go travelling, we saw your Amazon parcel arrive this morning.
COMMITTING A WHOLE WALL IN THEIR ROOM TO PHOTOS OF THEM AND THEIR MATES FROM BACK HOME
Which is funny because you'll have forgotten all about them by the end of first year.
MANAGING TO MAKE 100 FRIENDS IN THE SPACE OF TWO HOURS WHEN YOU FIRST MOVE INTO HALLS
Your contacts went from 50 to 500 after adding the entire block to your phone. The following week your Insta will be adorned with pics of you and your new mates, captioned "mad night with this one, love her!"
FILLING YOUR SHELVES WITH DEEP AND MEANINGFUL BOOKS WHICH YOU WILL NEVER GET ROUND TO READING
We get it, you do PPE so you brought with you some classic Marx, a cheeky bit of Sartre and some lovely Sigmund Freud despite never reading them and not understanding a word of what they say. Deep.
GETTING WITH YOUR HOUSEMATES IN THE FIRST TERM ONLY TO REGRET IT FOREVER
Guys come on, don't shit where you eat.
TREATING NIGHTS OUT LIKE SCHOOL DISCOS: GETTING WITH ANYONE IN SIGHT
It is your mission to get with at least one person, no matter what they look like. The lacrosse captain, your ex-boyfriend, even your housemate counts – you'll suffer the consequences in the morning.
KEEPING CHARTS ON THE FRIDGE FOR SHAGGING, CHUNDERING AND GOING IN AN AMBULANCE
If someone doesn't have a tick next to their name for at least one of these things, you won't be living with them next year.
DOWNING DIRTY PINTS DESPITE SEEING EXACTLY WHAT GOES INTO IT EVERY TIME, LIKE IT'S SOME SORT OF DELICIOUS COCKTAIL
Ahh, beer, vodka, tabasco, egg, tuna, jager and red wine – my favourite.
PLAYING NEVER HAVE I EVER LIKE YOUR LIFE DEPENDS ON IT DAILY
If you weren't competitive before uni you sure as hell are now. We get it Michaela, you're sexually adventurous and you are proud as hell about it.
BRINGING HOME RANDOM OBJECTS FROM NIGHTS OUT LIKE A BADGE OF HONOUR
"Can you BELIEVE Ben brought back part of a broken fence last night? Yeah, just walked in with it, still in the kitchen now. He's too much that boy." The compulsion that keeps freshers in their peak 2008 condition is bringing grotty objects home after a night out. Dirty cone? Check. Someone's broken washing machine left out for collection? Check. It's all just banter, isn't it lads!
LEARNING TO COOK ONE NICE MEAL FOR WHEN YOU GO HOME AND PRETEND TO HAVE THEIR LIFE TOGETHER
See mum there is nothing to worry about, I can make a lasagne now!!
CHUGGING PINTS DOWN IN THREE SECONDS SIMPLY BECAUSE SOMEONE TOLD YOU TO
It's all about speed, not the taste.
PLASTERING ALL WALL SPACE IN ANY ONE OF THE FOLLOWING POSTERS: PULP FICTION, PINK FLOYD – THE WALL, ROCKY, MUHAMMAD ALI, THE COMMUNIST 'I AM THE PARTY' ONE, WORKERS SITTING ON A LEDGE OF THE EMPIRE STATE BUILDING
"Seriously, Tarantino has really opened my eyes up to what is possible in cinema."
GOING INTO THE KEBAB SHOP AND DEMANDING TO GO BEHIND THE COUNTER
The takeaway shop owner is not your best friend. I actually think he might hate you, and your desperate attempts to get free stuff every single time.
BECOMING A CLUB PROMOTER
And then quit a week later when you realised knocking on people's doors saying "Tiger Tiger tonight guys!!! I can get you free entry and a free shot!!!" is completely soul-destroying.
BRING EVERY PIECE OF CLOTHING THEY OWN WITH THEM TO UNI
I WILL need these three ball gowns during first term.
GETTING REALLY INTO HOUSE
Now that you're in a big city, the events can be tempting, but no one actually wants to stand in a sweaty room for four hours, sweating your tits off, probably on your own because your friends are throwing up in the toilets, listening to house.
PLAYING RING OF FIRE EVERY PRES BECAUSE IT'S THEIR NEW FOUND RELIGION
Did someone say WATERFALL?!
GETTING REALLY INTO SMOKING BECAUSE YOUR MUM ISN'T AROUND TO SMELL IT ON YOUR CLOTHES ANYMORE
Nothing says freedom more than smoking without having to hide behind a bush, plastering yourself in perfume and spending your life's savings chewing gum.
SPENDING THE WHOLE OF FIRST TERM PRETENDING NOT TO BE RIDICULOUSLY MIDDLE CLASS
It slowly seeps out when mum keeps sending Ocado deliveries.
SPENDING £40 ON A COSTUME FOR A FRESHERS EVENT WHICH IS VERY OVERPRICED AND VERY UNDER-ATTENDED
If anyone needs Lederhosen I've got spare.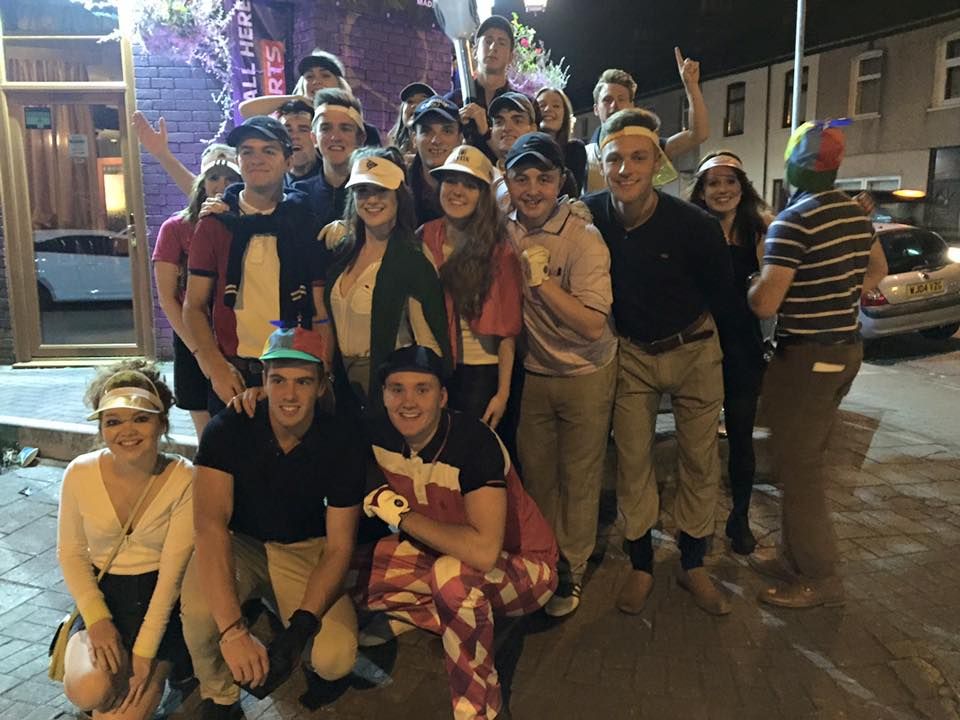 NEVER TELLING PEOPLE EXACTLY WHERE YOU'RE FROM, BUT SAY THE CLOSEST CITY WITHIN A 50 MILE RADIUS INSTEAD
"Yeah I'm from London!" – you're from Swindon.
NOT CUTTING OFF YOUR FESTIVAL BANDS FROM THE SUMMER BECAUSE YOU WANT PEOPLE TO SEE HOW FUN YOU ARE
"OMG I was at Glastonbury in 2015 too!! We have SO much in common!"
TRYING TO BECOME BEST MATES WITH THE CLUB BOUNCERS ON A NIGHT OUT
You try very hard to act sober around them, but they can see straight through you.
FALLING IN LOVE WITH A FLATMATE
Or a coursemate, or literally the first human you encounter at uni.
Contributions from: Lucy Woodham, Grace Vielma, Jonny Long, Diyora Shadijanova, Laura Williamson, Will Langston, Yusuf Khan, Gabriel Hargreaves, Emily Ferguson, Annabel Murphy