Every mortifying thing you'll remember if you were an indie kid in the mid 2000s
Being an indie kid was a weird time, everyone suddenly became unofficial music critics, reading NME and furiously debating the result of the Mercury music awards. It became acceptable to approach people wearing Joy Division t-shirts in the street and demand they unpack their favourite album.
We lived for the sticky floors of the local pub, the rush of being served with your older siblings drivers license, mosh pits and trying to not collapse when half a fag leaves your head spinning with nicky rush. What else was going on?
Literally every guy was in a band, if not, was he even human?
The band would be the Arctic Monkeys but with lower sound quality. Even though playing the guitar was life, indie guys would defs have failed their grade one music exam.
All songs were sung in regional accents, even if the vocalists went to private school
Posh boys would wail into microphones about prostitutes and people in tracksuits, fabricating a "rough image". Ricky Wilson of The Kaiser Chiefs paid £13k annually for his high school, but ok.
You fancied guys who looked like this:
Ribs were the 2009 version of a six pack. Hot guys looked like all they'd eaten for a week was heroin, packets of Cheetos and Diet Coke. Think bruised under eyes and a squidgy body, sapped of muscle mass.
https://www.instagram.com/p/BcMCn61D6Ml
Gigs were so cool they made you feel like you were in a Skins episode
You'd turn up to a local village hall off some roundabout in the middle of nowhere. Old men with leather faces who'd just come out for a Stella would watch and recoil as another group of 13 year-olds sang You Look Good on the Dance Floor for the 7th weekend in a row.
When bands played, you wouldn't be able to hear the lyrics, just a fuzzy hum radiating from the out of sync instruments and the sorry sound of spit hitting the microphone.
At the end of the night you'd make sure mum picked you up from around the corner, you were still on the vibe of pretending your parents didn't exist.
Going to Reading or Leeds festival was a religious voyage
The main motive for attending was the promise of fumbling plank sex in your tent, but you'd tell people it was for the music. Other than that people were motivated by a desire to throw piss on large crowds. The rest of us enjoyed having the warm liquid dribble down our backs.
When Dizzee Rascal made the 2009 line up you nodded along as teenagers called it the "death of culture" and "the end of humanity" as though music made with electronic sounds was the cause of disease and world poverty. In fact, anything with a bouncy pop chorus was pure poison (even if you secretly liked singing along to Akon's Sexy Bitch when your mum played Capital FM on the school run).
You'd keep your festival wristband for years, until your first two week work experience placement
As long as it vaguely resembled a festival band, you'd keep it on, this included those neon pink paper things you get when you've paid into a swimming pool. They'd smell like the dirty lasagna plates you washed up the night before.
https://www.instagram.com/p/BXbfVFjhK66
There were those people who uploaded acoustic covers onto Facebook and expected everyone to be fucking moved
Why do they always slow the tempo? I'd rather listen to Skrillex doing a dubstep remix of Crazy Frog.
Everyone loved saying "their old stuff was way better" when literally any band reached the Top 40
It doesn't matter if the first EP was an unimaginative three song shit show produced in their Nan's garage, it's still the best. That's how you prove you like real music.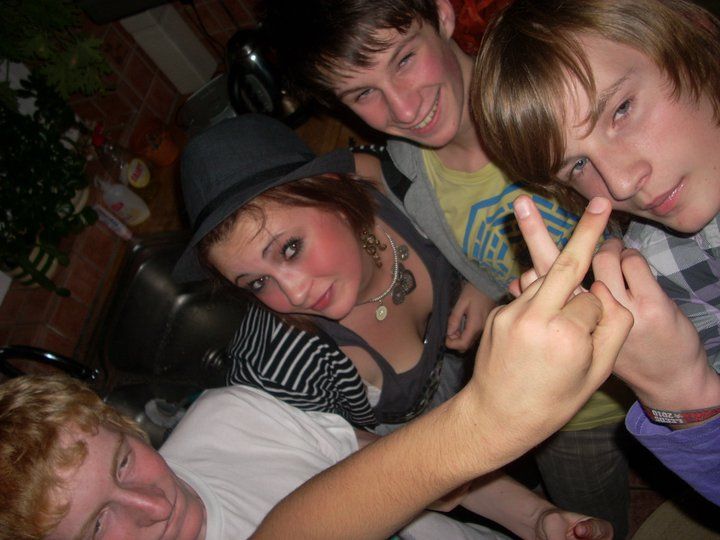 Every band name had the same formula
The Courteeners, The Maccabees, The Strokes, The Cure, The Arctic Monkeys, The Libertines, The Drums, The Kooks, The Wombats, The Vaccines. That was until Too Door Cinema Club, Bombay Bicycle Club, Catfish and the Bottlemen, Noah and the Whale came along, of course, when people ran out of meaningless 'The' names.
You would mosh at every possible opportunity, even if it was just to your Klaxons ringtone going off in the supermarket
You can make mosh pits happen out of thin air, just start shoving your mate around or go and chin the woman on aisle three.
People used Facebook's wall-to-wall rather than private chat to prove they had friends
It's not a reality TV show, your name is not Khloe Kardashian and you are not on ITV's payroll, no one cares that your sat in your room watching The Mighty Boosh.
At parties you'd take close up, blurred photos on your Sony digital cameras
This was essential because our Blackberry's had shit quality. The flash was so abrasive it gave savage red eye. You'd upload the images onto a Facebook album called something wistful like "summer <3" or "mates". For some reason you wouldn't edit out pictures like this:
You'd like Facebook pages that were so dull they would now be a tweet
[Insert person] likes "the cold side of the pillow", "Errr Excuse me? I bought a packet of Crisps, not half a bag of air", "emotionally breaking down when you find the second side of a worksheet". A tweet that would probably make you press the unfollow button.
You'd swear into the camera lens even though you just begged your mate to take a picture of you
"Take it again, but this time get the cider in the frame."
Everyone wore a stretcher earring or one of those absolute cop out fakes from Topman accessories
Why was it sexy to have a literal hole in your ear? If you didn't have a stretcher, you'd get a scaffolding bar across the ear.
Girls wore about 7 too many necklaces
Like seriously was someone playing hoopla over your neck? They would all be washed out silver/green, with cross charms and lightening bolts or they were long chains with pocket watches on the end.
The indie kid uniform involved:
Band t-shirts from Guns and Roses, The Smiths, Ramones, or Joy Division – even though you only knew two songs.
https://www.instagram.com/p/BckcIeDnxqY
For warmth you'd either wear a tight faux leather jacket or a zipped up burgundy American Apparel hoodie with the white drawstrings tied into a bow under your chin.
You wore checked shirts like you couldn't function without them. Always with the top three buttons done up.
You would wear rosary beads or those Jesus bracelets (because culturally appropriating Catholicism is always chic).
https://www.instagram.com/p/BbKvOJKlkkg
Elastic headbands would be tied on top of your hair so that it looked like a mushroom cloud.
On your feet were checkerboard Vans.
https://www.instagram.com/p/BchFfzQloVI
Or black Primark pumps that definitely belonged in Primary School P.E lessons. They would eventually develop a hole at the toe which would make your feet wet when you walked through puddles.
You'd protect your eyes with fake Ray Bans bought from one of those street stalls which sell phone cases.
Men wore skinny jeans from the woman's section. They would be so tight their dick would smush to the side, looking like a banana at the bottom of a rucksack. Their jeans would sit below their bum, so you could fully see their arse crack. To be honest men dressed a lot more slutty back then.
You're life was the combover fringe
You had to scrape the fringe over with GHD's so much that burning hair became most women's eau du toilette. The whole thing would be solidified using L'oreal Elnett so that when the wind blew, your fringe lifted up like a cat flap. Everyone would permanently walk with their neck cricked to the side to keep it angled in the right place.
You will remember these absolute bangers:
(Because the whole album was a thing)