This is what £600 a month rent would get you in different UK locations
Guess I'm moving to North Wales then
"It's cheaper up North," you've so often heard shouted over a fistful of crisps in whichever busy pub you'd decided to ruminate on your current living situation: "You get a mansion for that much in Yorkshire."
Likewise, the people of rural Scotland and arse-end-of-nowhere Cumbria will stare at you in blank disbelief if you tell them a pint costs a fiver, or that a rented room in a four-person shithole in Bethnal Green will set you back seven hundred precious pounds a month.
But how true is it, really? Surely there can't be that much of a rent disparity in the UK? Well, here is – and to prove it, we've trawled RightMove for some of the top listed £600pcm living situations in different places around the UK.
Depending where you are right now, you're about to feel really shit or over the moon.
London
To kick off, here's a classic one-bedroom London flatshare which is probably most adequately described as an absolute shithole. I mean, look at those curtains.
The flat is in Elephant & Castle, the capital's least vibesy district, and would involve sharing with five other people. This room is the cheaper, and therefore "smaller," of two double rooms available – the larger one comes in at £700pcm.
And yes, this picture of the hallway is one of the four pictures the landlord decided to upload to try and show off the flat.
Oxford
A short commute away and things are getting a little bit brighter: this spacious room in Oxford is also in a six-person house share, but is a world away from the horrors of the City.
Included in the rent price is a private garden, all bills, a parking permit and a very large and very lovely kitchen.
Brighton
Down in Brighton, you could get a top floor flat in a colourful house about five minutes away from the beach.
Plus it's a studio, so you wouldn't even have to share with anyone.
Bliss.
Leicester
If you can stomach vomit green (which we're assuming is the colour of all household interiors in Leicester), this studio flat is right in the city centre.
There's even a TV mounted on the wall, so there's literally no need to go outside and experience the outside world, ever.
York
All of these have nothing on what you can get in York, though. Seriously, look at this studio flat – it's like something out of an Enid Blyton novel.
It's even got its own solo armchair set up next to the rustic little fireplace, for all the late night mug of cocoa sessions you could spend curled up with a good book.
Early retirement is starting to look very tempting.
Manchester
£600pcm in Manchester would get you this ground floor flat in a charming looking house.
And if that isn't enough, look at the size of this bloody TV.
Wouldn't get that in London.
Liverpool
This swanky 10th floor studio features a 24hr concierge and a communal roof terrace.
Oh yeah, and a view which looks like this.
Which is so comically impressive that it could well have been Photoshopped in.
Edinburgh
It might just be the flowers, but this first floor flat in Edinburgh looks pretty nice.
It's also within walking distance of a Sainsbury's, so there's that.
Glasgow
That's right, you could get one of these two bedroom "modern terraced villas" for only £600.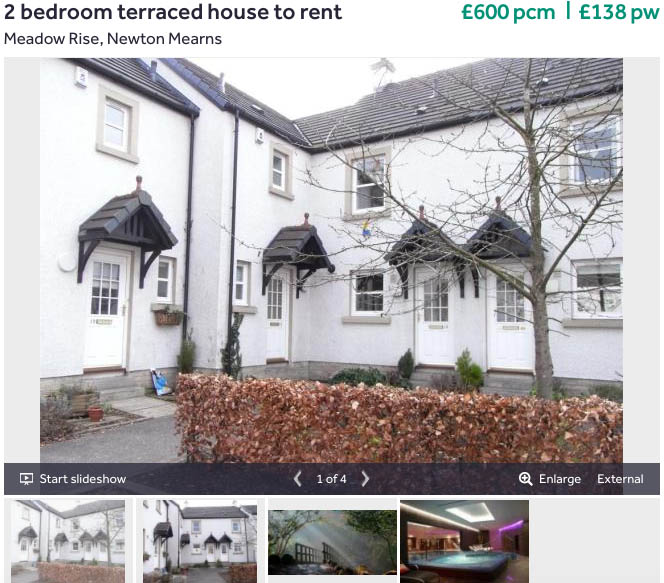 You would have to live in Glasgow though.
Cornwall
Here's where it gets depressing. Yep, for £600pcm you could literally have this house in Cornwall to yourself.
Look at the garden. Look at this fireplace.
There is no justice in this world.
Cardiff
Six hundred quid a month is astronomically high for rent in Cardiff, so a one bed flat in this building actually seems fairly disappointing at first.
Until you see the pool, that is.
There's also a gym, and gated security to keep the riff raff out. Fancy!
North Wales
Really? This? For £600?
This isn't fair. I mean, look at this view. This would literally be your front garden.
I'm moving to Rhostrehwfa.