In defence of the long derided kitten heel
Also affectionately known as the old lady shoe
It goes without saying that the kitten heel is the most hated shoe on the entire planet.
There's just something about the kitten heel makes it a hot button issue, if there are hot-button issues when it comes to footwear. Mention the phrase 'kitten heels' around fashion-minded people and watch the debate begin. There rarely is someone in the undecided party. Hold a pair up to your boyfriend on date night and watch his face fall, imagining the sky high stilettos in the back of your closet.
There are the few who love them, a small yet devoted group that includes myself, the ladies at the local bingo hall and Hillary Clinton.
Then there are those who passionately seethe at the sight of this 1-2 inch apparent fashion abomination. My ex-boyfriend, most friends, and those who for some reason don't want to feel like they're channeling Special Agent Dana Scully would fall into this category.
Maybe they feel a little dated. Audrey Hepburn popularized the style, but as stylish as she was, the truth of the matter is she's an icon from a different time. People want sexy and modern, and a kitten heel just isn't the first thing that comes to mind. For most, a pair of towering stilettos scream power and make your legs look a mile long.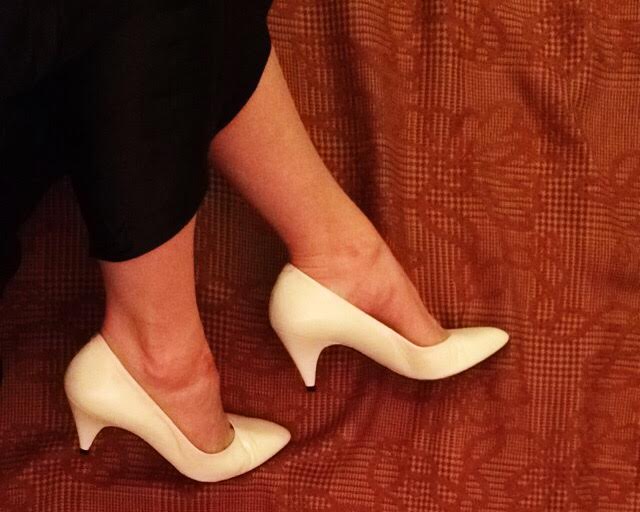 But the kitten heel is making a comeback, and it's doing it slowly on the feet of some powerful women. Michelle Obama and Theresa May have been seen in these little powerhouses, and if you take a look at your favorite "It" girl's Instagram, I have some news for you. Kitten heels are infiltrating your feed.
There's no arguing it, these little ladies are comfy. You're not going to last eight long hours in a pair of stilettos, but kitten heels can get you there. New to heels? These are your answer to getting some height without falling over. If you unexpectedly have to walk for a long stretch, you're not going to find yourself regretting your choice of footwear. If you need to make some quick moves or chase down some bad guys (or a taxi) kitten heels won't let you down.
They're understated in a way that makes them stand out. People tend to steer away from them, so pairing them with a t-shirt and jeans makes a laid back outfit unexpectedly pulled together. Going to work but don't want to look like you're going to the club? Kitten heels are your new best friend. One pair can go with so much.
But why don't people like these 'old lady shoes'? What is it that gets them hate on par with crocs? There is undeniably some factor — is it the height? The shape? — that conjures up the image of woman in a pantsuit. Maybe because when we picture kitten heels, we picture bossy old ladies.
Society wants women to be hot, and hey, we probably want to feel hot ourselves. Getting dressed with the image of your grandmother or Hillary Clinton in mind doesn't shout sexy like your strappy high-heels or your wedges. Maybe a pant suit is not your armor of choice.
Kitten heels do say some things, though. They say subtly, 'I'm here, I'm in charge, and hey, I might be a little bossy. But that's exactly how I like it.'