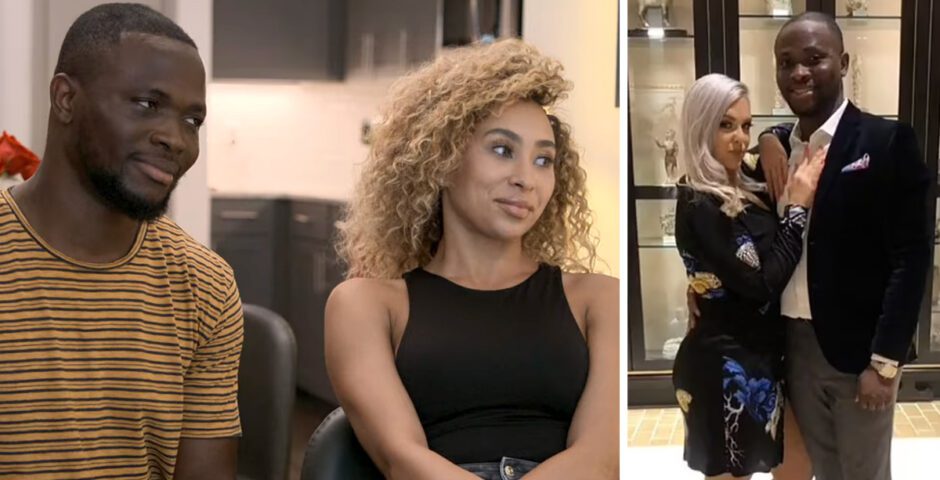 A complete recap of the cheating scandal with Love Is Blind's SK and Raven
Multiple women claimed they were dating SK whilst he was with Raven
Love Is Blind: After the Altar season three has been released on Netflix, and with it comes the cheating scandal between Raven and SK resurfacing. After the original series was filmed, multiple women came forward and claimed they had been dating SK, all whilst he was meant to be engaged to Raven as part of the show.
Since then, the couple split, legal proceedings were spoken about, they were spotted together again, and SK made a statement all about what had happened. So, from start to finish, here is a complete recap of the entire cheating scandal against SK, from his time with Raven.
Multiple allegations of cheating were made against SK, and Raven seemed to post about them
The rumours all started when a woman on TikTok called Emm posted about meeting SK on Hinge, before finding out he was with someone from Love Is Blind. In a now deleted video, she said: "Put a finger down if you went on a date in April with a guy from Hinge and then you see that he's actually on the show Love Is Blind, and that he met you after the show was filmed, but is still with the same girl right now."
She then posted a video of texts she claimed were between herself and SK, and a video of SK in a boat. People in the comments accused her of editing the screenshots, so she posted another video to show that the way she was speaking in the screenshots is just the way she speaks over text messages. In the caption of this video, she called SK a "wet wipe".
It looked as though Raven replied to this video going viral, as she said in one post herself: "Rumours are rumours, and we're fine. That's my man, and I'm sticking beside him." Raven has since deleted this.
But then, another woman called Hannah posted on TikTok saying she had been in a relationship with SK. She too deleted the videos, but in one claimed her "ex" had taken her on holiday to try and win her back, but it turned out he had a fiancée from a Netflix reality show. Her post claimed her ex's relationship with his fiancée was all "fake" and for money. "Now you're waiting for him to get exposed as the actual villain," she said.
She then posted another video alleging she and SK started dating in 2019 and then broke up, but rekindled things on a trip to Ibiza during the summer of 2021, which would have been just after the filming of Love Is Blind season three. She claimed SK had told her he and Raven were just friends.
"It all started in 2019. We became good friends and started dating," she said, alongside alleged photos and texts with SK. "Broke up mutually and remained friends. Fast forward to late July 2021, he invites me to go to Europe. We left Ibiza and flew back to Madrid. I asked to see his phone to send pics to myself but ended up seeing messages from a contact named 'fiancée.' I waited to confront him until dinner, I was trying to wrap my head around what I saw."
Following the first cheating allegations, SK and Raven announced they had split up
After these first allegations, Raven and SK deleted all of their pictures together and released a statement saying they had broken up and wouldn't be commenting on cheating rumours. They said: "We are saddened to announce that we have decided to go our separate ways. Due to on-going legal proceedings surrounding these allegations, we cannot provide additional details and ask that you please respect our privacy during this hard time.
"Thank you for following our love story and believing in us. This journey has forever shaped our lives and we are so grateful for everyone who has been a part of it. Your love and support means everything."
Then, another woman's story went viral
The week after the first two women came forward, another woman claimed she had "been silent until now" and accused SK of cheating on Raven with her. Posting on Instagram, Jada Rice claimed she dated SK in 2019 and shared photos and videos of her and SK together, saying she always knew SK was a "serial cheater".
She said: "I am absolutely heartbroken to hear that so many women were hurt by his antics, but I've always known he was a serial cheater after I found hair in his shower drain that was NOT mine. After speaking to another woman, it was also not hers as well.
"Earlier this year, SK told me that he and Raven did not end up together which is why he flew me out to Oakland to be his date for a party. However, not only was he cheating on Hannah, but he was also cheating on Raven simultaneously." She shared pictures of flights she alleged SK booked for her, and texts where he was helping her to decide what outfit to wear to the "Havana Nights" themed party.
"I am so happy this is all coming to light," Jada continued. "I pray the people he has hurt can heal from this situation." She also posted pictures of messages which appear to be from SK's Instagram account, including one showing him insisting "I'm single I promise" and asking her out for dinner.
Despite everything going on, SK and Raven were then spotted together?
In a very strange turn of events, SK and Raven were then spotted on a day out together, with onlookers saying they looked friendly and happy.
Posting on Twitter, a woman called Skylar said: "So if SK & Raven really broke up… then why did I see them in Costco together today #LoveisBlindS3″. She attached a picture from behind of a couple, who appear to be SK and Raven, walking around the shop with a trolly together. People obviously doubted the picture, but on Instagram on the same day, Raven had posted a picture of herself at Costco.
Replying to comments under the original tweet, Skylar said it was definitely Raven and SK, when someone questioned what Raven was wearing. "It was her for sure, other people said hi and recognised her and SK," she said. "Also I saw them at Costco around 10:50. She didn't post her picture of the Costco meal she made until around 2pm. She just changed clothes lol."
Someone else asked if they "looked cordial" and left together, to which Skylar responded: "Yes they did!".
SK then finally commented on all the rumours, and claimed he had been 'falsely represented'
Speaking on Instagram, SK said he had been "falsely misrepresented" by the claims. "Dear LIB family, Raven and I left the Love Is Blind altar as single individuals who went back to dating other people," he said. "While our journey back together hasn't been straightforward, the unique emotional connection we developed from this experiment kept us together as friends, and helped rekindle our relationship after the fact.
"The allegations have been falsely misrepresented with malicious intent and we are actively pursing legal actions against some of the accusers involved. I am deeply sorry for the pain this has caused Raven, my family and everyone involved. Raven and I will continue to support each other and wish nothing but love."
In a new interview, Raven has spoken about how she found out SK was cheating and what happened after then
In a new interview with ET Online, Raven has shared exactly how she first found out SK had been cheating, and what happened when she did find out. She said she first saw the rumours on TikTok "with the rest of the world" and at the time, she and SK had been living together.
"Unfortunately, we weren't able to communicate enough to get past it," she said. "And I think as much as in the moment I wanted it to work, it was just a level of trust and you've got to be realistic about your expectations of your partner and be realistic about respect in your relationship."
She said a lot of the allegations were made to sound as though they were more recent, but commented that a lot of them dated back to years ago. She said ultimately "respect and trust was broken" in their relationship. She added she currently isn't sure if SK is still pursuing legal action against some of the women involved.
But, Raven is now dating again!
Raven has clearly put all of this behind her, and has said she is moving on and dating again. Speaking of dating again, she told ET Online: "It's literally hilarious. I think it's so funny. I love it."
Three seasons of Love Is Blind are currently available on Netflix. For all the latest Netflix news, drops, quizzes and memes like The Holy Church of Netflix on Facebook. 
Related stories recommended by this writer:
• Raven from Love Is Blind has revealed the savage way she found out SK cheated on her
• So, most of the Love Is Blind season three cast were scouted and didn't straight up apply
• These are the youngest people who have appeared on Love Is Blind on Netflix