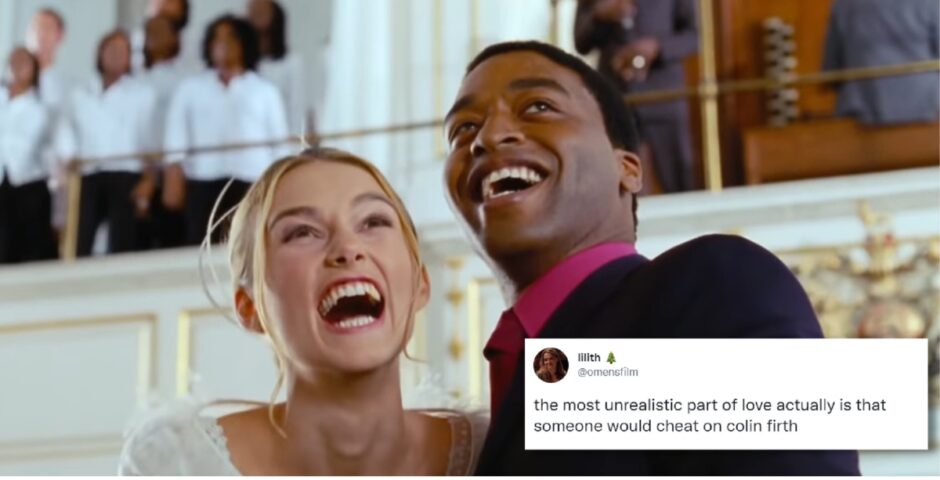 Christmas is all around us, which means it's time for 14 nostalgic Love Actually memes
Aka 700 words of Colin Firth appreciation
Watching Love Actually on a cold, December day is one sure-fire way to know Christmas is actually coming. I mean, it wouldn't be the festive season without an indescribable, rising sense of rage while watching Harry give Karen that Joni Mitchell CD for the 50,000th time, would it?
The film definitely has its issues – and some aspects haven't aged very well – but there are plenty of memeable moments which have solidified its status as a Christmas classic. So, stick on a seasonal onesie, pour yourself a hot drink and get comfy. Because these 14 Love Actually memes prove Christmas – actually is – all around:
1. She's right and she should say it
That scene in Love Actually where Emma Thompson opens the Joni Mitchell CD is one of the greatest scenes in movie history. I won't be taking questions.

— Catherine Balavage Yardley (@Balavage) November 25, 2022
2. I'd treat him right
the most unrealistic part of love actually is that someone would cheat on colin firth

— lilith 🎄 (@omensfilm) November 28, 2022
3. Our lord and saviour tbh
i want to hug emma thompson in love actually like her brother doesn't care about her at all and her husband is cheating on her !!?? if no one is treating her right I WILL

— lena (@lenajohncena) December 5, 2022
4. Omfg
the woman in love actually that alan rickman cheats on emma thompson with looks like BTEC lily allen

— Francesca 🇭🇰 (@franh42069) December 3, 2022
5. Understandable sadly
it's the time of year when i watch love actually and then my hugh grant hyperfixation reappears and i watch his entire filmography

— alex 🐛 (@inthenorthfield) December 5, 2022
6. Haha iconic deleted scene!
What they don't show you on Love Actually is the nuclear war that happens between the UK and America after Hugh Grant's speech, killing tens of millions

— ✨ Dean Tāne ✨ (@Maccadaynu) December 7, 2022
7. As they should
not necessarily a criticism cause I'm pro doing the bare min when you're on minimum wage but bar staff these days honestly have less urgency than the fella who gift wrapped the adultery necklace in love actually pic.twitter.com/8RiLreFyGJ

— cate in the kitchen x (@catekitchen) December 4, 2022
8. 'I look quite pretty'
Keira Knightley in Love Actually you will always be famous pic.twitter.com/P8HVNciN5W

— Professional Keira Knightley fan (@keiracouture) December 4, 2022
9. If Harry has a million haters, I am one of them
me every time emma thompson's character unboxes that joni mitchell cd in love actually pic.twitter.com/4OuFfjYMr9

— véro ✿ // (@vlovesemma) December 5, 2022
10. Justice needed!!!!
I was today years old when I found out there was a whole lesbian storyline deleted from Love Actually 😨

— AJ🌈🍂🌙🦕💕🐳 (@aj_in_moonlight) December 6, 2022
11. Featuring me and my Hinge date
Male feminist version of Love, Actually named Um, Actually

— Amber Flannery Field (@AmericasComic) December 5, 2022
12. Showstopping
Why the fuck was Denise richards in love actually

— Henneth Spagweneth (@henwa_spagenwa) December 6, 2022
13. Namely: Colin Firth
entering my colin firth in love actually era meaning im going to learn portuguess so i can confess my love to someone

— steph❄️🧣 (@midnghtshrry) December 7, 2022
14. I hate Harry, but Alan Rickman was undeniably a king
It won't matter how many times I watch it, I can never get over Alan Rickman in Love Actually and now I'm sad because I still can't believe he's gone 💔

— Rhiannon (@rhiannon_nita) December 3, 2022
Related stories recommended by this writer:
Featured image via Universal.