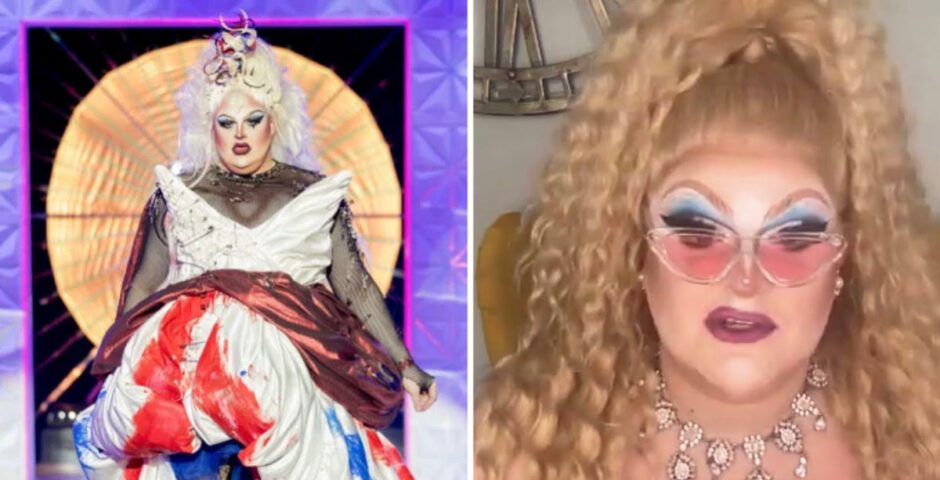 Pixie Polite discusses the Jonbers Blonde argument after sashaying away from Drag Race UK
'I personally don't think I said anything out of line'
RuPaul's Drag Race UK is hitting its final week, and we have our top four! Danny Beard, Cheddar Gorgeous, Black Peppa and Jonbers Blonde have made it to the grand finale next week, but with that we said goodbye to Pixie Polite – who sashayed away from the Drag Race UK after a less-than-stellar roast and a little trip and fall in the lip sync.
I jumped onto a Zoom with Pixie Polite to talk all things Drag Race UK, eliminations and shady Werk Room arguments that lead to her name being updated on socials to Pixie "Not so" Polite…
'It's important to take something negative and reclaim it in a positive way for you'
Hey Pixie! How's everything been over the last 24 hours – how's the fan reaction been and reliving it all? 
To be honest, I'm feeling very euphoric! I enjoyed the episode and I've had a great fan reaction. I'm feeling a lot of love from a lot of people, and considering some of the negative fan reaction I've had earlier in the season I'm feeling very thankful.
Touching on the negative reaction, I saw on your Instagram post last night you highlighted a lot of the hate that's been said about you by some corners of the fandom.
Yeah. I sort of learnt over the weeks to let it bother me less. I think it's very important to take something negative and reclaim it in a positive way for you. Because the people who love you will think it's sickening that you've trolled the trolls. All of those quotes on my pictures were real. And there were worse comments than that.
So yeah, shame on those people that think it's okay to do that. We're real human beings, just normal people who've been thrust into the spotlight. Unfortunately, as a community we're very overly critical of each other sometimes. There's also a lot of young people in the fandom who don't really know better. I'm choosing to rise above.
What was it like obliterating the Brighton curse!!! FINALLY!
You know what, call me Indiana Jones or Lara Croft because I've absolutely smashed the curse. I've reversed the curse! Instead of going home first I made it all the way to the end. I'm very proud of that, and of representing Brighton. It's all very surreal to me. I just hope that everyone's proud.
'There was tension with Jonbers'
I feel like this season on the whole the cast have gotten on really well in general, but I did feel like there was some Werk Room tension between you and Jonbers. Was it worse watching it back than you remember?
I mean, what you've got to remember is that we're like caged lions at this point. We've been there for several weeks, all together and the more people go the smaller the room gets. It's only natural that people will start to rub up against each other in a negative way – it's human nature. There was tension with Jonbers, but it wasn't a big deal. We'd have a spat and the next minute we'd be hugging.
When we did have the disagreement in the makeover episode, I personally don't think I said anything out of line. I brought it up to give her a chance to explain what the judges were saying about her drag, to explain her point of view. Jonbers has an Irish whiskey fire that sometimes erupts from her and she takes things very personally and does get a bit fiery.
I never felt like I was truly coming for her, but at that point the tensions are high and so she was quite offended. I think part of that was her just feeling the pressure at that point of not having a badge. So I can understand her point of view. I did bring it up a lot, so I can't blame her for being annoyed. Watching it back I thought, hmm, maybe I shouldn't have said it for a third time!
Do you personally think there was any shade in the decisions of the running order of the roast?
Look, here's the tea about the roast running order: It doesn't matter. It doesn't matter where you are, because if you're naff you're naff regardless. There are five of us, there's nowhere to hide at this point. I didn't think there was any shade. At the end of the day, we're right at the end and everyone wants to get there. I don't think it's shady to put yourself in the best position.
Cheddar was VERY pressed about it and it was very awkward. And it did go on for quite a while. The disagreement continued even after that conversation!
I hate to give you war flashbacks, but in the lip sync we did have a fall…  What was going through your mind at that time?
The show must go on, basically! I'm a consummate professional, my love. It didn't even shock me or throw me in any way. As soon as my hands hit the floor I was back in it. I knew going into that lip sync I was gonna struggle, because I was in heels that were six inch platform. Anyone who knows me will tell you I never go anywhere higher than a two inch kitten heel, because as a large potato of a woman I tend to need a lower shoe for support. I was in a massive gown, so I was just like, let's try our best shall we?
It wasn't until later on that I realised I'd hurt myself! I just thought, do you know what? Get me a stretcher. Take me to A&E, I'm ready.
'The only other drama of the season was Cheddar VS everyone!'
Was there anything you'd have love to showcase that you never got chance to?
Just because it's my bread and better in drag, the main thing I'd have liked to show is singing. The girl group challenge is usually more rap, this year's was punk so I was shouting a lot and even in the Rusical I was doing a character. I would have liked people to see me sing, but overall I think I showed myself in a fairly good way.
Are the queens ever shocked at the judges critiques, or is it easy to predict the tops and bottoms of the week?
I don't think there ever any major shocks. It was always pretty clear who was going to be in danger. There's always going to be exceptions to the rule, especially that week where we were all telling Jonbers she should have been in the bottom with me. I think overall the critiques were fair.
It's very objective. There's no marking criteria. Ru is judge, jury and executioner and it's all just her opinion on the day. Ru is steering the ship.
Pixie Polite, were there any explosive Drag Race UK moments that went down that we never got to see?
Not really! The biggest dramas were me VS Jonbers and Cheddar VS everyone! Other than that, we didn't really have anything that kicked off.
And finally: Drag Race UK is over, so what's next for Pixie Polite?
My debut single is now available on all streaming platforms, music video is out on YouTube right now! It's my first recording experience and my aim for the song was just to release a fun bop that everyone can like. I'm very proud of it. More music is in thr works!
RuPaul's Drag Race UK season four continues on BBC Three and iPlayer Thursdays at 9pm.Watch the full Meet the Queens here.
Special thanks to Jasmine Aloma at the BBC.
Related stories recommended by this writer:
• Just May on what it's like to be the first Drag Race UK season four queen to sashay away
• Starlet was the second queen to sashay away last night, here's what she has to say about it
• Pixie Polite from Drag Race UK was in a relationship with season two queen Tia Kofi