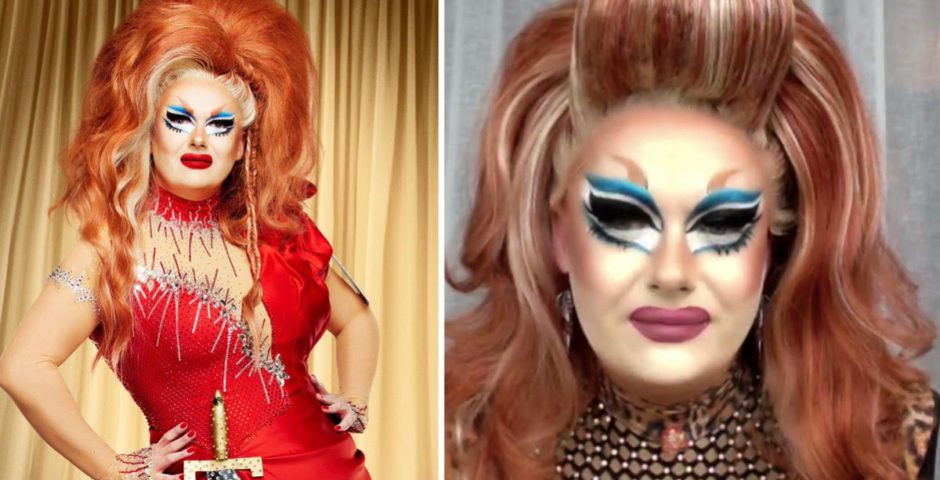 Just May on what it's like to be the first Drag Race UK season four queen to sashay away
And why she'll never cancel Geri Halliwell, no matter what Tories Ginger Spice gets pictured with
Drag Race UK season four booted off with the mother of all premieres last night, that saw Just May get sent packing by Ru.
After the so-so slay of season three, the cast of season four quickly proved that they could live up to the prowess of their promo shoot and Meet The Queens. The online queer world and beyond have fallen for this cast hard – and one look at that runway presentation from all 12 of them shows you exactly why. Fresh off her the elimination of Just May , I hopped on a zoom with the self-proclaimed number one Geri Halliwell impersonator to get all the tea from Drag Race UK season four's first Porkchop.
I'll be speaking to every queen this season after they've been eliminated, so make sure you check The Tab on Friday afternoons to read up on our kiki!
'Wearing my eternal sad face, according to Danny Beard'
Hey Just May! How you feeling?
Yeah, good! Just getting over it, getting used to it, wearing my eternal sad face according to Danny Beard.
How were you feeling in the aftermath, when it was announced you'd be sashaying away?
I mean, I knew as soon as I got into a lip sync that that would be it for me. And I was kind of fine with it. I don't claim to be a lip syncer, I don't claim to be great at that. When it got down to that moment I just thought have fun, enjoy it, because Dakota deserves to stay. She's a great performer and has so much to show.
You left quite early in the process –
NO? Did I?
Haha – were there any looks and talents you were dying for us to get to see but couldn't show?
My look for episode five. I won't say what it is, so I don't spoil anything, bu that's the one I'm most excited to see when I release it. Challenge wise, I'd have liked to have done one of them that people would assume I'd not be very good at. I like to say I'm a triple no threat: I can't sing, I can't dance and I can't act. But that doesn't stop me doing any of it!
Just May – what was the hardest thing about Drag Race UK for you?
Getting there! It was a long walk to the studio. And in heels. No, I think the hardest part was the waiting. We film it, we know what happened, we were there – but obviously we don't know what stories they're going to use or what clips. It's a lot of waiting and you have to prepare yourself for the good, the bad and the ugly.
'I was gonna do Anne Robinson for Snatch Game'
I'm dying to know who you'd have done for Snatch Game!
Well, I had two choices. Surprisingly, neither of them were Geraldine Estelle Halliwell. I was either going to do Anne Robinson, and answer one of the questions with 'Chaka Khan' like RuPaul did on The Weakest Link. Or I was gonna do Rylan – because he is also a ginger from Essex. And he too likes to dye his hair and wear fake teeth.
On the subject of Geri Halliwell, I am really interested in if you ever feel conflicted with the association when she's pictured with the likes of Nadine Dorries and Liz Truss – tories who have come out as anti-trans or have voted against the progression of LGBTQ rights, when she's spoken of her love for Thatcher and described feminism as 'bra burning lesbianism'. Do you find that a bit of an internal conflict?
Look, I'll say it happily, I don't have the same political beliefs as she does. And that doesn't mean that it takes anything away from what I hold dear about her. When I was six years old I didn't know what the fuck a tory was – she was the loud embodiment of what I could be as the outcast ginger kid. And that's never left me.
And no matter what, I mean – not saying she could go murder someone and I'd still think she was great, it would make my career very questionable, please don't murder anyone Geri – but I do think you can still love someone and not have to have the same beliefs as them.
I think Liz Truss is a big old twat, and Boris was a dick head. There's your header, "Just May: Boris is a dick head." But yeah, she can believe what she wants and I can believe what I want and it still doesn't mean that I don't think she's an incredible popstar and an incredible person.
I imagine it must be annoying when you love someone so much and you just want them to align with your own values.
When she had that pic with her hugging old Nadine Doormat I just though, great. Can't wait for this shitstorm that's gonna fly my way in my Twitter inbox.
No more questions about tories!
'I think I got off very likely'
Just May – when you got your Drag Race UK critiques and watched it back last night, how did you feel about the feedback?
I think I got off pretty lightly. When I was there I thought I was bottom-safe. Turns out I wasn't. I just thought, cool. If I am in the bottom, I'm probably going home. And it's fine, because iconic people have gone first. I was scared about what they were gonna say when we weren't there. We know what conversations we have when we're there, but we obviously don't when we're not.
So I was anxious to hear what the judges said when we were backstage. The main thing I have in drag is my personality and that shone, so – all in all – I smashed Drag Race.
Who are you closest to in the cast? Is there anyone you weren't that close to before casting but now have got to know closely?
Before I went in I've known Jonbers and Le Fil for years, we've worked in Sink the Pink and so much stuff together, we've toured round the country. They're my closest friends and I see them all the time. But since the show, I'd probably say I'm closest to Cheddar, Pixie and Copper.
I want Cheddar or Jonbers of Fil to win.
Are there any moments from the queens that episode that really blew you away?
Seeing Black Peppa climbing on top of that taxi cab because I can tell you it is NOT a secure thing that you really want to be climbing on.
What has Just May got on the horizon – what's next for you after sashaying away on Drag Race UK?
Well, I've got a single out babe! You can listen to it or watch it or whatever the kids do with music. It's called Just Like Geri, because just like Geri, I left first.
Special thanks to Jasmine Aloma at the BBC.
RuPaul's Drag Race UK season four continues on BBC Three and iPlayer Thursdays at 9pm.Watch the full Meet the Queens here.
Related stories recommended by this writer:
• Trinity the Tuck says negative critiques were given on All Stars 7, but they've been edited out
• All Stars 7 has revealed who the secret queen under the hat is and it's a Drag Race ICON