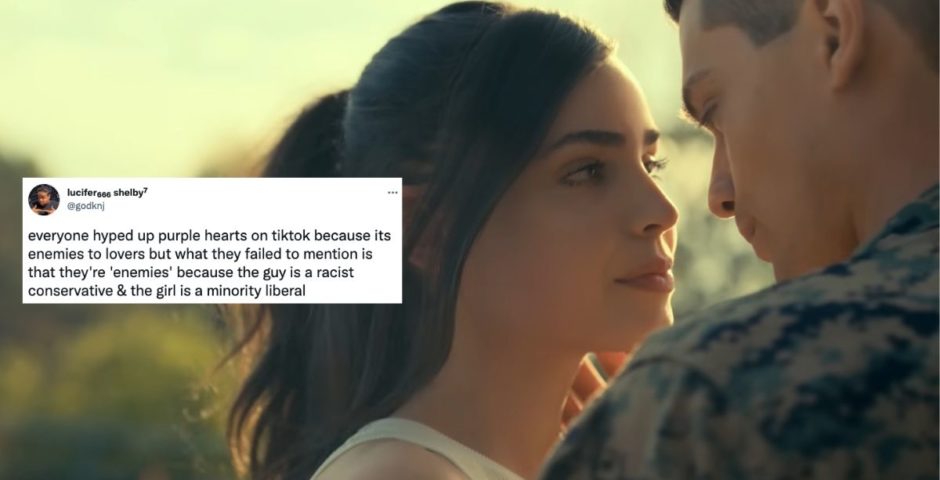 Purple Hearts on Netflix is being called out for casual racism and 'military propaganda'
Viewers have called the movie 'problematic'
Netflix's new romance film Purple Hearts is being called out by viewers following its racism and claims of military propaganda. The film follows Cassie Salazar, played by Sofia Carson, who is a singer songwriter struggling to pay for her diabetes medicine and Luke Morrow, played by Nicholas Galitzine, a marine who owes $15,000 to his dodgy drug dealer. The two embark on a sham marriage before Luke goes to Iraq, enabling Cassie to be entitled to health insurance and will also help Luke clear his debt.
It sounds wild and it is. Although many people have been enjoying the movie, a lot of people have been calling out the racism and military propaganda that some have seemed to ignore while watching the film. One scene in particular is when one of Luke's military buddies makes a toast and says: "This one is to life, love and hunting down from goddamn Arabs, baby!" Although Sofia's character calls this out in the film, it is seemingly almost forgotten about afterwards.
Viewers have been calling out and slamming the Netflix original film on TikTok and Twitter, calling the scenes "problematic" and "messed up".
One user on TikTok called out people who have been calling Purple Hearts the best movie ever. They said: "So you guys are just going to ignore the racism? I tried so hard to like the movie, but it's like everyone is missing the point and calling it the best romance ever. The misogyny was a huge ick. They never even talking about their differing POVs and how he's a diehard republican and how they made her out to be a feminist but made her succumb to his 'charms' in a matter of seconds. Everyone is overlooking the problems in the movie because the guy is attractive. That sucks."
Viewers have slammed the scene where one of the characters makes a toast to hunting down Arabs. When Cassie calls this out, Luke tells her to sit down and in private dismisses it as "all bravado".
There are even more scenes that viewers have slammed on TikTok. Another is when one of Luke's military buddies says to Cassie: "So we're good enough to fight for your ass, but not good enough to touch it?" Luke dismisses this comment and says they are just "blowing off steam".
The leads of the movie Sofia Carson and Nicholas Galitzine haven't spoken on the controversy and have instead expressed their gratitude from the response the film has received.
The Tab has contacted Netflix for comment.
Purples Hearts is now available on Netflix. For all the latest Netflix news, drops and memes like The Holy Church of Netflix on Facebook.
Related stories recommended by this writer:
• Four key cast members have now said they are not returning for Sex Education season four
• Who is Charlie Evans and where is he now? The hacker who helped Hunter Moore
• Here's the full open letter Hunter Moore published on anti-bullying website BullyVille