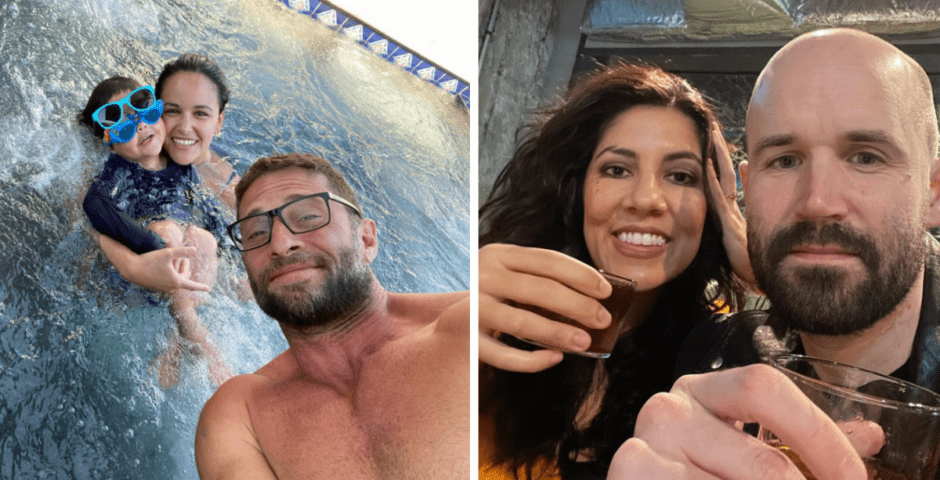 A deep dive into the love lives of the Brooklyn 99 cast
Brooklyn 99 is one of those proper comfort shows. You don't just watch it once, and if my flatmate's Netflix history is anything to go by you just keep it on loop 24/7. The precinct seems to be a tight-knit place to work, so it's even better to know that the cast are all best friends in real life too. The relationships between the officers are integral to the show, but what do their relationships look like off the camera?
From elopements, Mariah Carey music videos, and infidelity let's have a look at love lives belonging to the cast of Brooklyn 99.
Melissa Fumero – Amy Santiago
Relationship Status: Married
Melissa and her husband David Fumero have been married for 15 years. In a straight-out of Wattpad encounter, Melissa actually had a crush on David when she was 13, and he was 24 starring in Mariah Carey's music video. Years later on the set of the TV soap opera 'One Life to Live', on which both actors were starring they started dating.
They married in 2007 and currently have two sons Enzo and Axel, ages 6 and 2.
Stephanie Beatriz – Rosa Diaz
Relationship Status – Married
Stephanie is another cast member who is married. She married Brad Hoss, in 2018 and in June of 2021 announced her pregnancy. Her daughter was born in August of 2021 and is currently her only child. Brad Hoss is a fellow actor and starred in The Joy of Painting from Home in 2020.
Like her character on the show, Stephanie is also bisexual and came out publicly in 2016.
Joe Lo Truglio – Charles Boyle
Relationship Status – Married
 Joe started dating his wife Beth Dover, who is known for her role in Orange Is The New Black,  in 2010, and proposed 3 years later. In 2014 the pair got married and invited the whole cast of B99 to their wedding, and two years later the two became parents to their son, Eli James.
Chelsea Peretti – Gina Linetti
Relationship Status – Married
Chelsea met her Oscar-winning director husband Jordan Peele through Twitter. In 2015 they announced their engagement via a tweet, with Peele proposing during the family talent show. The two eloped in Big Sur less than a year later at a closed ceremony with only their dog as a witness. Less than a year later Chelsea gave birth to their daughter Enigma.
Andre Braughter – Captain Ray Holt
Relationship Status – Married
Second only to Cheddar in importance and love in Andre's life is his wife, Ami Brabson. The two have been married for almost 20 years, with the wedding taking place in 1991. Ami is also an actor and appeared as Andre's on-screen wife in the TV series 'Homicide: Life on The Street'.
They have welcomed three children together, Michael (30), Isaiah (25), and John Wesley (20). The family currently lives in South Orange, New Jersey.
Andy Samberg – Jake Peralta
Relationship Status – Married
Andy has been married for 9 years to indie musician Joanna Newsom, who was named by Rolling Stones as the "best-known harpist in American indie music".  The two were introduced in 2008 through SNL alumni Fred Armisen. The two married in 2013, and in 2017 welcomed their daughter.
The two are deliberately private about their personal lives, and decided not to share the name of their daughter. However, she seems to be following in her mother's footsteps, owning her own harp and according to her dad is "not bad".
Terry Crews – Terry Jeffords
Relationship Status – Married
Terry has been Married to Rebecca-King Crews since 1989, and have 5 children together. The two met when Terry was at college, and Rebecca was the local Christian music minister.
Dirk Blocker – Hitchcock
Relationship Status – Married
Dirk has been married to Danielle Aubuchon for 32 years, and they have two children together. Danielle is also an actor and guest-starred in an episode of B99 in 2017 where she played the character of Jenny.
Joel McKinnon Miller – Scully
Relationship Status – Married
Joel and Tamara have been married for 28 years and have two children, Owen and Caitlyn.
Marc Evan Jackson – Kevin Cozner
Relationship Status – Married
Whilst in B99 Captain Holt and Kevin may be soulmates in real-life Marc is married. Marc's wife of 20 years Beth Hagenlocker is a veterinarian, and her page is full of cute photos of cats and posts supporting her husband's work. The two co-founded The Detroit Creativity Project together, a nonprofit that teaches improv to public school students as a way of providing them with communication skills, support, and community. Whilst the pair do not currently have any children they do have three cats together, Penny, Charlie, and Snug.
Related stories recommended by this writer:
• QUIZ: Which male Brooklyn 99 character are you?
• If Brooklyn 99 characters went to a British uni, this is what they'd be like
• Inside the beautiful and vibey Instagrams of Netflix's Heartstopper cast