These 39 Bridgerton memes are so good, they should be named the diamond of season two
No, I cannot and will not stop thinking about Anthony and Kate's chemistry
It's been less than a week since season two of Bridgerton hit Netflix, and already Twitter is full of incredible memes and reactions to our favourite Regency era show. A lot of us have binge watched all eight episodes, and now don't know what to do with ourselves other than talk about the ART we just witnessed.
We will never, ever, EVER be over the masterpiece that is Anthony and Kate and their electric chemistry, we've fallen for Benedict even more, if that's possible, and Eloise has come through as *the* moment, yet again. Season two has been filled to bursting with some incredible moments and storylines, and honestly, it's no wonder we're expecting eight seasons of golden TV.
Here are all the best memes about season two of Bridgerton on Netflix, so far. Enjoy, dearest reader!
1. Ok I can't help but agree
2. She is THE moment
3. ALWAYS
4. Naturally
5. The Queen got it WRONG
6. When I grow up I would like to be Lady Danbury
7. Truly, I do
8. I CANNOT DEAL
9. Obsessed
10. I can't stop thinking about them????
11. Ok this was art
12. I cannot, and will not, get over them
13. She KNEW
14. This x
15. Looooool true
16. He's my favourite, alright?
17. No shame x
18. Pretty much
19. END OF
20. Put her in EVERYTHING
21. Love it from her
22. The baby omg STOP
23. Looool he was never the same again
24. Seriously though???
25. I'm crying ok
26. My entire heart
27. PLEASE
28. And I shall
29. TRULY
30. Hang this in galleries
31. Eloise is a moment
32. Loooool
33. Yep, still thinking about it
34. GET IT GIRL
35. Oh Anthony ok
36. I didn't even think this was possible
37. Thinking about her x
38. The love hate relationships this season have truly been something
39. Me right now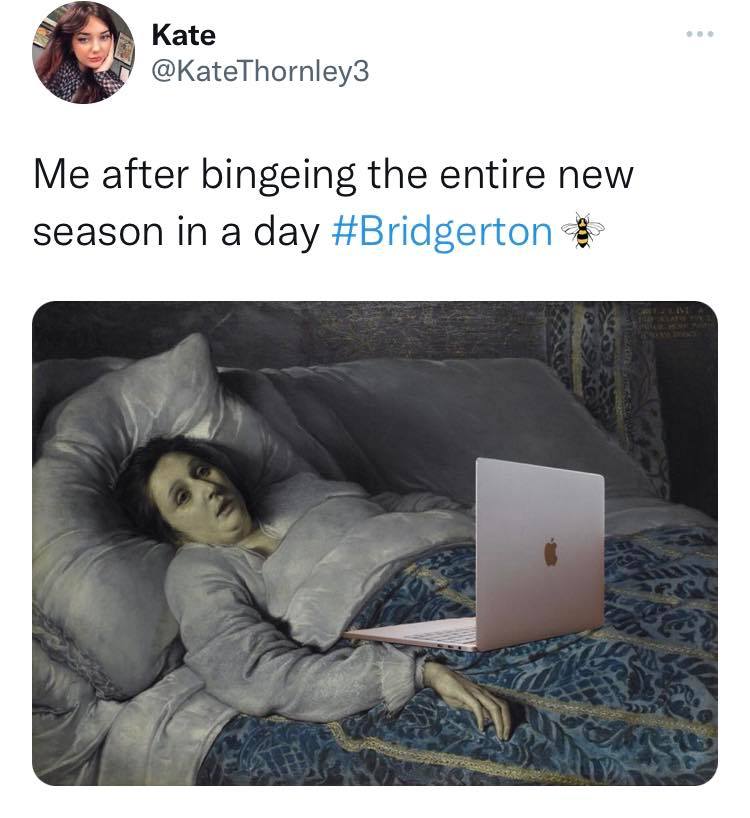 Season two of Bridgerton is available on Netflix now. For all the latest Netflix news, drops, quizzes and memes like The Holy Church of Netflix on Facebook. 
Related stories recommended by this writer:
• Right, so what was Queen Charlotte sniffing in Bridgerton season two?
• All the drama that happened when Regé-Jean Page left Bridgerton on Netflix
• Who was Marc Pilcher? The man season two episode one of Bridgerton pays tribute to