A look inside the LinkedIn accounts of The Apprentice 2022 candidates
Amy sacked off being a West End producer to pursue her dream: eyebrow shaping
Apprentice candidates are no strangers to the world of bragging and self-promotion. It's their bread and butter. But while they get to show off on prime time TV, thoroughly embarrassing themselves in the process, us mere mortals must settle for the toxic world of LinkedIn.
"If you'd have told me three years ago that after three years I'd finish my three year course, I'd have never believed you," Araminta writes following the conclusion of her social policy degree at The University of Bristol. That's the sort of banal shit we're used to seeing, right? That and the endless, superficial, congratulatory comments.
But one joyous corner of the networking platform sees two worlds collide. I am of course referring to the LinkedIn profiles of The Apprentice candidates. It's here where they hone their talents for self-congratulation and arrogance. So without further ado, here's a glance inside said profiles:
Amy Anzel
By the sounds of things, Amy has had a pretty interesting and varied career. After obtaining a music degree from Columbia, New York back in 1995, Amy went on to star in and produce musical theatre productions.
She toured around Europe playing Marty in Grease and was a producer for Olivier Award-winning Dream Girls on the West End. But Amy decided to give up the rat race and pursue her true passion: eyebrow shaping.
She is the founder and CEO of Hollywood Browzer Beauty, describing it as "a multi-award winning beauty tools brand that specialises in dermaplaning, hair removal, and exfoliation tools."
Akshay Thakrar
Akshay's profile boasts that he's adept at delivering "out of the box marketing strategies." His bio is absolutely stuffed with business jargon and I have no idea what any of it means. Here's an excerpt: "Effective at goal setting and developing metrics to drive cross-functional alignment and achieve strategic business objectives including customer acquisition, revenue growth, customer retention and brand awareness." No? Me neither.
Akshay studied Enterprise and Entrepreneurship at Coventry University and went onto found marketing company SAI Network back in 2019.
Brittany Carter
Brittany's bio starts by listing some adjectives before describing them with even more adjectives and still managing to say nothing about who she is as a person.
The Bristol-based hotel manager studied…hotel management at the University of Essex but now it seems as if she's looking for a career change. As the founder of protein brand Maintain The Gain, Brittany believes she's identified a gap in the market and will be launching an alcoholic protein drink. Sometimes there are gaps in the market for as reason.
Conor Gilsenan
Former professional rugby player Conor went to the same school as early 20th century writer James Joyce, and in a way, his bio has the feel of a modernist text- I read it three times and still don't really know what it means.
Luckily for you, I've managed to deduce he works as a sales executive for a financial technologies company and he studied at both University College Dublin and Northumbria University.
Francesca Kennedy Wallbank
Francesca graduated with a first in mathematics from Loughborough University in 2016. She's done several jobs in marketing, consultancy and management, recently founding two companies of her own.
H20Sqd is a sustainable business that sells "a flat, vegan reusable water bottle that fits where others can't."
Francesca also runs The Carbon Footprint company, helping businesses to track their environmental impact.
Harry Mahmood
Pharmacist Harry founded a bathbomb company and also offers his services as a motivational speaker. Suddenly I've got an image of him at the other end the bathtub lecturing me on how I need a five year plan as pink water foams over my body. Haunting.
Akeem Bundu-Kamara
Akeem's LinkedIn tells us he copped a first in maths, statistics and financial economics at Queen Mary University back in 2013. Since then he's done a variety of jobs and in 2020 he founded a sustainable sportswear brand called Lockr Space.
Harpreet Kaur
Harpreet did a business course at Leeds Met (now Leeds Beckett) before obtaining a leadership and management degree from the Open University. I cannot wait until she's PM on a task to see that knowledge put to the test.
After working in banking, she now runs her own deserts and ice cream shop called Barni's.
Navid Sole
Navid's got a master's degree from Kings' College, London and by the looks of things, he's still in the pharmacy game, with two businesses to his name. His sparse LinkedIn reads: "Looking for business partners, and people to collaborate and work with to enhance the pharmacy business."
Sophie Wilding
Sophie Willding has successfully managed to not plaster Apprentice references across her LinkedIn profile, something for which I am eternally grateful.
She studied business at Bristol University and now runs cocktail bar Imperial Haus. Describing the company, she writes: "The menu welcomes you to the fantastic world of Imperial Haus, inspired by an enchanted land of magic and fantasy. A sexy, wild garden home to mythical creatures that have inspired the signature folklore cocktail list and the use of ingredients."
Aaron Willis
Aaron runs a security company called Vulcan Security Ltd.  His bio reads: "Protecting your home is our main role but due to the increased success we are proud to announce we offer security for retail and events."
Stephanie Affleck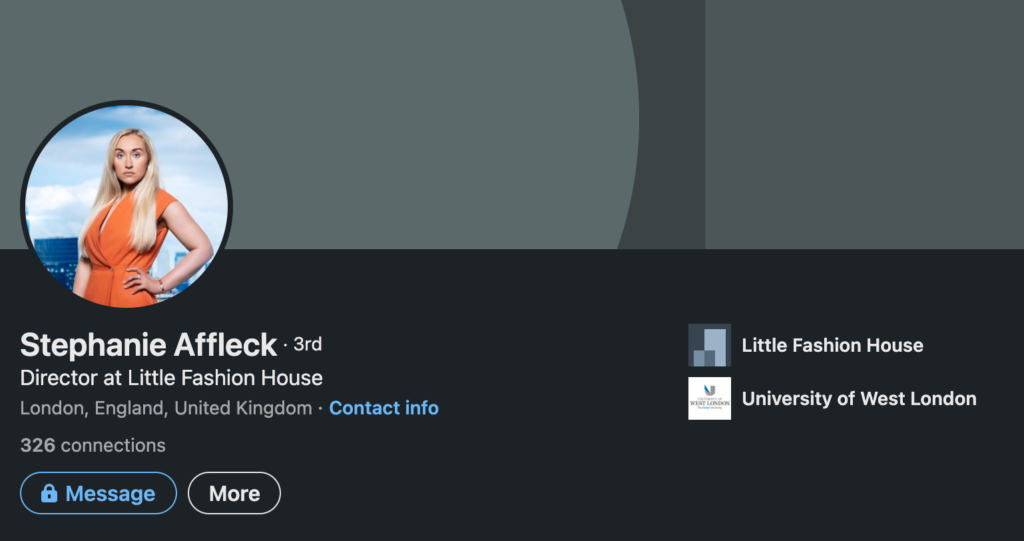 After obtaining a degree in events management from the University of West London, Stephanie went and did some managing of events. She's now the director of Little Fashion House, a company who specialise in selling pre-loved, designer children's clothes.
Alex Short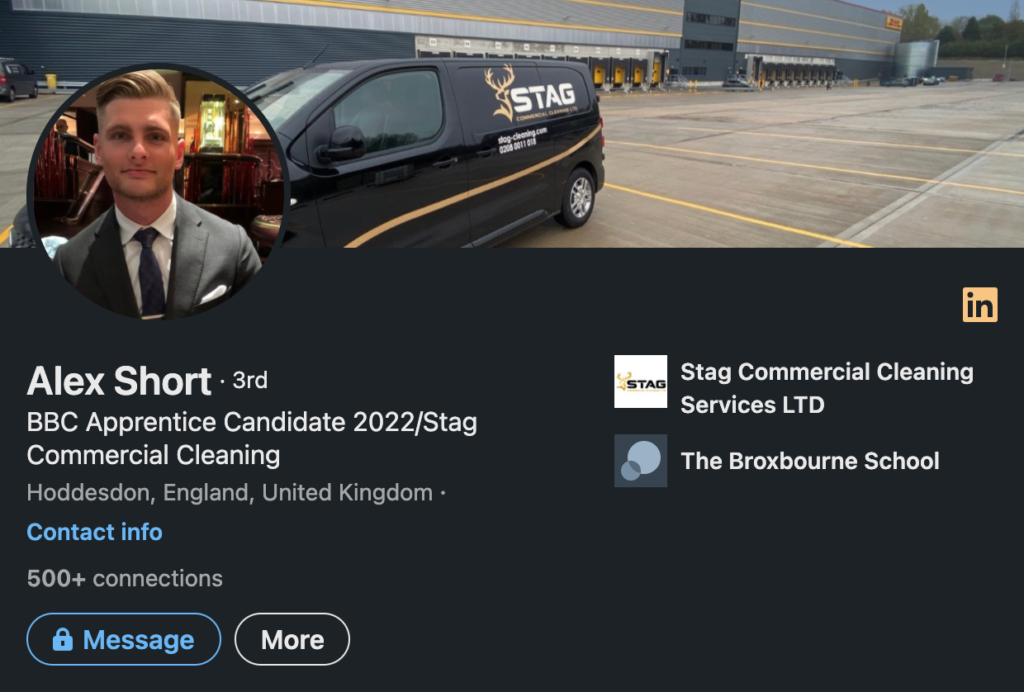 After leaving school in 2009, Alex spent just over a year working as a football coach before landing a job as a recruitment consultant. He founded his commercial cleaning business in 2016 and since then, according to Alex, "it has done nothing but excel."
The Apprentice in on Thursday nights at 9pm on BBC1. Episodes will also be available on iPlayer. 
Related articles recommended by this writer:
• Help, The Apprentice 2022 candidates are on TikTok and they are god awful
• This is how old all the candidates of this year's The Apprentice are
• Inside the £17million London mega mansion where The Apprentice 2022 cast lived