Boo! These Halloween best dressed costumes will leave you quaking with fear
You lot really understood the assignment this spooky season
Before you crack out Nativity and your advent calendars, please first make way for the most high-fashion event of the year: Halloween.
Gone are the days of angel and devil duo costumes, and this year there wasn't a single sexy cat in sight. No, you lot have really stepped up your games and I am here for it. From Lady Di to Phil Mitchell; from Shrek to Gavin and Stacey characters – UK uni students truly do get more creative every year with their Halloween 'fits.
Here are all the best dressed Halloween costumes from students this year:
Sophie, Lauren and Katie – Warwick
If you hadn't already guessed, Sophie, Lauren and Katie went as the Powerpuff Girls – name a more iconic trio?
Women's Cricket team – Sheffield Hallam
Hallam's Women's Cricket team really got all of the Scooby Doo gang down to an absolute tee. From Velma's socks to Scooby's ears and Fred's neck scarf thing, they truly understood the assignment.
Laura, Nan, Estée, Roxy, Sophie, Kate and Sarah – Manchester
What's better than one Shrek, I hear you cry? Seven Shreks, that's what.
Natalie – Sheffield Hallam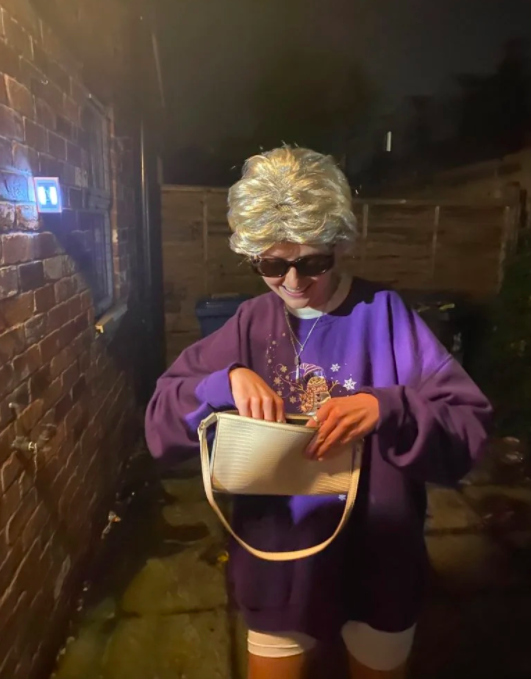 A true people's princess, Hallam student Natalie recreated a sporty Princess Di look for Halloween – complete with wig and *those* iconic white cycling shorts.
Daniela and David – Newcastle
The best song on this godforsaken earth is Bryn and Nessa's rendition of Islands In The Stream from the barn dance episode of Gavin and Stacey. And the only thing better than this song is Daniela and David's recreation of Bryn and Nessa's looks for their Halloween night out.
Leah and Nick – Newcastle
Here we have Leah as a Babybel, and her mate nick as the 118 man. A slightly chaotic duo but we'll take it.
Matt – Newcastle
Matt obviously wanted to break free (ha) and went as Freddy Mercury's iconic look from the music video. The actual working hoover really completes the look – since when have you ever seen one of those at pres?
Lucy – Manchester
Perhaps the best Halloween look you've ever seen, Lucy donned a bald cap to become the one and only Phil Mitchell. I'm not sure Phil would wear white Crocs, but they look good nonetheless.
Emily, Hannah, Katie and Henry – Sheffield
Tinky Winky, Dipsy, La La and Po have certainly had a glow up since you used to watch them on the Teletubbies.
Andrea, Helena and Maria – Newcastle
You might think an LBD is a Halloween cop-out, but Andrea, Helena and Maria's witches outfits, complete with gloves and hats, are an absolute vibe.
Related stories recommended by this writer:
• Ranked: How expensive the most iconic horror movie houses are in real life
• Every type of basic biatch you'll meet at the pumpkin patch this year
• Students on TikTok are sharing uni survival guides for freshers – here are their best tips