In pictures: Protestors gather as Couzens due to be sentenced for Sarah Everard's murder
They chanted: 'We will not be silenced by police violence'
Around 40 protestors gathered in London this morning at the sentencing of Wayne Couzens, the man who murdered Sarah Everard in March this year.
Couzens has since pled guilty to Sarah's rape, murder and kidnap. He is being sentenced today and tomorrow.
This morning, the court heard that Wayne Couzens used had used police ID and handcuffs to kidnap Sarah Everard before murdering her and burning her body.
Feminist group Sisters Uncut gathered at the Old Bailey in central London, where the sentencing is taking place. Protestors held banners while chanting: "We will not be silenced by police violence" and "sisters united will never be defeated."
One member of Sisters Uncut said: "The police thought they could threaten us. They thought they could intimidate us and they thought they could fucking stop us.
"But we know that the route towards ending violence means disobeying orders. It means standing up against police and state violence. It means saying fuck the police."
Earlier this morning, the Metropolitan Police tweeted: "We're sickened, angered & devastated by his crimes. They betray everything we stand for.
"We recognise his actions raise many concerns, we'll comment further when hearing is complete."
Here's everything that happened today, in pictures:
Protestors gathered with signs and chanted outside the Old Bailey
Protestors moved to block the road, and speeches began
Protestors let off flares, chanting 'sisters united will never be defeated'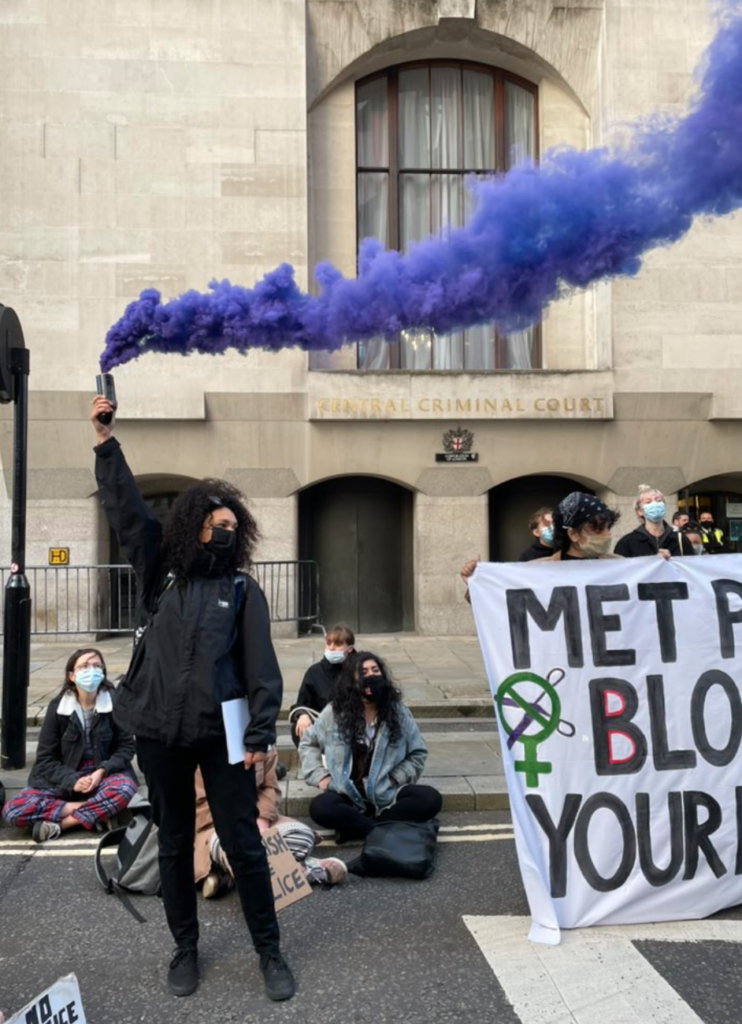 Related stories recommended by this writer:
•
• Wayne Couzens used police ID and handcuffs to kidnap Sarah Everard before murdering her
• Sabina Nessa was killed five minutes from her house, Metropolitan Police reveal