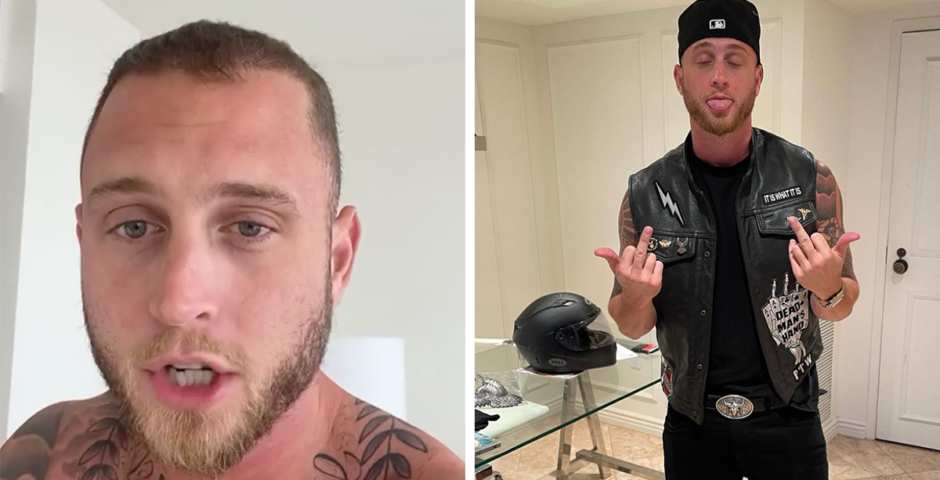 Shock: Tom Hanks' weird son Chet is massive anti-vaxxer
'You ain't stickin' me with that motherf*****g needle'
Chet Hanks, son of iconic movie star Tom Hanks, is at it again and being more annoying than ever.
Right in the middle of his "white boy summer," Chet posted a video on Instagram about his stance on vaccines.
Needless to say, none of what he said is supported by facts.
Chet starts the video by pretending to advise his 535k followers to get the vaccine before shouting, "Psyyyyych!"
"If it ain't broke don't fix it. I ain't never had Covid," Chet told said. "You ain't sticking me with that motherfucking needle. It's the motherfucking flu.
"Get over it, okay? If you're sick, stay inside. Why we working around y'all? If you're in danger, stay your ass inside. I'm tired of wearing a motherfucking mask."
In a second video, presumably addressing the enormous amount of flack flack he received after the first, Chet said: "I have the right not to get that shit. I wanted to, but my immune system said it's good. It doesn't want to be tampered with."
"It doesn't want to be tampered with. It said it's good, okay? Let's be real. 99 per cent of you motherfuckers wouldn't use a shampoo that's not FDA approved.
"But you're willing to get some experimental, government injection. There's more evidence of UFOs being real than that vaccine being healthy for you."
This is only the latest example of Chet being a complete cretin on social media.
A few months ago, Chet announced that this summer was going to be a "white boy summer" made even better by an accompanying clothing started by himself.
"I got this feeling that this summer is going to be a white boy summer," Chet said. "Take it how you want. I'm not talking about Trump, NASCAR-type white. I'm talking about me, Jon B., Jack Harlow-type white boys, you know what I mean?
"Let me know if you guys can vibe with that, and get ready. Because I am."
For more information on how you can book your coronavirus vaccine, follow this link.
Related articles recommended by this writer:
• These are the rules for a white boy summer, according to Chet Hanks
• Tom Hank's son Chet just dropped a bizarre rap video full of twerking and weed