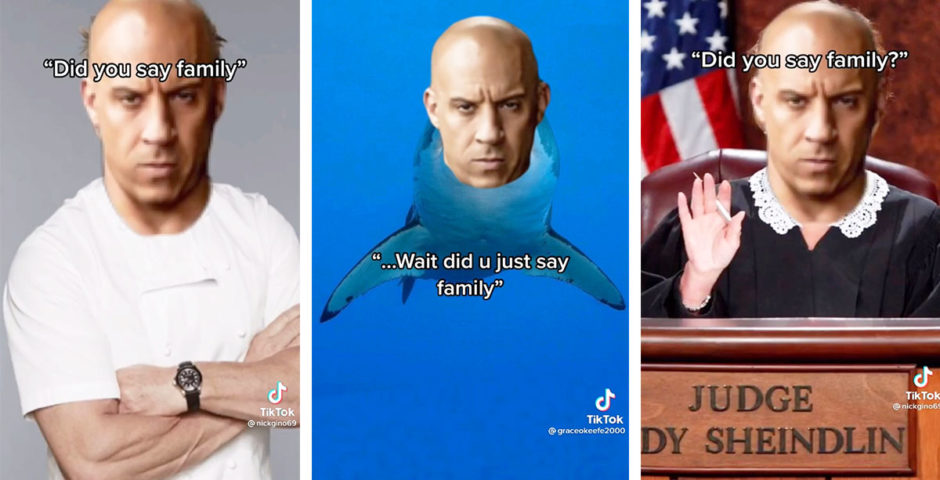 Ok so why is Dom Toretto getting memed so hard all over my TikTok right now?
I'm just a guy with good old family values x
If you're just as obsessed with TikTok as the rest of us, you will be more than aware of the Dom Toretto family meme that is taking over the app rn. But for those that don't know where the joke has come from, it can get a little bit confusing when you see someone making a meme out of Vin Diesel's perfectly round head.
So, what is the Dom Toretto family meme on TikTok? Why does everyone want to make fun of a man with good family values? Here's everything you need to know about the Dom Toretto family meme on TikTok.
Wait, who even is Dom Toretto??
Dom Toretto is the big daddy and resident bad boy amongst the streets of the Fast & Furious franchise. He's played by Vin Diesel and leads a gang of street racers.
But don't let Dom's hard shell fool you because all he really wants to do is take his family out for a nice meal. But people on TikTok have turned his soft side into a internet joke and from this the Dom Toretto family meme was born.
TikTok users start filming a skit where they attempt to do something like making a meme out of auditioning for America's Got Talent. One user then included a picture of Simon Cowell with the caption: "What a horrible performance. Why tf would you even come here?" to which they respond "I mean it's one million dollars, it would help my family a lot." And then next thing we see is Dom Toretto's head on top of Simon's shoulders saying "Family is everything". Like so:
There are a variety of Dom Toretto family meme jokes knocking about
People on TikTok aren't all sticking to having Dom Toretto appear, some TikTok users are including PitBull, Billie Eilish, and even Matt Hancock:
If only Gordon Ramsey cared about family recipes like Dom Toretto does.
You can't convince me this isn't peak British humour. One TikTok user took the iconic girl from Educating Yorkshire who said the long "I'm sorry to hear that your grandma passed away" speech.
Apparently if you stare into your bathroom mirror, say family and spin three times, Dom Toretto will appear. Have fun but remember: FAMILY IS EVERYTHING.
Related stories recommended by this writer:
• TikTok thinks avocado tastes like a freshly-washed willy so I'm having plain toast now
• Take this quiz and we'll tell you what per cent 'pick me girl' you really are
• A hellish clip of Addison Rae's film has surfaced and her acting is exactly what you'd expect