This is what it's actually like to be polyamorous as a uni student
No, it's not about cheating
Last year, I started chatting to two people on Tinder – Caitlin and Matt. Thing is, they were on the same account.
Caitlin and Matt had been in a polyamorous relationship for a year and a half when I met them online, and Caitlin had just moved from Glasgow to live with Matt in Blackpool. They met on Fet, a BDSM app with different group chats for kinks and, as Caitlin said, a "wee Tinder-like setting where you could swipe through profiles."
Pink News defines polyamory as "having simultaneous close romantic relationships with two or more individuals with the knowledge and consent of all partners concerned." It is not the same as polygamy, which is being married to more than one person and often without the knowledge of other partners.
The key is informed consent. This means giving a person all the information about a situation, and allowing them to give consent to it without manipulation, coercion, or pressure.
This is what it's actually like to be a polyamorous uni student:
Polyamory isn't about cheating or just having a drunken threesome
I spoke with Matt and Caitlin nearly every day on social media before we finally organised a week for me to go and stay with them in Blackpool over the summer. I was understandably nervous – I've been out as queer for a long time but had never been a part of a polyamorous, or poly, relationship before.
The pair of them though were so welcoming and quick to make all arrangements to ensure I was safe, from kink comfort to consent to making sure my housemate had their address and number in case anything happened.
When I met them in Blackpool, it was like meeting old friends – we just clicked and started chatting straight away.
That week, we did pretty much everything Blackpool has to offer. They took me for meals, for days out, to the pier, to Blackpool Pleasure Beach, go-karting, crazy golfing. We spent evenings having cocktails and playing Mario Kart together. It was just like spending the week with a partner – but, at night, three people got into bed together.
And this is the thing that people can't understand about poly relationships: It isn't about cheating on a partner or having a drunken threesome that's never spoken of again or watching your straight girlfriend kiss another girl as a dare.
The relationship helped me realise I'm gay
Matt and Caitlin, coming from a BDSM lifestyle were exceptionally aware of the importance of informed consent when I was with them. The pair of them maintained incredible communication with each other and with me about what they were comfortable with and what they wanted.
As someone who has been surrounded by straight relationships, in real life and on media, it was astounding to see a couple have this level of communication, if anything.
It was being with the two of them that helped me realise that I'm gay. I had never been with another woman romantically or sexually until this point and it helped put my previous attraction into perspective and understand this difference of emotion. But it also helped me learn more about poly relationships and understand the benefits they bring.
Online hate makes it difficult to be out
There is a huge poly community in universities across the country that have been silenced by monogamous majorities in the past but are starting to be heard.
At Lancaster, a kink society was set up in October last year, on the tail-end of Durham's Kink Society, and York and Birmingham's Fetish Societies. While poly relationships are not always fetish or BDSM-related, it is these kink communities who tend to strongly support poly people and offer the best advice in terms of consent and healthy practice.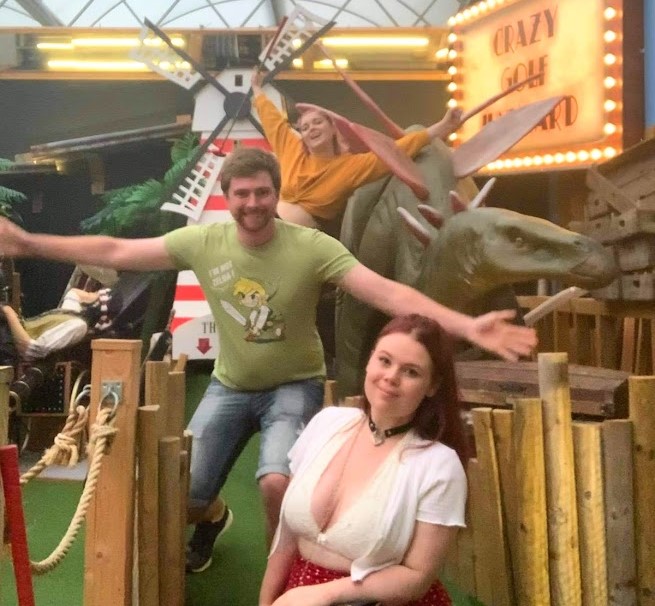 There is so much anti-poly propaganda out there, often championed by straight white men bringing a whole armload of toxic relationship ideals into social media. This makes it hard to ever understand what it is truly like to be in a poly relationship.
Despite knowing that I would be interested in future poly relationships, this hate online has made it difficult to be out and open as someone who supports and identifies as poly. That is why we need to start listening to poly people.
Being poly is not about shagging loads of people. Being poly is about being able to explore deep connections with other people, not outside of your partner but with them. It's not about excluding your partner, it's about involving them in something intimate alongside you.
After I realised my sexuality, my relationship with Caitlin and Matt ended amicably. We stay in touch and the pair of them are still on the hunt for their unicorn – and with any luck, they'll find someone who can join their relationship and spread poly love wider.
The Tab's Pride reporting series is putting a focus on highlighting LGBTQ+ issues and celebrating queer voices across UK campuses.
If you or someone you know has been affected by this story you can contact Switchboard, the LGBTQ+ helpline, on 0300 330 0630 or visit their website. You can also find help through The Mix. 
If you've got a story you'd like to tell us – whether it's an incident of homophobia on campus, an experience you'd like to share, or anything you think we should hear, get in touch in confidence by emailing [email protected]
More Pride stories recommended by this writer:
• This is what it's really like growing up with gay parents
• These stories from LGBTQ+ young people prove schools let down a generation of queer students
• I'm out as bisexual at uni but still haven't told any of my family