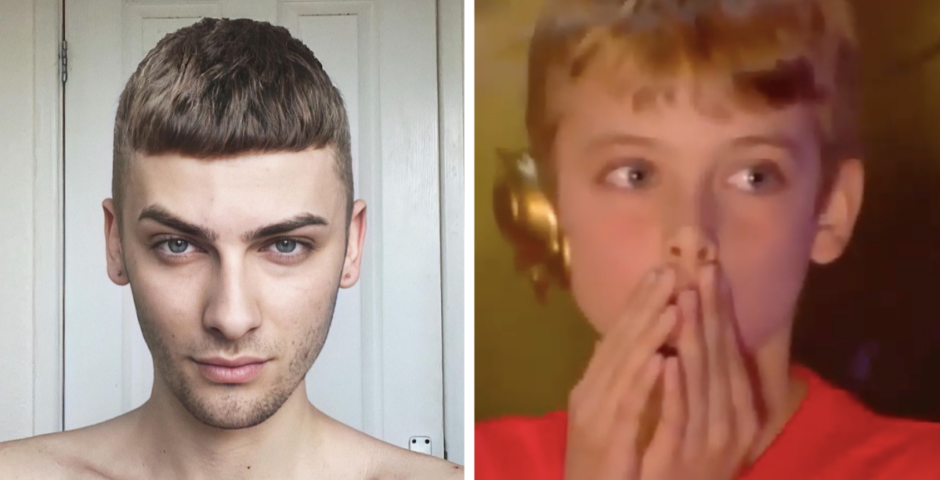 This is what it was actually like to go on CBBC's Trapped, by someone who was on it
Okay but all I wanna know is, do you actually get trapped?
Trapped was the iconic CBBC show of our childhood. You definitely wanted to go on it, but you were lowkey terrified of The Voice and the purple lipstick on her teeth, and also were genuinely concerned that you might actually get trapped in the tower.
Nathan's now a 23-year-old Manchester Met marketing grad, but went on Trapped way back in 2008, aged 10. Nathan was on series three episode 13 of the CBBC show and spoke to The Tab about their experience of going on CBBC show Trapped, saying being chosen to be the saboteur was "so scary".
Nathan told us all about the show, from what the "whisper clip" ear pieces were like, how contestants were chosen, and even spilled the tea about whether you do actually get trapped on Trapped.
Here's what it was like to go on the Trapped CBBC show, by someone who was actually on it:
You genuinely don't know who the saboteur was
On Trapped, contestants have to complete challenges on each floor of The Tower, with the loser of each one getting trapped on that floor. For each challenge there's a saboteur who's secretly trying to make the team fail, and The Voice (the scary lady with pale makeup and purple lipstick) tells the saboteur what to do through a "whisper clip" ear piece.
Nathan says you couldn't hear anyone else's ear pieces and you genuinely didn't know who the saboteur was. "They also hurt a lot, because it was like expanding foam to create a sound-proof wall inside your ear."
Whilst someone is getting told they are the saboteur at the start of the challenge, Nathan says the rest of the contestants were played "this really creepy jungle music".
Being the saboteur and having to act was 'scary'
Nathan was the saboteur for one challenge, and says "being the saboteur was so scary. I had to completely switch my gameplay to make them trust me again", as Nathan had nearly lost the round before that. The Voice says "do NOT react", but after finding out he was going to be the saboteur Nathan was "frozen to the ground".
"This is where the star actress make her appearance", Nathan says. The other contestants didn't suspect anything, and Nathan managed to not get a single vote for someone thinking they were the saboteur: "I smiled at them all at the end because I knew how annoyed it would make them all."
Contestants were all chosen from the same primary school
Nathan and the five other contestants from his episode all came from the same primary school, so knew each other before going on the show. Nathan says the production team went to the school, and they all "took part in some activities to see how we react to certain situations".
Producers then took children out in small groups and chose who was going to appear on the show. "I guess you could say a star was born", Nathan says.
Nathan is still mates with two of the contestants from the episode, Sophie and Andi: "I was the chief brides man at Sophie's wedding and we all met up at the One Love concert a few years ago in Manchester."
You won a Trapped t-shirt and a key
Nathan won the episode, saying it was "the best natural high ever". Everyone who went on the show got given a t-shirt, but as the winner Nathan also got a brass key.
Nathan remembers those who didn't win were given a certificate with the floor they were trapped on. "I was a little miffed since all the other shows had these huge prize packages but I won eternal bragging rights so I can't complain."
There's a possibility you actually did get trapped
Obviously, the thing everyone was eternally terrified of was losing a challenge and getting trapped on that floor forever. Nathan won the episode so didn't get trapped, but what about the other contestants?
When I ask if you actually do get trapped on Trapped, Nathan says: "Well I haven't heard much from the cast in some years so maybe they did get trapped and I didn't know."
Nathan says actually getting trapped "was definitely a fear" – but "being trapped also meant no school so win win in my book!"
You can follow Nathan on Instagram @nathanbyrnee and TikTok @nathanbyrnee
Related stories recommended by this writer:
• This is where the iconic presenters of CBBC are now
• 43 CBBC memes that hit VERY different if you existed for after school TV
• QUIZ: Can you guess the CBBC show from the filming location?