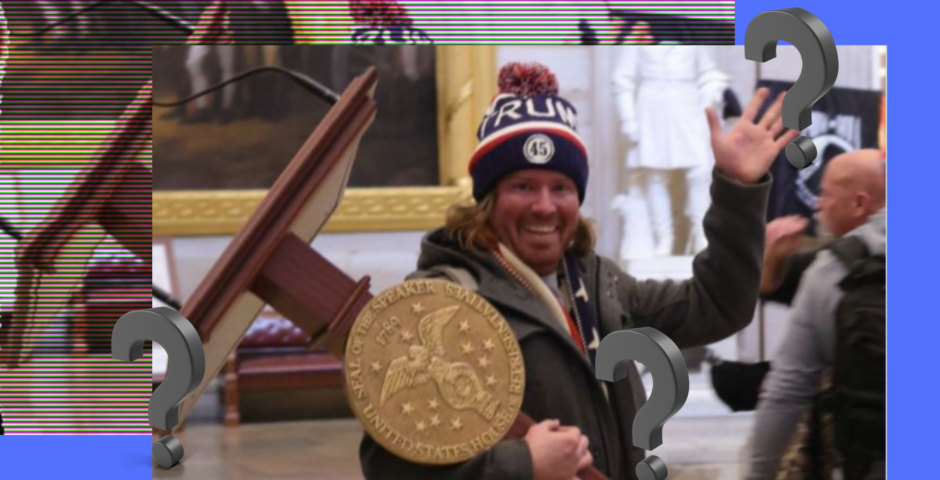 Who is this 'Via Getty' person at the Capitol riots and why should you care?
If you weren't hiding under a rock yesterday, you have probably heard that a group of mostly white men invaded the Capitol building with the intention of disrupting the Congressional transfer of presidential power from Trump to Biden.
There were memes, there were weird fur costumes and there was a fatality. But there is an underlying issue that plagued yesterday's events and revealed humanity's weakest links *cue the menacing piano riff*: Via Getty.
People saw the caption on photos taken by journalists covering the Capitol breach and decided to come for this abhorrent rioter Via Getty, not realising that the caption actually meant… via Getty Images.
Getty Images is a popular online database of photos that most people know about by now. If you know anything about the internet, digital publishing or content you should know about Getty Images and similar sites like Shutterstock Stock Photos. These images are often licensed on the basis of the platform being credited across media platforms with phrases including "Via Getty".
But it seems like not everyone is up to speed. Yesterday, when photographs of the white supremacist rioters were tweeted and credited using the words "Via Getty" some people came to believe the two-word credit phrase was the name of a specific man.
And no, this isn't made up, it's the real-time death of truth in 2021. The fact that this conspiracy went so far is hilarious, tragic, pathetic, and honestly a bit disappointing.
Even some journalists jumped on the misinformation bandwagon suggesting that "Via Getty" was a rioter's name. That's right, people whose job it is to spread the truth and dispel falsehoods actually fell for this. Come on.
The worst thing about this whole conspiracy is what it tells us about the state of facts in our society today. False information or misleading information spreads faster than rigorously fact-checked information. This tells us that we have descended into a black hole of sensationalist information that not only preys on people's emotions but encourages sharing news before we know if it is true or legitimate.
And this culture of misinformation drives events like yesterday's Capitol showdown. Some of the rioters photographed yesterday have been promoting misleading and absurd far-right conspiracy theories. There was a specific horn wearing rioter that was photographed yesterday and there is a connection between his disruptive actions, bizarre behavior and his ideologies.
Before he went viral yesterday for parading his costume in the Capitol, he spouted a tirade of dubious ideas and appeared to support Trump.
Overall, Via Getty and the whole fallout of yesterday's events has shown us once more, how quickly misinformation spreads on the internet today.
Yesterday, former US President, Trump had tweeted a video that was flagged for fraudulent information, leading to his Twitter account being suspended. The forceful sentiments of yesterday's rioters did not appear overnight, but they were stoked and fanned by a leader who thrives from chaotic misinformation.
The fake news legend of  "Via Getty" will undoubtedly go down in history as one of humanity's low points. It has truly been a social media saga to remember. This was Scooby-Doo sensationalism gone wrong – if you're going to unmask a villain, you've got to keep it accurate. But it was, at least, a bit funny.
Featured image (before edits) via Shutterstock
Related stories recommended by this writer:
• Just a load of pictures of white rioters breaking the law and not getting shot for it
• These 31 memes are the only funny part of last night's chaos at Capitol Hill