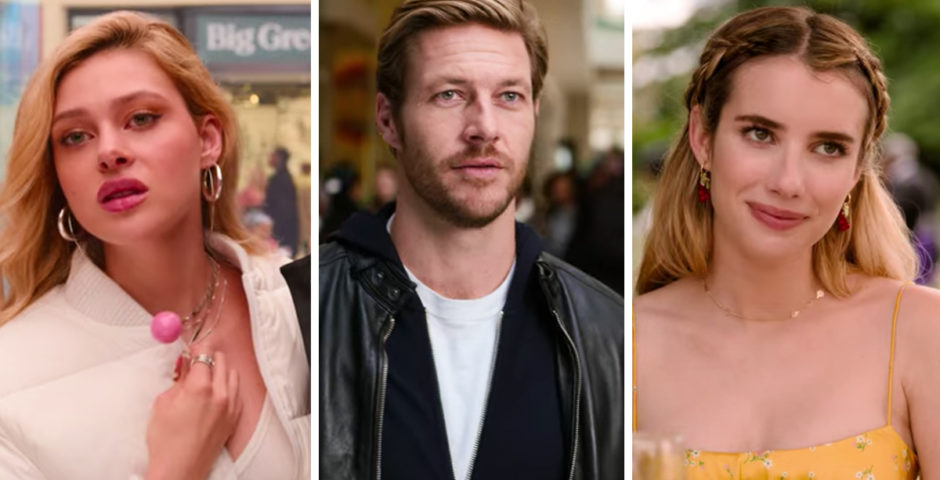 Meet the cast of Netflix film 'Holidate' and where you recognise them from
Brooklyn Beckham's fiancé is in it!!
Netflix is already giving us Christmas gifts – firstly in the form of trashy movie Holidate. Holidate fulfils every rom-com cliche, including a dangerously good looking cast, declarations of love and of course, Christmas and soppiness.
It's one of those films you can't help but love, and will definitely end up watching at least 10 times before Christmas day even comes around. It sees Sloane (Emma Roberts) and Jackson (Luke Bracey) agreeing to become each other's "Holidates" – meaning they platonically go to family events together on the annual holidays, basically to get people off their backs about being alone.
The cast list is full of familiar faces, so here are the stars of Holidate on Netflix and where you recognise them all from.
Emma Roberts – Sloane
We all know who Sloane is played by, it's Emma Roberts. She's known for becoming famous as Addie in Nickelodeon's Unfabulous, before starring in films such as Wild Child, Aquamarine, We Are The Millers and her role in American Horror Story. A true legend.
Luke Bracey – Jackson
The other half of the "Holidate" sees Luke Bracey cast as Jackson. Luke Bracey is an Australian actor, who is known for his roles in films such as Monte Carlo, G.I. Joe: Retaliation, The November Man, Point Break and Hacksaw Ridge, and for television series such as Westside and Home and Away.
Jessica Capshaw – Abby
Sloane's elder sister Abby is played by Jessica Capshaw. She is known for her role as Jamie Stringer in The Practice and Arizona Robbins in Grey's Anatomy.
Alex Moffat – Peter
Abby's husband Peter is played by Alex Moffat. He is an American actor and comedian, who you might know as being a regular cast member on Saturday Night Live since 2018.
Kristin Chenoweth – Aunt Susan
Ok, you recognise Aunt Susan. You just know Kristin Chenoweth as a rom-com icon. She was in RV, Four Christmases and The Boy Next Door, and TV shows such as Glee, Ugly Betty, The Good Wife and Pushing Daisies.
Jake Manley – York
York, Sloane's younger brother who got engaged at Christmas, is played by Jake Manley. You might know him as a familiar Netflix face, as he played Jack in The Order. He's also been in Infamous, Midway and A Dog's Journey.
Cynthy Wu – Liz
York's fiancé, Liz, is played by Cynthy Wu. Cynthy Wu is an actress, known for Before I Fall, Twisted and American Vandal on Netflix.
Frances Fisher – Elaine
Sloane's mum, Elaine, is played by Frances Fisher who is a British-born, American actress. You might recognise her as Rose's mother in Titanic. Frances also starred in Unforgiven, Fargo, Torchwood, True Crime and literally countless other things. She has over 100 credits on IMDb.
Manish Dayal – Faarooq
Hot doctor Faarooq, who Sloane's family are initially desperate for her to get with, is played by Manish Dayal. You might recognise him better as Raj from 90210 or from Agents of S.H.I.E.L.D.
Andrew Bachelor (King Bach) – Neil
Jackson's friend Neil is played by Vine legend, King Bach (real name Andrew Bachelor). Back in the day, King Bach was the most followed user on Vine. If you want to jog your memory, here's a compilation of his best videos:
He is also an actor, and has starred in When We First Met, The Babysitter, To All The Boys I've Loved Before and Fifty Shades of Black.
Julien Marlon – Luc
Sloane's ex boyfriend Luc, who she has an awkward encounter with in the sweet store and on Halloween, is played by Julien Marlon. Julien's previous roles include being in 2 Broke Girls, Love and Laundry, Counterpart and Abby's.
Nicola Peltz – Felicity
Nicola Peltz joins the Holidate cast so briefly, she doesn't even get a mention in the "full" cast a crew list on IMDb – which is quite rude. But she is listed in the credits at least. She plays Sloane's ex boyfriend's new girlfriend, Felicity, who just spends the whole time licking a lollipop in a sweet store and then pops back in at the Halloween party. But you probably recognise her as being Brooklyn Beckham's fiancé and the multimillionaire actress and daughter of American billionaire businessman and investor, Nelson Peltz.
Holidate is available on Netflix now. For all the latest Netflix news, drops and memes like The Holy Church of Netflix on Facebook. 
Related stories recommended by this writer:
• Who is Luke Bracey? The hot Australian actor who plays Jackson in Netflix's Holidate
• What is a 'holidate'? The dating trend you need to get to know ASAP
• This is where you recognise the cast of Netflix's The Queen's Gambit from