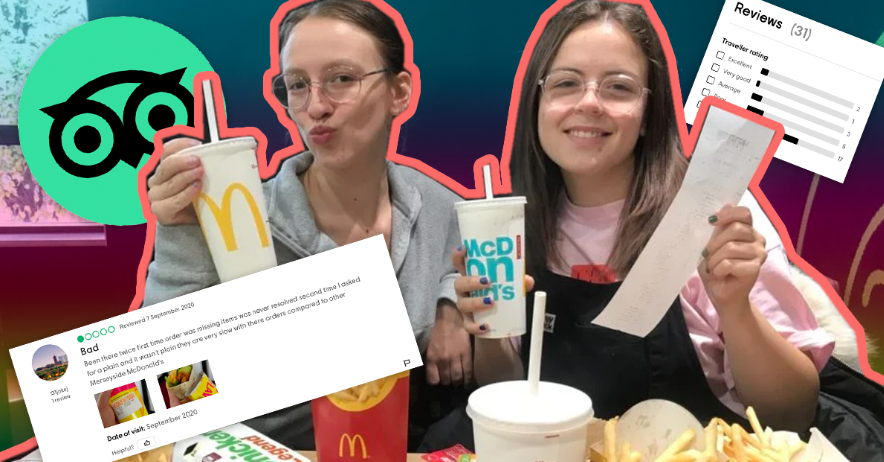 These are the worst-rated McDonald's in every uni town, according to TripAdvisor
You know every city has a McDonald's with a weird…energy
There was a viral tweet a couple of weeks (three internet years) ago saying every city had a particular McDonald's with a certain Wild West energy.
It was definitely true, but unfortunately there's no way of quantifying a vibe (yet). Instead, we've decided to do a quick tour of the country and find the worst-rated McDonald's in every uni city, according to TripAdvisor.
Leaving aside the question of…who is reviewing McDonald's – one of the world's most standardised products – on TripAdvisor, this is about as scientific as it gets.
Where there's a tie, have gone with the one with the most reviews. Obviously these are the views of the individual reviewers, and they're pretty funny.
Cardiff – Cardiff Bay
Coming in at a paltry one and a half dots on TripAdvisor, the Cardiff Bay branch is a surprise winner. Every Cardiff student knows Queen Street is the most chaotic
To get a taste of the reviews, one person complains about the lack of veggie options, and one person rants about being given a chicken burger instead of a Filet-O-Fish. Frankly, ma'am, that's an upgrade.
Manchester – Oxford Road
Two and a half stars – we're not going to keep up the "dots" charade – for the Oxford Street branch, putting it at the bottom of Manchester's pile. Yes, there might be a couple of lower ones in the darkest depths of Greater Manchester, but this takes the apple pie for those located in the city.
Between reviewers (unjustly, we'd say) calling for the staff to get sacked, there's a gem of someone discovering the concept of fast food in real time.
Leeds – Oakwood
A city of high-quality McDo, it was hard to pick a standout "worst" for Leeds. The station branch even had an impressive three and a half stars. But, in a tie between Low Road and Oakwood, Oakwood gets the dubious accolade by virtue of having more reviews.
Apparently, though, driving off without your own cheese melt dippers is enough to warrant a one-star review. So there's that.
Bristol – Apparently they're all good
None of the Maccies for this result scored under three stars. And with decent scores extending out as far as Bath and Gloucester, we have to say congratulations to the West Country. You've either got great McDonald's or very low standards.
Sheffield – Drake House Retail Park
There were a few in Sheffield with two and a half stars, but Drake House Retail Park has the most reviews.
We'll just leave you with this uninspiring pic, and make no comment on the black dot.
Nottingham – Nuthall Road, Bobbers Mill
You can't convince me that Bobbers Mill is a real place. It's like the kind of place American TikTokkers who say "wohTAH" and piss themselves laughing would dream up as a joke English place name.
Anyway, it's home to Nottingham's lowest-rated branch on TripAdvisor – scoring just one and a half stars.
"Never ever again!!!!" said Laura B, succinctly.

Lancaster – it's a tie
Lancaster's two branches both have two and a half stars and both have sixteen "terrible" reviews. So it's a tie. But I'd love to have been with lancasterlad when he thought of this punny little review.
"I'm NOT loving it"…makes you want to channel your inner Jimmy Fallon.
Southampton – Shirley Road
It's got two stars and I mean, yikes.
Perhaps the best review is someone fuming over an 18 minute wait for a burger. As fast food goes, maybe it's a long time. But I waited two hours for a delivery of fish and chips earlier this week, so perhaps I'm the best person to say – get some perspective.
Newcastle – Potts Street
Donald Trump isn't a fan of this branch, rated at just two and a half stars.
Liverpool – Kensington
Coming in at just two stars, one reviewer branded Kensington Maccies simply "bad", complaining about not being given a "plain" despite asking for one. Hun.
Glasgow – Pollokshaws Road
Two stars for this one. An incredibly harsh and rude reviewer called the staff uneducated, which is disappointing, because at least the staff don't willingly spend their precious time writing TripAdvisor reviews.
Cambridge – A14 Service Station
The best uni's worst McDonald's isn't even in the city. It's in a service station on the A14 so students are basically safe. Two and a half stars.
Related stories recommended by this writer:
• We asked McDonald's workers what your Maccies order says about you
• We spent £17.95 in McDonald's and look how much food we got
• Quiz: Can you match the bizarre McDonald's item to the country it's sold in?